Tom Brady's Favorite Ice Cream Has An Unusual Ingredient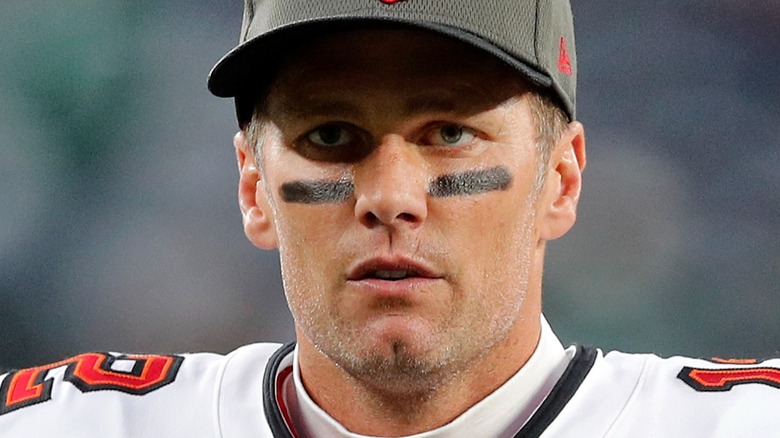 Jim Mcisaac/Getty
Tom Brady, the former New England Patriot and Tampa Bay Buccaneer quarterback, is the type of athlete that people who don't follow sports still admire. The 44-year-old GOAT (Greatest of All Time) was the oldest NFL MVP at 40. By 43, he was the oldest Super Bowl MVP. With 21 seasons in the NFL, Brady's longevity and strength are credited to his wellness approach. In 2017, Brady published "The TB12 Method: How to Achieve a Lifetime of Sustained Peak Performance," which became a New York Times bestseller.
Along with a line of supplements, the lifestyle brand The TB12 Method focuses on nutrition, hydration, movement, pliability, and mental fitness to help athletes eliminate pain, prevent injury, and improve performance. At an age when most football players were well into their retirement, Brady defied the odds focusing on reducing inflammation in the body, according to a TB12 blog post from Dr. David Sinclair. To do so, Brady eliminated sugar, reduced the amount of meat he consumed, ate brightly colored fruits and vegetables, and added omega-3 fatty acids to his diet, requiring him to get creative when he had a craving.
With a long list of forbidden foods, it would be easy to assume Brady doesn't indulge like the rest of us, but that would be inaccurate. Brady's former personal chef, Allen Campbell, helped develop plant-based recipes for breakfast, lunch, and dinner, plus healthy snacks (via VeryWell Fit). But, when Brady has a sweet craving, it's a special ice cream he turns to. 
Avocado ice cream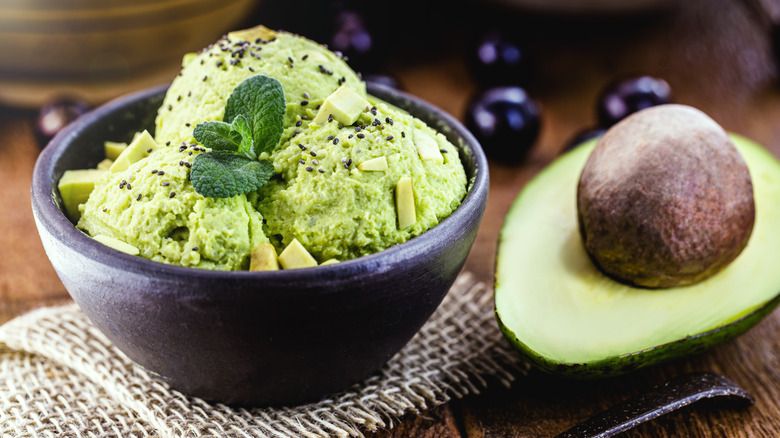 RHJPhtotos/Shutterstock
Ice cream is traditionally made with a base of heavy cream and sugar, and sometimes with flour, all forbidden in this restrictive diet. In an interview with GQ Brady revealed that one of his favorite recipes from the TB12 Nutritional Manual was a vegan treat of avocado ice cream. This dairy-free ice cream is made with raw cashews, coconut meat, dates, cacao powder, and avocado (via Boston.com). The ingredients are blended with water and frozen to create scoopable ice cream. 
The ice cream maintains that creamy texture we demand from such a dessert with avocados, which, with high fiber content, can help in lowering the risk of diabetes and obesity (via Medical News Today). Both this and cashew nuts are a great dairy substitute, adding richness without flavor as coconut products do, according to the Economic Times. Furthermore, coconut meat, included in the recipe, may help boost your immunity, stabilize blood sugar levels, and may be beneficial in the treatment of neurodegenerative disorders like Alzheimer's (via National Library of Medicine). Cacao powder offers an unsweetened chocolate taste, while chewy dates add a natural sweetness since it is, after all, a dessert.
Although the dessert is simple to make at home, several brands, like Cado, can be found in the supermarket if you don't have six hours to wait or, a personal chef like Brady. Ice cream is one of many desserts that can be made using avocados, so don't throw out those overripe avocados. Recipes like Mexican-inspired cheesecake (via Bare Root Girl), avocado chocolate truffles, and even avocado zucchini cupcakes are delicious, healthy alternatives. Now there's no reason to skip dessert!