The Unexpected Ingredient Nigella Lawson Uses In A Popular South Asian Dish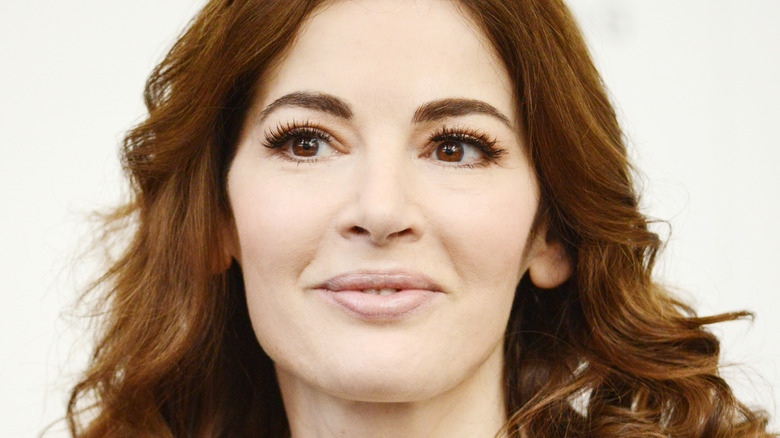 LINGTREN.COM/Shutterstock
Nigella Lawson is a lot of things — an ace chef, star TV presenter, and accomplished cookbook author with a particularly posh vocabulary — and she's certainly not afraid of a bit of experimentation and controversy. From her strange way of buttering her toast to her beetroot-infused ruby noodles that were dubbed worms by netizens, Lawson has started her fair share of gastronomic debates. (Who could forget the times she ignited the fury of Italians with her infamous cream-based carbonara and Marmite spaghetti?
As it turns out, the daring cook has another audacious recipe that has left fans across several countries with mixed feelings. Sharing an old recipe for bhorta from her cookbook and television show on Twitter, Lawson recently revealed that she likes to add an unexpected ingredient to the popular Asian dish: fish fingers. Bhortas, Whetstone Magazine explains, are a group of dishes made by mashing vegetables, lentils, meat, or seafood with onions, garlic, and mustard oil. A staple in Indian, Pakistani, and Bangladeshi cuisines, some of the most popular types of bhortas are made with eggplants and potatoes.
While seafood, such as prawns and ilish, is common in bhortas, per TasteAtlas, Lawson's use of mashed frozen fish fingers is certainly an unconventional idea. Some fans are not too keen on the unexpected ingredient in a bhorta, but others, it so happens, vouch for the brilliance of Lawson's dish.
Comfort food with a Nigella Lawson twist
Lawson first shared the recipe for her fish finger bhorta back in 2020 on her show "Cook, Eat, Repeat" (via Metro). Crediting British journalist Ash Sarkar for introducing her to bird's eye bhorta and inspiring this fishy version, Lawson also shared the recipe for the mashed fish finger dish on her website, writing, "It is my absolute go-to when the need for vibrant sustenance and delicious comfort hits."
When the recipe initially aired on Lawson's show, participants of the British reality television series "Gogglebox" —which airs families and friends as they react to popular television shows — were less than thrilled (via Stylist). "That's not how you eat fish fingers," and, "That's one of my favorite meals of all time, fish fingers...And now she's just ruined the whole lot," were only a couple of reactions Lawson's recipe received.
Since then, however, comments on Lawson's recent tweet about the dish indicate that fans who've had the chance to taste it have only good things to say. "I have made it twice and I LOVE it," wrote one user. Another fan confessed, "I saw this tweet this morning, I ran to the shop for ingredients and made it for dinner!" They may not be the only ones. British supermarket chain Waitrose announced that after Lawson shared the fish finger bhorta recipe on her show and in her cookbook, sales of fresh and frozen fish fingers were up by 87% and 28%, respectively, appropriately calling the astounding phenomenon "The Nigella Effect."