The New Hot Dog That Has Duff Goldman Excited
Paul Archuleta/Getty
With summer officially here, the time for backyard barbecues and pool parties is in full swing. While the warm weather creates a desire for a summer menu at most events, including hamburgers and barbecues, one of the most popular food items is hot dogs. According to USA Today, approximately seven billion hot dogs are eaten between Memorial Day and Labor Day alone.
With such a large appetite for hot dogs, brands have begun to offer an array of franks to ensure people with dietary restrictions can still get their hot dog fix. From pork and beef franks to vegan ones, the options can feel infinite. Now, the brand Manischewitz has crafted a new hot dog made out of gefilte fish. The latest release got a boost and stamp of approval when writer and musician Duff Goldman tweeted his excitement for the fish dog that will be released in time for July 4th.
Yes, fish dogs are real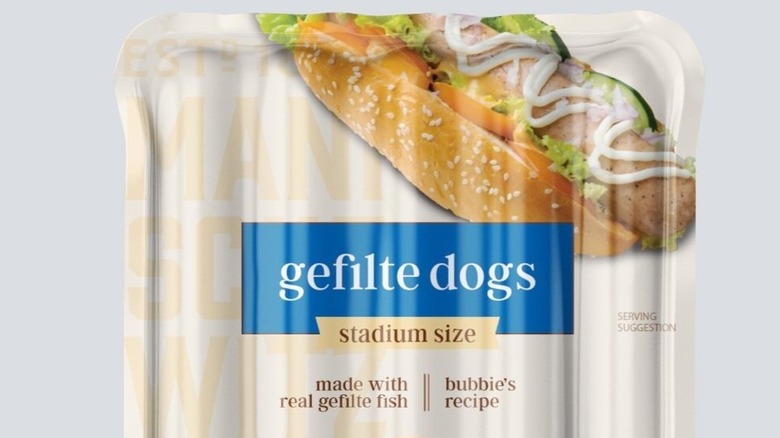 Twitter
Food brand Manischewitz specializes in high-quality kosher products. Popular items like matzo chips to matzo ball chicken soup are just a few products customers can purchase from their website. The company's research and development team has taken it to the next level by creating a hit dog made of gefilte fish.
According to Kitchn, gefilte fish is a Jewish dish that uses ground, freshwater fish and mixes it with eggs, onions, seasonings, and matzo meal to form small edible balls and then cooked in a fish broth. Typically, the bones and heads of the freshwater fish are used to make the broth. The fishbone enhances the broth and gives it a jelly-like texture once it has cooled.
When word of the new hot dog reached Duff Goldman, he reacted positively by tweeting, "Well, I don't know about the rest of you, but I'm stoked about these Gefilte Dogs. I'm gonna bake matzos on a cannoli mold and make a horseradish charoset relish. Y'all are trippin' if you're not excited about these." Hopefully, Duff Goldman follows up with a review once he finally gets his hands on a pack.