Ree Drummond And Her Sister Came Up With The Sweetest Name For Their House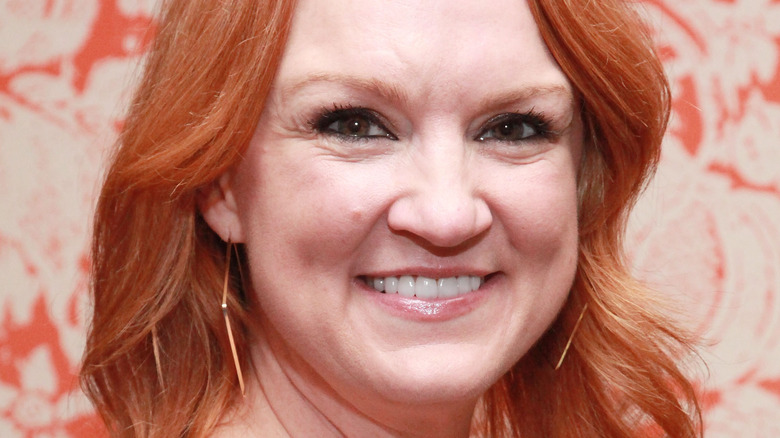 Astrid Stawiarz/Getty Images
If you're working on a recipe and find that it's just not sweet enough, don't add more sugar; have Pioneer Woman Ree Drummond and her sister, Betsy, come over to give it a little love. The world has gotten to know Drummond and her family — that is to say, her husband, Ladd, and their five children — pretty well over the past few years, as the chef has made a name for herself (it's "The Pioneer Woman," by the way) as a Food Network star. And in the last two years in particular, since the pandemic forced big stars to film their cooking shows from their own kitchen just like us regular folk, fans have gotten to know Drummond even better. So when a family member who doesn't live under the same roof pops up on the radar — like when Drummond posted about spending quality time with her family after a loss, or when she showed up with her sister in matching colors to a football game — fans rejoice at the extended and extensively sweet family tree.
In an effort to get all that sweetness into the same zip code whenever possible, Drummond announced on her blog that her sister, Betsy, who lives in Seattle, Washington, thousands of miles away from the Drummond family ranch, would be coming to visit more often. Really, it was only a matter of time before they bought a house together in Pawhuska, Oklahoma.
Sisters who renovate together, stay together
The Drummond sisters are making up for lost time, according to The Pioneer Woman, since visits were off the table for a year due to the pandemic. And, as so often happens with sisters, what started with an innocent little road trip turned into a property-buying, future-planning, top-to-bottom renovation project where there are no boys allowed. Actually, that last stipulation seems to be in jest, but Drummond was not kidding around when she announced "Sister House," the home she and her sister bought together in Pawhuska, Oklahoma, on her blog last week.
"Last fall, Betsy and I decided to buy a house together in Pawhuska and fix it up so that she'd have a home base here in Oklahoma whenever she visits," Drummond wrote on her website. "It'll double as an extra place in town for friends and family (and film crews!) to stay as needed." And since every cute Drummond project needs a cute Drummond name, the fixer-upper that they affectionately dubbed "Sister House" was officially christened thusly before being completely remodeled. Drummond revealed that the renovation will wrap "over the next couple of weeks," but happily shared a few behind-the-scenes photos on her site to whet fans' appetites. And People reports that while Drummond's husband might have a few good ideas about cabinet colors, "he is not a sister and therefore cannot help with Sister House," according to the cook and renovator. Sister House rules.