How A Fridge Helped The Taco Bell Founder Get Started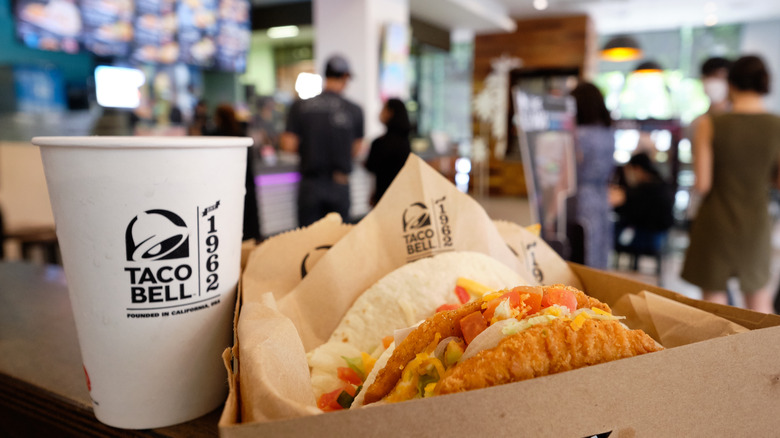 KULLAPONG PARCHERAT/Shutterstock
Ask almost anyone what springs to mind at the mention of Taco Bell, and chances are they'll mention iconic menu items like the Mexican Pizza, Doritos Locos Taco, or Crunchwrap Supreme. But it wasn't always that way. It can be hard to believe that a fast food chain as ubiquitous as Taco Bell was started by a regular guy who loved Mexican food and wanted to give Americans access to quick and affordable dining. But that's exactly what happened. When Glen Bell opened the first Taco Bell in 1962, it set the stage for Americans' relationship with Mexican food. Before then, most Americans didn't even know what a taco was.
Today, Taco Bell has over 7,500 locations throughout the U.S. in over 3,000 cities, and you'll be hard-pressed to find someone who hasn't at least tried one of the chain's bean burritos or crunchy tacos. But Glen Bell's plan wasn't hatched overnight, nor was it a straight path for the young restaurateur. Before Taco Bell, there was Taco Tia. And before Taco Tia, there was Bell's Burgers. But Glen couldn't have started any of it without one crucial household appliance: his sister's refrigerator.
Why did Glen Bell need a fridge?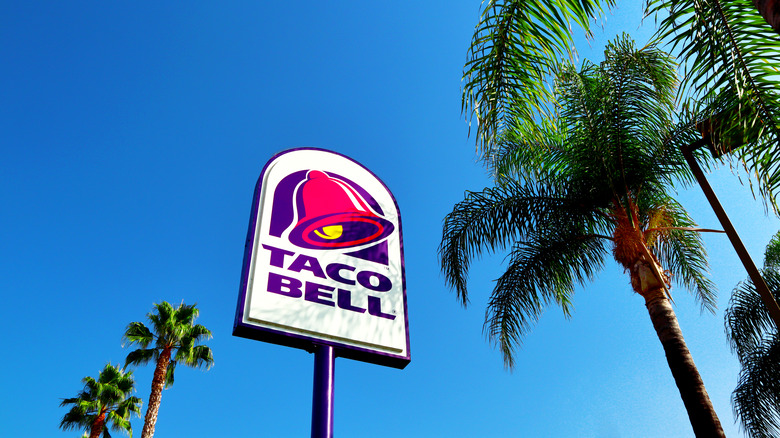 Walter Cicchetti/Shutterstock
The only way to make Bell's Burgers a reality was to acquire startup money that Glen Bell didn't have. Fortunately, that's where his sister's generosity and belief in him came into play. In order to help her brother get his business off the ground, Restaurant News explains that she let Glen sell her refrigerator and use that money towards Bell's Burgers, which he reportedly built himself from the ground up.
At the time he sold his sister's fridge, Bell didn't know his restaurant idea would turn into what it is today. Mostly, Bell hoped he could compete with the McDonald's brothers, who were gaining fame for their popular drive-thru burger concept. To satisfy American palates of the 1950s, Bell's Burgers was dishing up typical fare like hamburgers and French fries, per Restaurant News. The Bell's Burgers menu was a far cry from the menu items most Americans associate with Taco Bell today, like the Quesarito, Cheesy Fiesta Potatoes, Mountain Dew Baja Blast Freeze, and those plentiful free packets of hot sauce.
Fortunately for Taco Bell fans, someone bought that refrigerator. After that, it was only a matter of time before Bell stopped trying to compete head-to-head with McDonald's and other hamburger chains and instead let his love of tacos dictate what came next.