The Unexpected Ingredient Jock Zonfrillo Uses In Eggs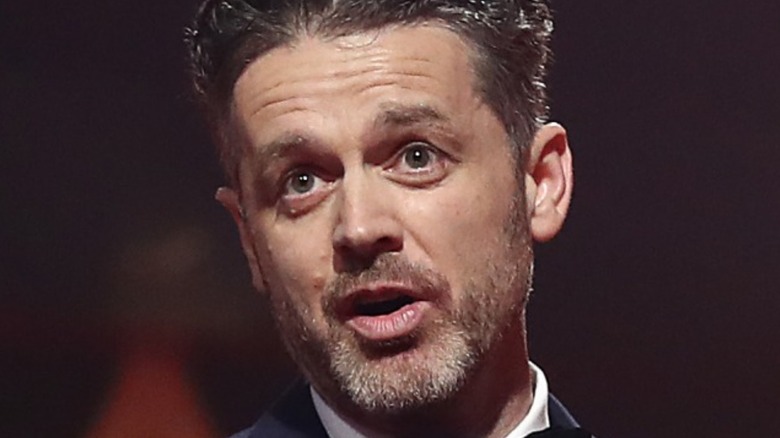 Brendon Thorne/Getty Images
Jock Zonfrillo may not be a household name in the United States, but the Scottish chef who made his mark as a judge on "MasterChef Australia" has soared in popularity thanks to social media (via Stuff). Zonfrillo clearly likes to make eggs — there are plenty of videos showcasing the chef making Baked Italian eggs, a classic French omelette, and mini fried eggs. He even cooked up eggs four different ways in a Jaffle maker, which is simply what they call an electric sandwich maker Down Under, per Toastie Recipes.
Nutrients explains that eggs are nutritious, delicious, and economical. Even with egg prices rising, they are still a good deal to make a meal. There's a reason eggs are called the perfect protein. According to Food Network, this is because they contain all essential amino acids. Zonfrillo's demonstration of so many different ways we can serve them up is super useful, but the egg recipe that got people talking has left his fans divided. The celebrity chef added a rather unexpected ingredient to an egg dish he shared on social media.
Jock Zonfrillo added coffee to eggs
Zonfrillo posted a video across his social media channels for an egg dish and proclaimed, "Chilli COFFEE eggs = f*%king genius!" Coffee with eggs seems pretty normal, but coffee in eggs ignited debate on Zonfrillo's TiKTok, and not everyone is convinced it belongs in this dish. When he initially begins to make the egg dish, you can't help but salivate. First, the chef combines butter, nasi lemak sambal, chilli jam, chilli fried pork flakes, and tabasco in a hot pan to create a sauce. He then proceeds to add salt, coriander, some lime and gives it a "shoogle" before cracking open the eggs and allowing them to cook.
The food competition judge even mesmerizes us by slicing up an avocado that ends up a top thick slices of toast. But when he drizzles in that coffee, some fans cried out. One TikToker wrote, "You had me right up until you poured coffee on the eggs." Another chimed in, "I'm gonna try this but without pouring coffee into the pan." But Zonfrillo doubled down and replied, "This needs the coffee!! Get after it trust me." Instagrammers were a little kinder in expressing their feelings and one brave soul tried it and shared, "Ooooo it was frickin YUMMIE."