Costco Shoppers Are Absolutely Loving Its Korean Spicy Ramen
While Costco's signature Kirkland brand is a major pull for members, it's nearly impossible for shoppers to miss the quality international products on warehouse shelves, as well. Included on the lengthy list of Costco items to try before you die are a number of neighboring countries' top-notch eats, like D'Artagnan Spanish Mangalica dry cured ham and Japanese Wagyu tenderloin roast. Also chief among Costco's global selections are its Korean food offerings.
Costco shoppers swear by its kimchi, which earns high praise from many Korean customers of the chain, and last year, shoppers could not stop raving about the store's frozen beef bulgogi mandu. Those things considered, it's little surprise that yet another Korean staple at Costco is getting fantastic reviews from fans on Reddit. Rabokki is known to Koreans as a traditional dish that combines ramen and tteokbokki, tube-shaped rice cakes, in a spicy gochujang-based sauce. Years ago, Costco added Dongwon-brand rapokki to its repertoire of quick-cooking dishes. Fans were so excited about the product that they're still talking about it today.
Redditors say this dish is sweet, spicy, and pleasantly chewy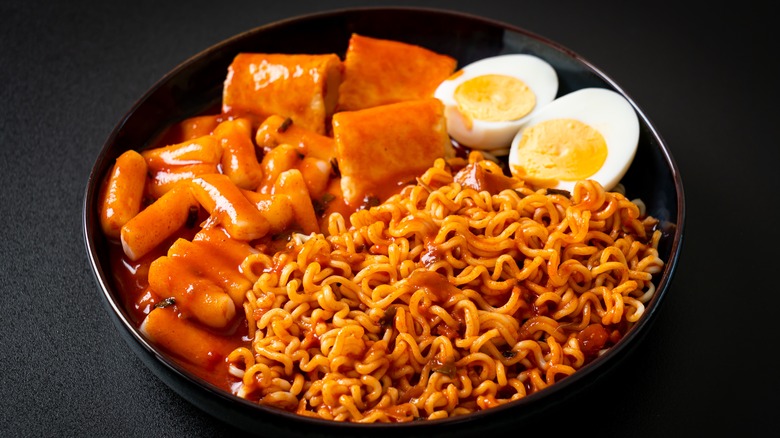 gowithstock/Shutterstock
Costco's rapokki comes with the traditional ramen and rice cake fixings in a spicy sauce, based on the looks of the packaging. Reddit user u/ken0x_ recently posted a photo of the bag and asked followers who have tried it to weigh in with what they think. Enthusiasts were quick to reply with overwhelmingly positive reviews.
According to a pair of YouTube food reviewers who tried it about a year ago, the rapokki features noodles with a "good thickness and good texture," as well as pleasantly "chewy" rice cakes boasting a "good flavor." Redditors disagreed about the product's authenticity (compared to homemade or restaurant versions of rapokki), but they generally called it superior to other store-bought options.
Reddit users also shared their hacks to upgrade the instant ramen, such as adding soft-boiled eggs, melty cheese, dumplings, or pieces of hot dogs or Spam. While many find the dish to be both sweet and spicy, some perceive the heat level to be incredibly high and advise adding the sauce packet to taste instead of all at once. To sum it all up, one happy customer noted that while they "can't comment on how authentic the taste is," they "loved the texture, good taste, and super filling" so much that they rated the rapokki as a 9 out of 10.