Amanda Freitag Just Created The Ultimate Summer Cocktail Mashup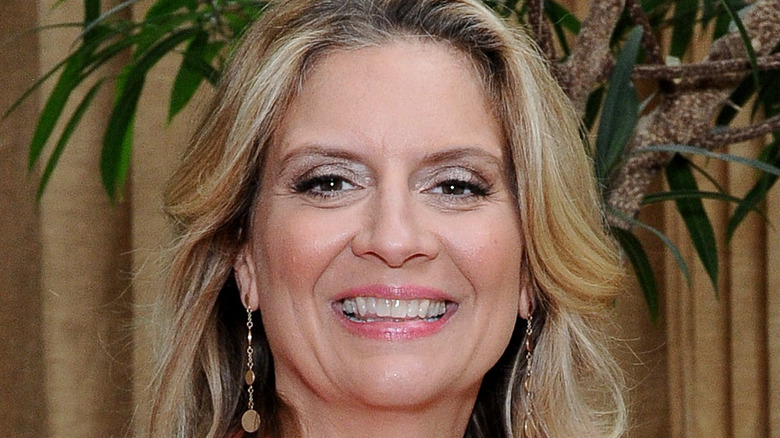 Daniel Zuchnik/Getty Images
With each passing day, we continue to grow more thankful for Amanda Freitag and her social media presence. Fans love her "Easy AF" series, where the "Chopped" judge and cookbook author shares practical tips for how we can become better chefs. Whether it's a video showing us how to sharpen our knife skills or shortcuts for how to make a delicious spring omelette even healthier, Freitag has a knack for reminding us that cooking doesn't have to be as intimidating as we sometimes make it out to be.
This summer, Freitag has especially delivered on providing inspiration for all our warm-weather gatherings. From her berry trifle recipe to a sizzling queso fundido, this Food Network star has a seemingly endless amount of straightforward dishes that are the right mix of easy and delicious, as well as perfect for sharing with a group. But while she may be best known for her accessible delicious lunch and dinner recipes, the chef also knows that no summer soiree is complete without a refreshing beverage.
If you're like the many of us who are getting sick of seltzers as the default summer beverage, then her latest cocktail creation — which is a spin on two warm-weather classics — should serve as a bubbly inspiration for all your future poolside parties. 
Freitag combines an Aperol Spritz with sangria
Some might say no drink says summertime party more than an Aperol Spritz. Others might argue that distinction belongs to the Spanish-inspired sangria. Amanda Freitag's latest recipe offers a better option: Why not both? 
In a video on TikTok, the chef demonstrated how to make what she calls a "Peach Sangria Spritz" — a picture-perfect hybrid of the Italian Aperol Spritz and Sangria Blanca. According to the chef, the summery party punch features a combination of peaches, cherries, limes, mint, and a 4-4-1 ratio of Sauvignon Blanc, Prosecco, and Aperol.
Putting this beverage together couldn't be more effortless. No muddling, shaking, straining, or blenders are involved at all. In the clip, Freitag simply adds all the sliced fruit and liquid to a glass pitcher and stirs them before chilling in the fridge. Just before serving, she tops her batch with additional Prosecco for extra fizz and pours it into a glass garnished with mint. Now that's what we call easy AF!
Freitag's followers are already obsessing over the new fizzy refreshment. "I AM COMING OVER," Food Network's Zac Young declared in her Instagram comments. A few others shared their plans to make the drink themselves. "I'm going on a boat on Saturday and this might be my beverage of choice," wrote one user on TikTok, while another tagged a friend and demanded, "We need to make this and sit by your pool."