The Real Reason Olive Garden's Pasta Refills Probably Won't Return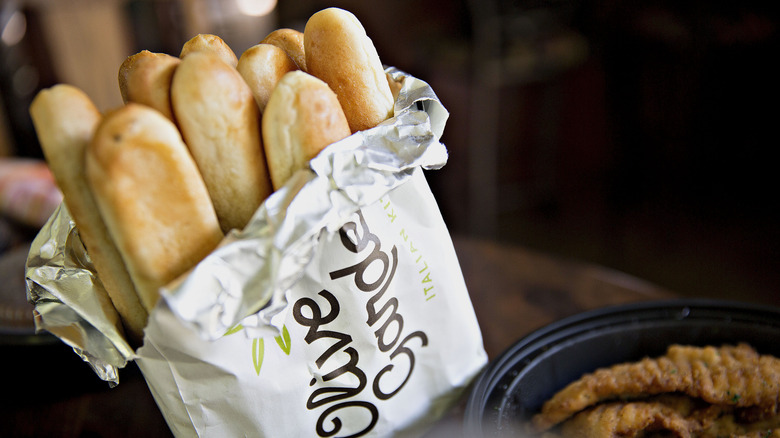 Bloomberg/Getty Images
Olive Garden is known for lots of things: Italian cuisine such as the Tour of Italy, lounge and jazz music piped in behind the facades styled like rustic Italian villas, and of course, the endless refills. You needn't be ashamed in saying that the promise of endless breadsticks wasn't enough to tempt you, or that you've been bested by the endless soup and salad deal. According to Thrillist, Olive Garden's provides these perks to remind guests of generous hosts in Italy.
Another one of these famous offerings is the Never-Ending Pasta Bowl, an recurring deal where customers could enjoy unlimited refills on a variety of pasta dishes, alongside breadsticks. While the menu item was surely popular, it seems to no longer be available. The end of the Endless Pasta Bowl deal was hinted at as far back as December 2021, when Food and Wine noted that the last time the deal was offered was in 2019, and the chain didn't seem in a rush to bring it back. As of 2022, the promise of endless pasta still hasn't made its triumphant return.
Olive Garden sees no reason to bring back pasta deals
If you were running a business, offering the customers an exclusive deal or a freebie here and there would be a good way to drum up customers. You obviously couldn't offer free stuff all the time, of course, or else you'd be giving away your stock without making a profit. Perhaps Olive Garden has the same mindset.
As Restaurant Business Online reports in 2021, Rick Cardenas, the then-upcoming CEO of Olive Garden's parent company Darden Restaurants, explained that the Never-Ending Pasta Bowls had a "negative impact" on the restaurant as a whole. It simply wasn't profitable in the long run. Cardenas also noted that the chain has a "never-ending abundance" each day with the endless breadsticks and salads. To continue offering free food would apparently not benefit Olive Garden in the long run.
Business Insider elaborates that not only is the company turning away from the endless pasta deals, but it also seems that Olive Garden plans to avoid such promotions in the future. This decision comes in part from the refocus on take-out that appeared during the pandemic, which showcased that the company could thrive even without "never-ending" promotions. While Olive Garden's pasta specials may or may not be coming back, you can still satisfy your cravings for Italian by looking at some other popular items from Olive Garden's menu.