The TikToker Who Found A 'Random' Surprise In Their Costco Cart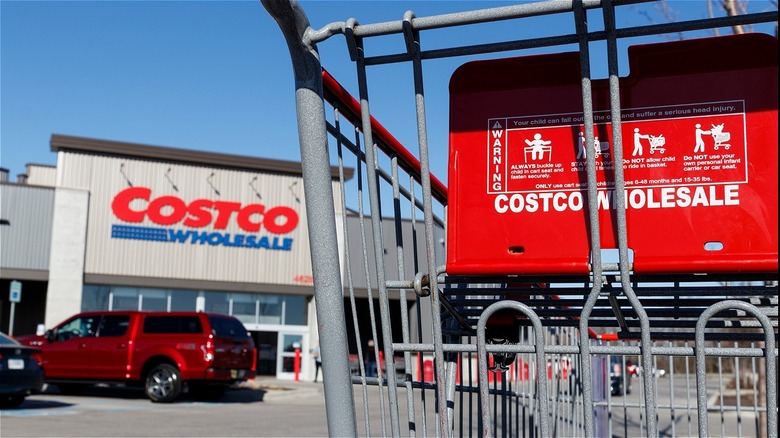 Jonathan Weiss/Shutterstock
Costco seems to be on a mission to sell everything under the sun just in case someone wants it. Need a bucket of macaroni and cheese that contains 240 servings? Per the warehouse retailer's website, it has got you covered. Making sandwiches or want to make a lot of super moist cakes? Costco can sell you 30 pounds of Gregg's Heavy Duty Mayonnaise just for those purposes. Have a hankering for the chain's key lime pie?. The Costco dessert's recent return had Instagram blowing up. And, of course, Costco insists on selling $1.50 hot dog combos.
But bulk food is only the beginning. If a Costco customer planned to pop the question to someone special, shell out $600,000 on an engagement ring, and earn a "shout out" during a corporate earnings call as a result, well, it is doable. In fact, it has been done (via Business Insider). Of course, it can be equally interesting when you find unexpected items in your cart. But one TikToker made an especially surprising discovery.
A Costco shopper found a 'random kid' in their cart
Per a TikTok video that has received over 269,100 likes and a lot of attention, one Costco shopper took her cart for a stroll around the store in search of whatever was on her shopping list and realized that there was a "random kid" in her cart. She noted in the caption, "He was laying down and was blocked by the bread." That loaf of Wonder Bread can be seen setting where a child would sit and did look quite fluffy.
Naturally, the video set off a discussion with one of her followers asking, "Im about to burst into tears at 9am how does this happen?" Naturally, someone else asked, "Did you grab someone else's cart?" And that was, of course, the Costco shopper's first thought as well. Still, another suggested, "Maybe a mom went to put her child in [her] cart but put it ur cart instead?" We don't know what happened, and we're not going to guess. But it's worth noting that it isn't completely unheard of for an adult to unwittingly grab a cart with someone else's child in it (via Fox 23 Maine).