Ree Drummond's Son Todd Just Made A Major Decision
Time flies like a football for the Drummond family! Youngest son Todd Drummond, who turned 18 in early June, just made one of the biggest decisions of his life — he's decided on a college football career at the University of South Dakota. He announced in a tweet, tagging the South Dakota Coyotes football team, that he's committed his football prowess to the powerhouse team. Todd has been the quarterback for his Pawhuska, Ohio football team since his brother Bryce Drummond went off to play for North Texas. Though Bryce was a quarterback in high school, he's changed his position to linebacker for North Texas. The South Dakota Coyotes are an NCAA Division 1 team in the Missouri Valley Football Conference (per 247Sports). Todd will start his first season for South Dakota in the fall of 2023 under head coach Bob Nielson. 
Todd was just 7 years old when "The Pioneer Woman" premiered on The Food Network. When he turned 18, Ree Drummond shared a heartfelt Instagram post, stating "Eighteen years ago, I was in the hospital recovering from an emergency c-section while my baby was in the NICU (he'd arrived five weeks early, long story!) ... I thank God for this child every single day of his life. I'm tearing up just thinking about it, but I can't help it; I love the kid so very much." It's wild to see how far Todd and the whole Drummond clan have come! 
Cooking fit for a football king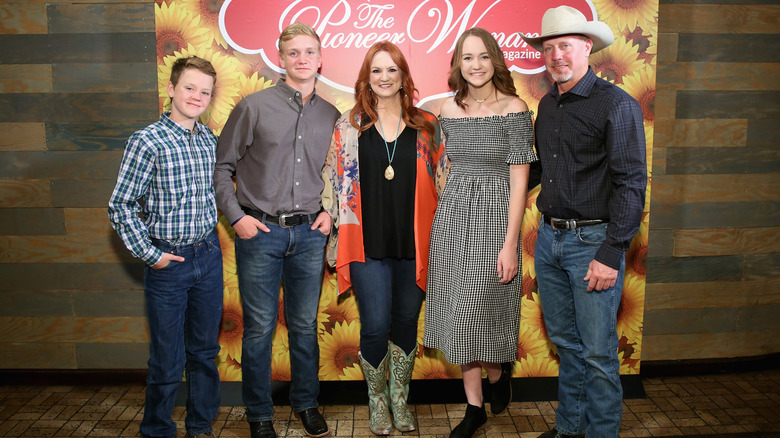 Monica Schipper/Getty Images
In his junior year as starting quarterback, Todd Drummond counted over 4,300 passing yards and 59 passing touchdowns, per MaxPreps. Only time will tell what he'll do on the football field during his senior year. The Drummond family is stoked for Todd's upcoming adventure at the University of South Dakota. His sisters commented on his announcement on Instagram that they're proud of him and excited to take trips to South Dakota. 
The Drummond family's fame has followed Todd onto the football field. He told TheFranchiseOK that rival players will taunt him with chants like, "Your mom can't cook," but he lets the insults slide and shoots back, "Get some new material." We definitely wouldn't want to mess with the Drummond family, they're as tight-knit as they come. When he's not on the field being a football superstar, Todd likes to enjoy family favorite snacks from his in-house chef (his mom, of course!). They told TheFranciseOK that he has a weakness for grilled peanut butter and jelly — that's right, a mix between grilled cheese and peanut butter and jelly. Todd doesn't have to worry about overeating, in fact, he has to meet high caloric goals for football training, so he can use all the bread and butter he can get his hands on. Todd's not the only one on the team to partake in his mom's famous cooking. The family cooks pregame meals for the entire team. Now that's a tradition we'd love to partake in!