Why The Internet Is Furious With Prue Leith's Son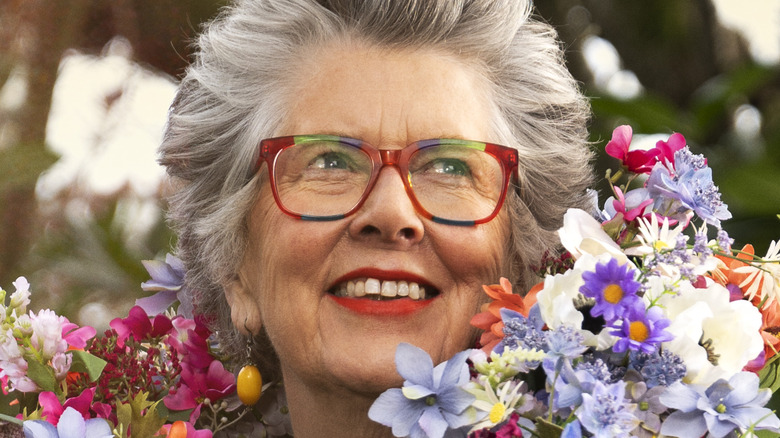 Ian Gavan/Getty Images
Dame Prue Leith is practically a British national treasure. You probably know this woman from "The Great British Bake Off," in which she judges delicious cakes and other baked goods with her colleague, Paul Hollywood. Leith started her GBBO journey in Season 8, after the show's contentious move from BBC to Channel 4 (via Time). However, the GBBO judge has many other talents — she's "also a health campaigner, charity founder, and novelist," among other things, per The Shields Gazette. 
Prue Leith and Paul Hollywood just announced a major GBBO reboot: They'll soon be going to the U.S. to work on the American version of the show. This rendition will include six episodes and a celebrity special, the Daily Mail reports. However, not all America-related news is as sweet. Tensions are currently high in the U.S., as the Supreme Court overturned Roe v. Wade on June 24, ending constitutional protections for abortion in nearly half of all states and reigniting heated debate on both sides of the issue. As for what this has to do with Prue Leith, specifically, the internet is currently furious with her son for his remarks about the Court's decision.
Leith's son Danny Kruger thinks women don't have the right to bodily autonomy
Danny Kruger, a conservative MP and Leith's biological son, said in a recent debate that he doesn't think that women should have "an absolute right to bodily autonomy" when it comes to abortion, in which "another body is involved," he explained. Twitter user Kevin Cornwall posted a picture of Kruger with the caption, "Bake Off fans, I present the densest, bitterest, most emetic thing Prue Leith has ever produced," and social media users were quick to lash out. 
Some commenters joked about the tweet, replying that Kruger is "an unsavoury pudding" and "not worth the calories." Others looked something like this: "I'm ashamed that he is my MP." Still more commenters questioned why people are attacking Prue Leith because of her son's opinions. The @EverydaySexism Twitter account wrote that people should "stop blaming women for what the men in their lives do." Others pointed out the "unbelievable" irony of Kruger's remarks, considering Leith revealed in her autobiography that she had an abortion 15 years old. "Perhaps he should have thought about his mother before sounding off like a misogynistic sexist dinosaur," tweeted entertainment executive Sohail Shah.