Is Trisha's Southern Kitchen Filmed At Trisha Yearwood's Home?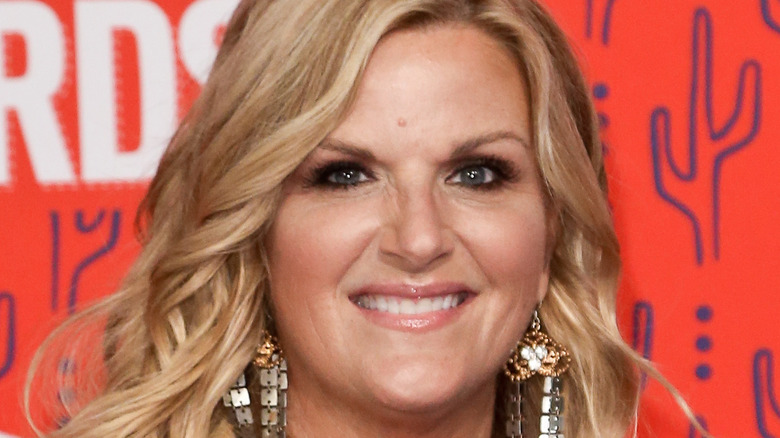 Debby Wong/Shutterstock
When we're watching a cooking show, we're not just paying attention to the host. Their environment helps to set the tone for the show, so we often find ourselves focusing on the kitchen, the stove top and cabinets, the knick-knacks on the shelves, and the (probably green-screened) scenery outside the window. Each host has their own vibe. Guy Fieri's kitchen on "Guy's Big Bite" was bright and somewhat retro, as bold as the star himself (via Food Network). And Ina Garten's "Barefoot Contessa" is filmed in a kitchen befitting a Hamptons paradise, combining a large marble-topped island with airy all-white cabinets. But what you might not realize is that neither of those are the stars' real kitchens. Fieri's was actually a kitchen set inside a studio in New York, and Garten's kitchen is actually in a refurbished barn that's separate from her main house.
But what about Trisha Yearwood? The country singer-turned-Food Network star of "Trisha's Southern Kitchen" has used more than one kitchen as a filming location on her show. In the first season, Yearwood can be seen cooking in one kitchen, but the next season, she switched to a new kitchen. Both seem to perfectly fit Yearwood's vibe and the cozy, country-chic style of her cooking, but are either one of them her actual kitchen? It's complicated.
Technically, both kitchens are in Trisha Yearwood's house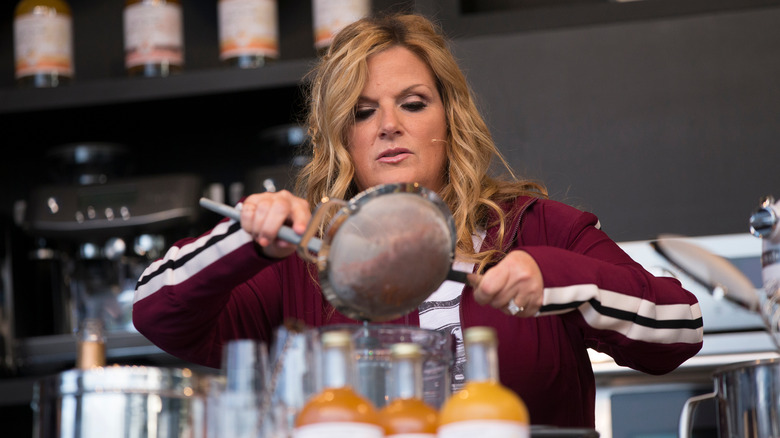 Sterling Munksgard/Shutterstock
The kitchen seen in the first season of "Trisha's Southern Kitchen" seemed to fit with Trisha Yearwood's vibe so well because it was in fact her home kitchen, complete with accessories she selected like a warming drawer for baked goods and a custom-made ceramic table with lazy Susan (via Food Network). But per Today, when Yearwood sold the Nashville home she had bought in 2000, she had to find a new place to film her show. Luckily, she didn't have to look far. 
That's because, like probably most people with a net worth in the hundreds-of-millions (per Celebrity Net Worth, the star has a cool $400 million to work with), Yearwood owns more than one home. Now, her show is filmed in a house she bought in Nashville years ago, according to Country Living. "This is my real house and not just a set," Yearwood explained in a video for Delish, explaining that though she doesn't live in the house, "It's got a great vibe and we do all things Trisha." There's a second prep kitchen located in a garage on the property, too. So, even though the kitchen where she currently films her cooking show isn't the kitchen she uses for day-to-day family meal prep, it is still technically hers, which is probably why it feels so much like her. No wonder Trisha Yearwood is excited about her show.