Sweet And Sour Sauce Recipe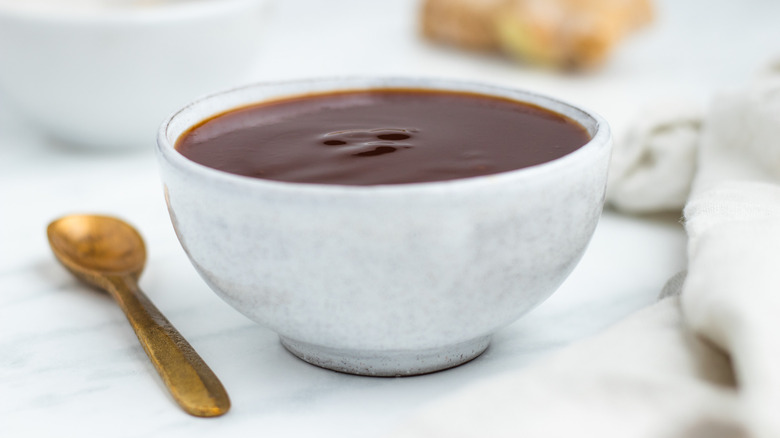 Catherine Brookes/Mashed
Before sweet and spicy was trendy, there was sweet and sour. This sauce — and the various dishes based around it — have been a staple in Chinese-American restaurants for years. If you want to create something similar to restaurant-style sweet and sour pork at home, or if you want something to dip your egg rolls into besides those little packets of hot mustard and duck sauce, this condiment, crafted by recipe developer Catherine Brookes, comes together in minutes and consists primarily of pantry staples.
Brookes says this simple sauce has the power to "transform meat, rice, and noodle dishes into a super tasty meal that tastes just like takeout." This version of the sauce leans a bit more heavily on the sweet due to the amount of brown sugar and ketchup it contains, but if you make sure to use unsweetened pineapple juice, that will help to balance things out. You can also feel free to tinker with the proportions here, taking away a bit of sugar here or adding more vinegar there, as overall, this is a pretty forgiving recipe.
Collect the ingredients for this sweet and sour sauce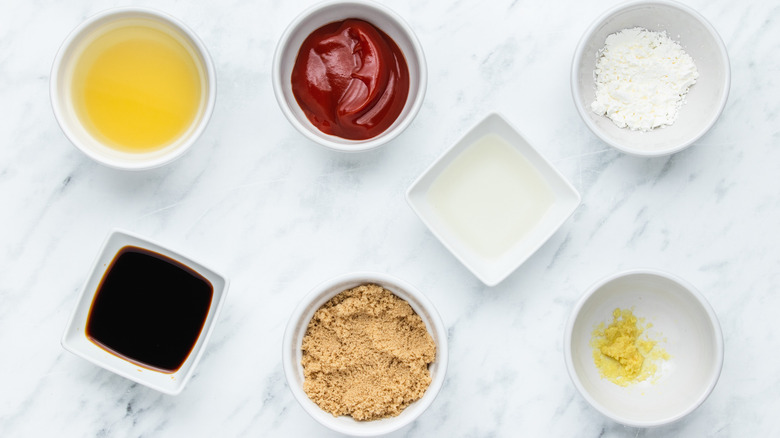 Catherine Brookes/Mashed
To make this sauce, you'll be using brown sugar, ketchup, rice vinegar, soy sauce, and canned pineapple juice. Brookes insists the pineapple juice used be the canned kind rather than fresh, explaining that the latter "contains enzymes that can react with the cornstarch and stop the sauce from staying thick." Oh, that reminds us: You'll need cornstarch.
The final ingredient in this sauce is fresh ginger, something Brookes says "adds a nice bit of warmth that balances really well with the sweet and sour flavors." If you don't have fresh ginger on hand, you can use powdered ginger, or even try the candied kind; as this is such a sweet sauce, a bit more sugar won't do too much harm.
Make the cornstarch slurry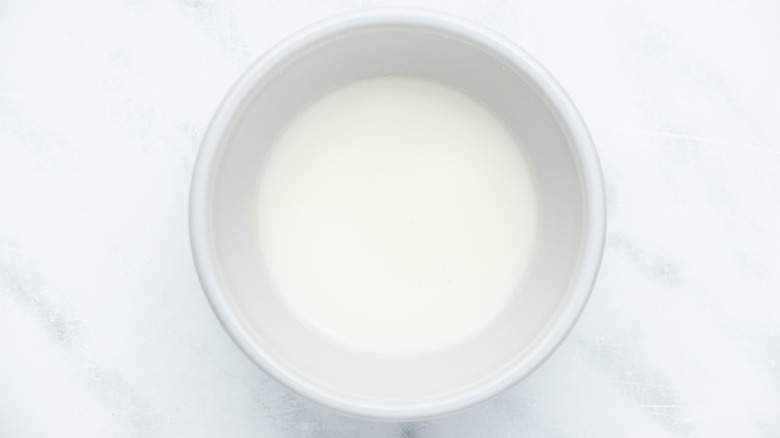 Catherine Brookes/Mashed
While flour and cornstarch both work well as thickeners, for this recipe you'll want to use the latter as there is no fat in the sauce with which to make a roux. Instead, you'll be combining the cornstarch with an equal amount of water to make a slurry. Once you've done so, set that aside for now.
Cook the sauce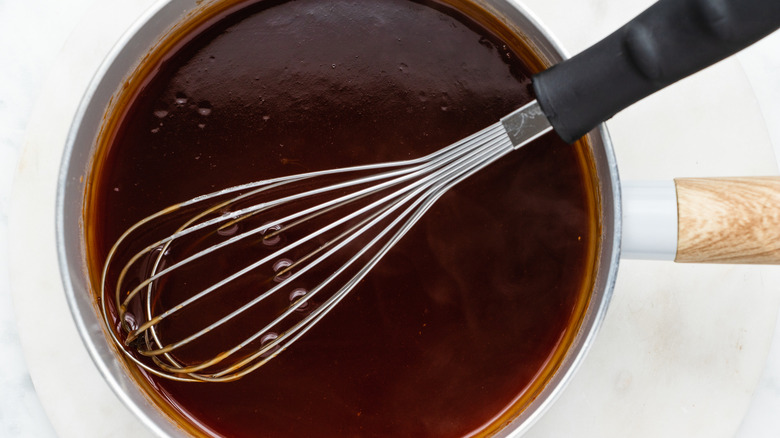 Catherine Brookes/Mashed
Combine all of the ingredients (except for that slurry), then bring them to a boil over medium heat. Stir the sauce as it cooks. Once it hits the boiling point, go ahead and add the slurry. Cook it for 5 more minutes, turning down the heat if it starts bubbling out of the pot or sticking to the bottom. Once 5 minutes are up, the sauce should have thickened a bit. As it cools, it will become even thicker.
Use the sauce within a few days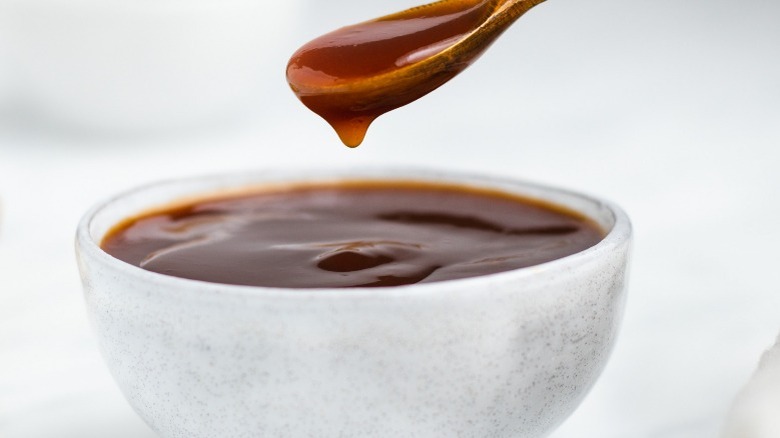 Catherine Brookes/Mashed
If you don't already have plans for your sauce, Brookes suggests it be "poured over a chicken or pork stir fry with noodles [or] rice." You could also use it to glaze chicken wings or as a dipping sauce for wontons or the aforementioned egg rolls, or you could use it with chicken nuggets or on chicken sandwiches; it does bear a certain resemblance to Chick-fil-A Polynesian sauce, after all. Whatever you do with this sauce, though, do try to use it up pretty quickly, as Brookes says it'll only last a few days in the refrigerator.
Sweet And Sour Sauce Recipe
This sauce and the various dishes based around it have been a staple in Chinese-American restaurants for years. But it's also fairly easy to make yourself!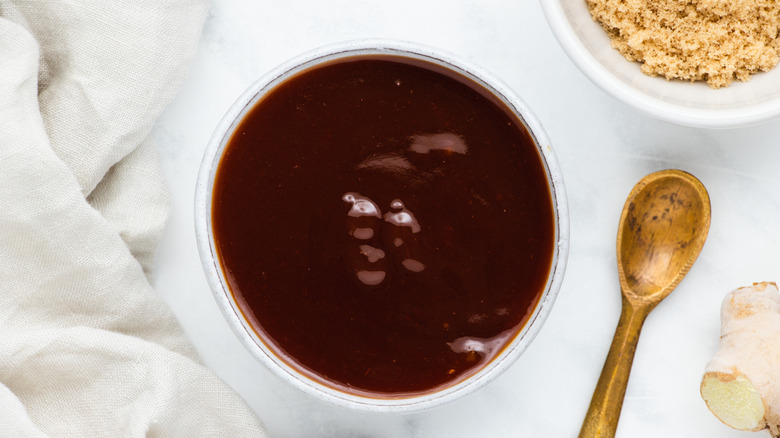 Ingredients
1 tablespoon cornstarch
¾ cup canned pineapple juice
½ cup brown sugar
¼ cup tomato ketchup
2 tablespoons soy sauce
2 tablespoons rice vinegar
½ teaspoon minced fresh ginger
Directions
In a small bowl, combine the cornstarch with 1 tablespoon of water. Set aside.
Add the pineapple juice, sugar, ketchup, soy sauce, vinegar, and ginger to a pot.
Heat the mixture over medium until boiling, stirring constantly.
Stir the slurry into the sauce.
Cook the sauce for 5 minutes until it has thickened slightly.
Remove from heat and allow the sauce to cool. It will thicken more as it does so.
Nutrition
| | |
| --- | --- |
| Calories per Serving | 245 |
| Total Fat | 0.2 g |
| Saturated Fat | 0.0 g |
| Trans Fat | 0.0 g |
| Cholesterol | 0.0 mg |
| | |
| --- | --- |
| Total Carbohydrates | 60.4 g |
| Dietary Fiber | 0.5 g |
| Total Sugars | 51.0 g |
| Sodium | 1,163.7 mg |
| Protein | 2.0 g |