How Ree Drummond's Son Todd Got His Name
Anyone who's followed the rise of The Pioneer Woman, Ree Drummond, from food blogger to Food Network, probably knows a thing or two about her family. "I know there is nothing left on this beautiful, verdant earth you don't know about me," Drummond wrote on her blog in 2009, before introducing an "Ask PW" Q&A series. It was probably that lighthearted self-deprecation that drew fans to Drummond in the first place, way back when she was just a funny foodie living in Pawhuska, Oklahoma. Drummond blogged about life on the farm, raising kids and cattle and cain, on The Pioneer Woman; but it was all that cooking she did to keep everyone fed that caught the eye of Food Network in 2011 (per People).
Of course, if you're going to write an online journal about your day-to-day life, caring and cooking for a litter of kids, it would probably be difficult not to mention them now and again. So, mention, she did, and now everyone who follows Drummond also has a vested interest in how Alex, Paige, Bryce, Jamar, and Todd are doing (via The Pioneer Woman). 
Todd, the baby of the family, "towers over his mom and older sisters," according to the website, so he's in no danger of being overlooked (literally). But with his sisters getting married and his brothers off playing college football, we thought we'd shine a spotlight on the youngest Drummond, starting with the very special reason for Todd's name.
A loving tribute to a special family member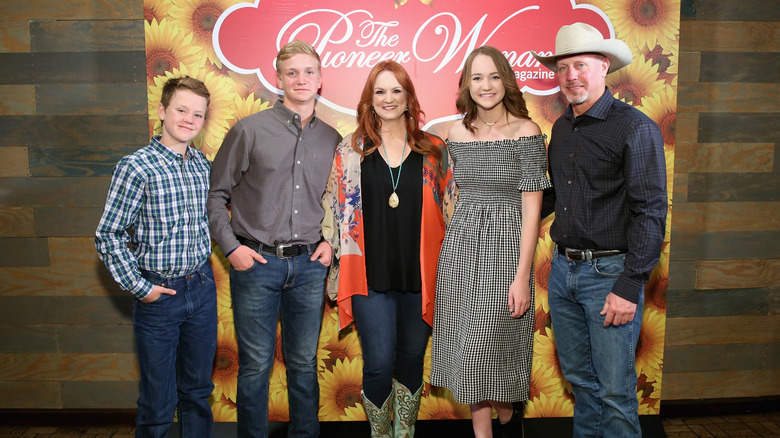 Monica Schipper/Getty Images
When it comes to names, Ree Drummond puts in a lot of thought. Her blog is peppered with lists of favorite baby names, horse names, and even the names of famous witches. She claims in one blog post that she and her husband, Ladd Drummond, named their son, Bryce, after finding a list of Scottish baby names online. But the intention behind naming her youngest son, Todd, is extra special: It's a touching tribute to a loved one.
"[Ladd's] oldest brother Todd was killed in a car accident when Todd was 18, the summer before he left for college," Drummond wrote in 2009. "Tragic, life-altering, terrible. Anyone who has lost a loved one to a car accident knows how much it rocks a family." In a moving post about her Ladd and his living brother, Tim, Drummond writes, "Two brothers now instead of three. And through the years they've grown closer and closer. Their bond has strengthened not just through their common experience of losing a brother, but ... through raising children in many of the same ways they were raised." 
Naming their youngest son Todd after his late uncle and bringing him and his siblings up on the same ranch that Ladd spent his childhood with his own brothers ... what a beautiful way to honor the memory of Ladd's older brother and to give his youngest son a special connection to the family's past.