Zendaya And Tom Holland Got A Taste Of Southern-Fried Comfort In Harlem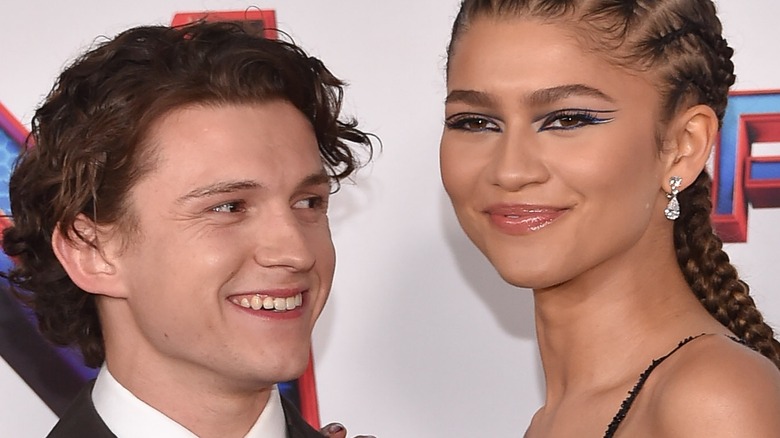 DFree/Shutterstock
When it comes to date night destinations, New York City's restaurants play host to the dining masses as well as to the celebrity elites. From Kim Kardashian and Pete Davidson's visit to Brooklyn's Lilia (via ET) to Millie Bobby Brown and Jake Bongiovi's trip to the West Village's Don Angie (via Daily Mail), famous couples have been spotted all over the city partaking in its abundant food scene. Recently, Zendaya and Tom Holland got in on the action.
The "Spider-Man: Homecoming" stars' well-publicized relationship was on display in the Big Apple during an outing the duo took to Harlem. According to Condé Nast Traveler, the Manhattan neighborhood is "a foodie destination for New Yorkers and world travelers alike," with a vibrant history and newer contributions from chefs who are celebrities in their own right, like Marcus Samuelsson. The restaurant that brought Zendaya and Holland to Harlem, likewise, has a chef who is no stranger to the spotlight.
Melba's hosted Zendaya and Holland
Zendaya and Tom Holland were photographed looking comfortably dressed for their dinner at comfort food destination, Melba's. The Michelin Guide describes Melba's as being "as charming and lovely as its namesake owner," and according to its website, Melba's was opened in 2005 by Melba Wilson. Fans might recognize Wilson as a judge on "The Great Soul Food Cook-Off." The Harlem restaurant has also made headlines for hosting Meghan Markle and Prince Harry. Judging by Melba's recent Instagram post, this wasn't the first time Zendaya and Holland have eaten there either. The caption of the pair posing with Wilson and others inside the restaurant read, "It is always a pleasure seeing these two ...Thanks for dining with us again. Much love to you both."
On Melba's menu, diners can find dishes like Southern Fried Chicken & Eggnog Waffles served with strawberry butter and maple syrup – noted as being a winning dish on "Throwdown with Bobby Flay." BBQ Turkey Meatloaf and Melba's Spring Rolls made with rice, black-eyed peas, collard greens, and cheddar cheese are also on offer. So, what comfort foods did Zendaya and Holland opt for on their date night? A source told People the couple had macaroni and cheese, fried catfish tenders, and fried chicken. Holland reportedly had high praise for the food, though it's unclear if he thought it was as amazing as Spider-Man.