The Unexpected Honey Boo Boo Connection That Duff Goldman Is 'Not Proud Of'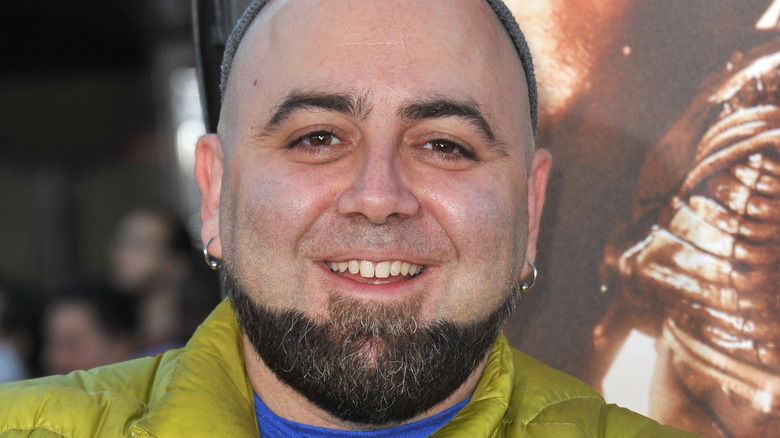 Featureflash Photo Agency/Shutterstock
There's a lot that goes into making a TV show, and stars of cooking shows don't always have a ton of control over who does what, or who gets to work together. For instance, on Duff Goldman's unique show "Ace of Cakes," which filmed 120 episodes, there are 16 producers and 15 editors credited, which really gives you a sense of how many people it takes to create a television show (via IMDb). With so many people on board, that means there were some decisions that were just out of Goldman's hands, and a recent interaction with fans on Twitter revealed one of his regrets stemming from that lack of control.
In response to Goldman using a GIF of Alana Thompson, also known as "Honey Boo Boo," to reply to a different comment, one fan on Twitter said, "You did not just use a Honey Boo Boo gif LMAO!" The "Ace of Taste" star replied, "Fun fact: the production company that made Ace of Cakes also made Honey Boo Boo. I'm not proud of that" (via Twitter). Goldman's response made some fans chuckle, but others had a bit more to say.
Fans of Honey Boo Boo came to Thompson's defense
One Twitter user was quick to respond to Duff Goldman's off-the-cuff remark. "Duff let's not be judgemental. Alana is a child raised in a bad situation in the south. She is doing her best to grow into a wonderful young lady in spite of her upbringing. Be kind." That user has a point. The fact of the matter is, Honey Boo Boo is all grown up. There's no way to know what Honey Boo Boo's life is really like now, but it's true that it seems unfair to blame her or make fun of her for any of the associations people might have with the "Here Comes Honey Boo Boo" show since she was just a child when it was filmed.
Goldman wanted to make sure that everyone knows he wasn't trying to attack Thompson personally. "Hey Gran," he replied, "maybe read it again and don't be judgemental? Did I criticize anyone?" Other fans helped diffuse the tension by dreaming up an alternate reality where Goldman and Thompson actually worked even more closely together. "I feel like we missed an opportunity for a two-part crossover episode," said one Twitter post, while another joked, "I smell a spin off! We going with Honey Cake or Ace of Boo Boo?" (via Twitter).