BrewDog's Largest Bar Is Set To Pour A Pint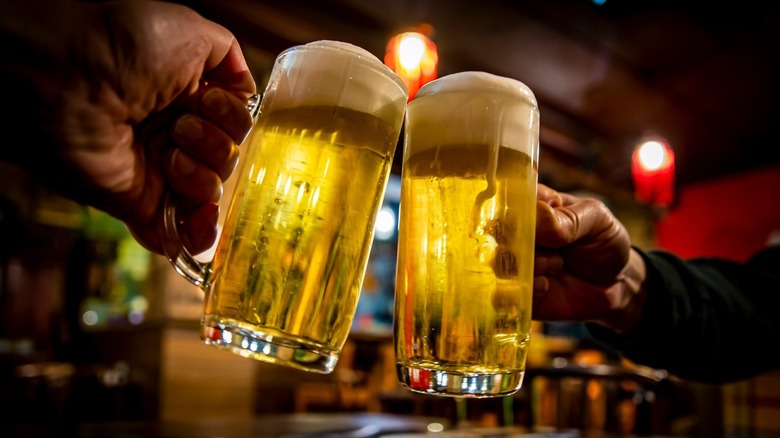 siamionau pavel/Shutterstock
Drinking enthusiasts, rejoice! BrewDog is set to open its largest bar ever in London come August. The massive establishment will be 27,500 square feet over two floors, according to LadBible. The space promises much more than just a place to grab a pint. There will also be a co-working space complete with meeting rooms, "duckpin bowling alleys," a florist, and podcast studios for rent. Beer and pub food won't be the only libations — there will also be a coffee spot, a Hackney Gelato van, and a speakeasy-style cocktail bar helmed by famed London mixologist Rich "The Cocktail Guy" Woods. With that much going on under one roof, you could spend your entire day in the new bar, which will be located inside Waterloo Station in central London. According to The Caterer, there's even going to be a slide connecting the two floors.
Though podcasters likely aren't the first audience you think of when considering a new brewery, BrewDog is keeping them at the forefront of its plans for this epic space. The Waterloo Podcast Project opening inside the space will be a haven for those who love both beer and podcasting. To celebrate the launch, the company will be giving away 100 free recording slots. James Watt, the CEO of BrewDog, told LadBible: "Our plans for BrewDog Waterloo are as exciting as the city it lies at the heart of. This is our new flagship bar for London so we are making it a true destination."
BrewDog keeps on growing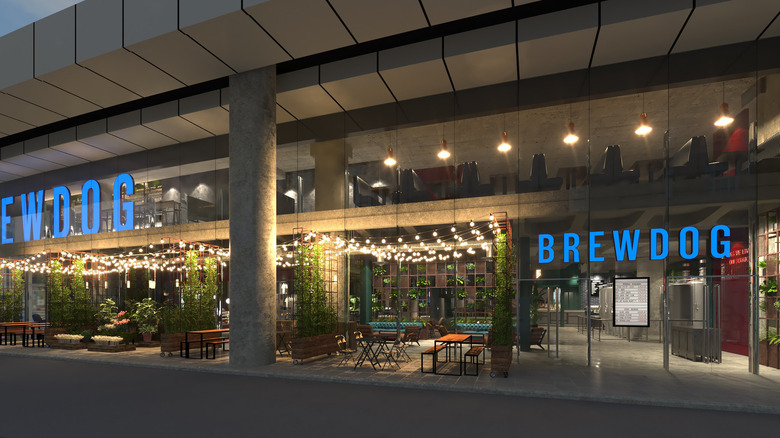 Taylor Herring/BrewDog
BrewDog has become Britain's largest craft brewer, according to the Evening Standard, so it stands to reason that the biggest brewery would be opening the biggest bar. It's one of the first BrewDog bars to open since the release of the BrewDog Blueprint, or the company's roadmap for the future of the business and staff. The plan, per BrewDog's official site, includes an employee profit share, a Transparency Dashboard for employer score and carbon footprint, and a BrewDog Alumni Club for former employees. The giant drinking establishment isn't the only thing BrewDog has up its sleeve — it's also working on customizable beer cans so you can order beer cans that are personalized with your own photos and text, per Winsford Guardian. Their Punk IPA will be the first brew to get the personalization treatment. 
Brewdog Waterloo will be opening on August 18, and the first 200 people inside will be entered to win a pair of tickets to BrewDog Las Vegas. And the next day, August 19, BrewDog is hosting a "truly epic" line-up of bands, per LadBible.
From London to Las Vegas, BrewDog is clearly intent on leaving its mark on the food and beverage space. The brand launched in 2007 and has already opened more than 100 bars worldwide, plus five hotels, per The Caterer. But while beer drinkers and podcasters will get to go bowling at this new venture, will they ultimately be bowled over?