The Cooking Rule Curtis Stone Says Everyone Should Know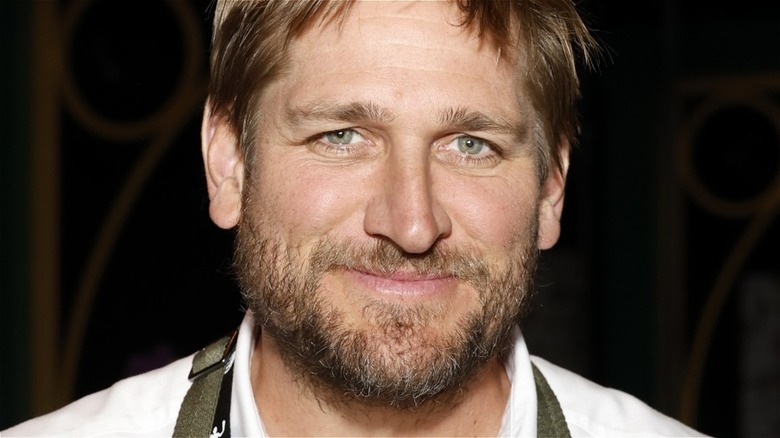 Frazer Harrison/Getty
We may receive a commission on purchases made from links.
There are plenty of great TV chefs, but Curtis Stone is somewhat unique in that he brings an Australian background to his work. Though famous for his Australian heritage, the Melbourne native did not rise to fame "Down Under." Stone technically launched his career at 18 years old in the kitchen of the Savoy Hotel in Melbourne (via Fine Dining Lovers), but his star really began its ascent when he moved to the U.K. to work under his childhood hero, famed chef Marco Pierre White, at Cafe Royale and Mirabelle. Stone was eventually promoted to head chef at White's London restaurant Quo Vadis, per Food Network.
On the heels of his success in elite British kitchens, Stone was offered a gig in Australia co-hosting the show "Surfing the Menu." It wasn't long before he was discovered by producers in the U.S. and asked to star in host high-profile shows like "Top Chef Masters" and "Kitchen Inferno."
Stone, whose cooking style is described by New Idea as seasonally influenced, "meaty," and "fresh," brought this sensibility to his LA restaurants — Maude, which he opened in 2014 and got him his first Michelin star, and Gwen Butcher Shop & Restaurant, opened in 2016. Although Australian chefs are "harder to put a label on" than, say, Italian or French chefs, Stone told Bon Appétit, his personal Aussie style reflects roots from Southeast Asia and Europe. Fire-cooking, a spotlight individual ingredients, and wine pairings are other secrets to Stone's restaurants' success.
Embrace smart prep, says Stone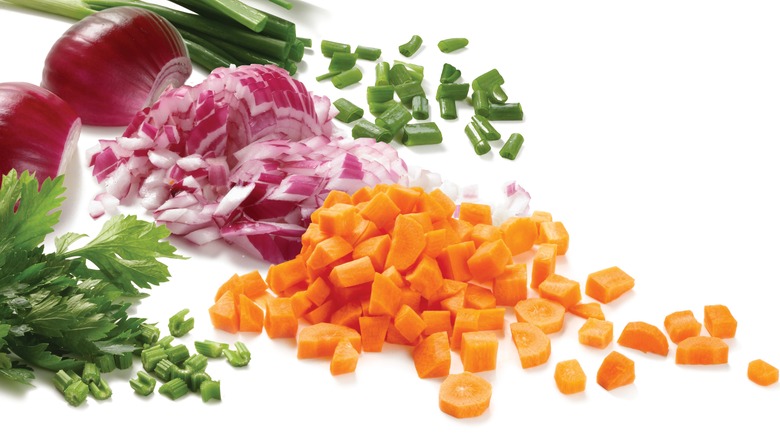 Canan Asik/Shutterstock
Chef Stone's cooking style may be hard for the average home cook to emulate — but they can always take a cue from his time-saving tricks in the kitchen. Success starts with planning ahead, the "What's For Dinner?" author told Today. Whether you're hosting a dinner party or meal planning for the week, keep things efficient by choosing recipes that can be prepped early — and taking advantage of spare windows of time to do so. In just a few minutes in the morning, for example, you can cut and blanch some Brussels sprouts to caramelize on the stove when you get home, he said.
You've heard of "mise en place." The French term is the prep step that makes a good home chef, and it simply means setting out everything you need before you start cooking. Stone takes the concept further by also combining prepped ingredients ahead of time. For instance: Store your chopped carrots, celery, and onions for soup in a single container in the refrigerator so they're ready to drop into the pot. 
Conversely, know what not to prep ahead of time, like salads or herb-forward dishes that will be served fresh and raw, as well as produce that turns brown when cut, such as potatoes or avocados. As for what can be made in advance? All kinds of accoutrements for your dishes, such as salad dressings, chutneys for meats, and entire entrees, like soups. Stone's words aligns with tips from other chefs — Anne Burrell's simple advice for newbie cooks involves prepping ahead (and cleaning ahead) for the least stressful kitchen experience.