The Rarely Known Swag In-N-Out Sells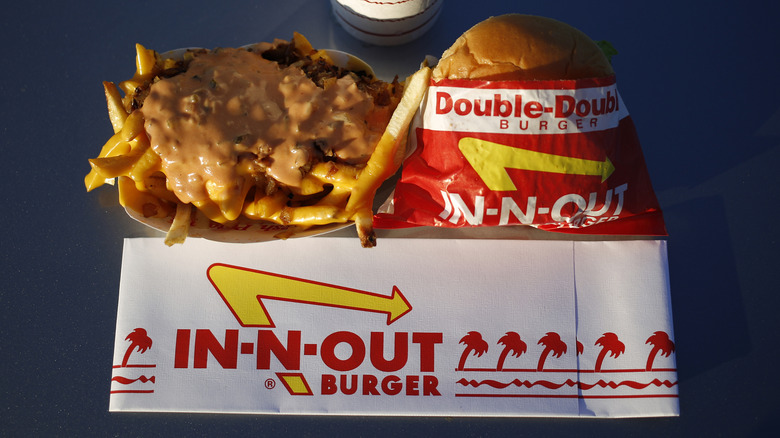 Bloomberg/Getty Images
Since In-N-Out opened in 1948, little about its approach to food has changed. The all-American chain is maybe best known for its never-frozen hamburgers, fresh-cut fries, and thick milkshakes. These days, the restaurant is also known for the long line of cars that is usually seen snaking out of its drive-thru.
In-N-Out is also known for being hard to come by. The chain only operates in select U.S. states, most of which are in the Western portion of the country. When traveling out West, many visitors seek out the nearest In-N-Out to see if the bite is worth the hype. (For the record, In-N-Out is approved by Anthony Bourdain and Gordon Ramsey.)
Of course, visitors can remember their visit with some official In-N-Out merchandise. While most locations sell basic items, like hats and clothing, it turns out that the West Coast burger empire also offers an eclectic array of In-N-Out swag online. Specifically, its Vault48 section, where customers can find some seriously upscale selections. Luckily for diehard In-N-Out fans, the vault has much more than just T-shirts.
The treasures of In-N-Out's Vault48
For In-N-Out Burger fans who are willing to shell out a little more than the price of a T-shirt, there's the Vault48 section of the chain's online store. Have you ever wanted to show your love for those delicious burgers by cruising around on an In-N-Out-themed longboard? Or how about dressing up in style with an In-N-Out charm bracelet? You can even store your new accessory inside a velvet-lined In-N-Out jewelry box. For the business-savvy, there's also the option of a Vault48 pen to jot down important notes (via the company's store). The list of swanky items goes on, but of course, they come at a higher price.
Don't worry if Vault48's high-end merchandise isn't your thing. There are still plenty of unique goods on In-N-Out's website that won't break the bank. From palm tree-lined dog collars to press-on nail sets and Double-Double foam squishies, the chain offers fun swag for any In-N-Out devotee. And hey, you don't even have to wait in the drive-thru line.