The Costco Perk That Has TikTok Mind-Boggled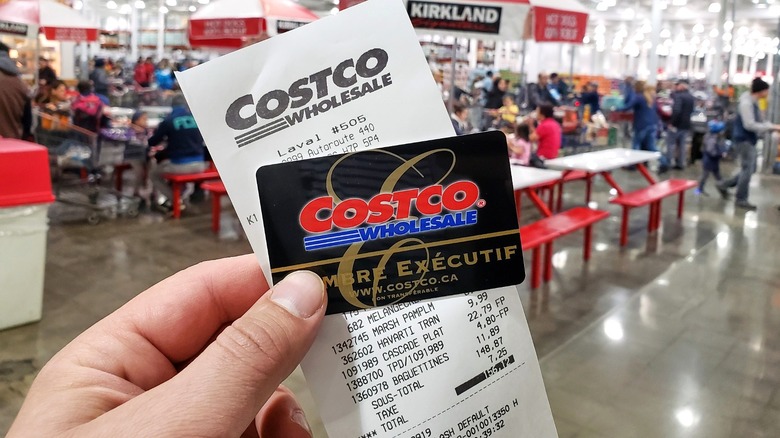 dennizn/Shutterstock
Imagine a place where you can buy all your groceries (mostly at discounted rates), get enough toilet paper for months at a time, and enjoy a hot dog and ice-cold drink for only $1.50 before driving home. Costco is the real-life version of that magic and even though people are paying $60 annually for a basic Gold Star membership, the rewards behind the fee pay for themselves according to the company's loyal customers.
While some of the known perks of being a Costco member include indulging in the $4.99 rotisserie chickens or partaking in the ample wine selection, social media has revealed even more Costco member benefits such as discounts on vacation packages and car rentals.
To top it off, the Costco website regularly lists monthly discounts for members on warehouse items. Die-hard fans are spreading the news as well. With Instagram accounts like @costcodeals (which has over one million followers) and @costcoguide (which is another account dedicated to all the one-of-a-kind deals members can find in the United States alone) you may begin to wonder how all of these rewards are packed into the $60 annual membership fee.
If you don't have space to buy in bulk or are limited to certain forms of payment when it comes to buying your monthly groceries, you may want to look elsewhere or check out your nearest Costco before making a yearly commitment. Apart from the potential drawbacks, one TikTok user claims there is one membership benefit alone that is worth the yearly cost.
Costco's return policy explained in one TikTok reel
TikTok user @legacyinvestingshow posted a reel regarding Costco's return policy, giving the major company another reason for being "the best store on the planet." In the video, the TikTok user walks through the process of returning a large couch without a receipt he had purchased years ago.
In the parody, the user pretends to be a Costco customer service rep, offering him (the customer) cash or a check for the broken couch based on the company's ability to look up his membership activity while in-store. No receipt is required! The user did make a point of noting that there are items not eligible for return, including electronics and alcohol.
With over 500 comments, TikTok users had a lot to say in response. While most confirmed the policy, with one stating, "One of the reasons why I love Costco," there was some debate on electronics being up for return. While few reported customer service being harsh on attempts to return electronics, some claimed to have been able to return laptops and AirPods way past the 90-day guarantee.
While the truth remains that you'll most likely never exit a Costco spending under $10, some loyal members believe being a Costco member is worth it just for the return policy.