The Unsettling Chemicals That Were Found In Bumble Bee Foods' Smoked Clams
You're probably at least passingly familiar with Bumble Bee Foods, LLC because it's the manufacturer of Bumble Bee canned tuna products. Along with Starkist and Chicken of the Sea, Bumble Bee is one of the most well-known canned tuna brands in the U.S., according to a June 6 press release issued by Future Market Insights. But all three of these companies sell more than just canned tuna. Bumble Bee, for example, also sells a variety of other canned proteins, including salmon, mackerel, trout, shrimp, crabmeat, oysters, and clams, plus chicken and ham. Now, one of Bumble Bee's non-tuna offerings is the subject of some breaking news that we have to warn you, might strike you as unsettling. 
On July 6, Bumble Bee Foods, LLC voluntarily recalled some of its canned smoked clams, according to a company news release published by the FDA. Perhaps surprisingly, this recall has nothing to do with foodborne pathogens, which is the topic that often comes to mind when contemplating, say, the importance of knowing how to determine whether your clams have gone bad or what could happen if you don't soak your clams before eating them. Rather, this recall of Bumble Bee's canned smoked clams happened because of concerns over an entirely different kind of contamination.
What are these forever chemicals?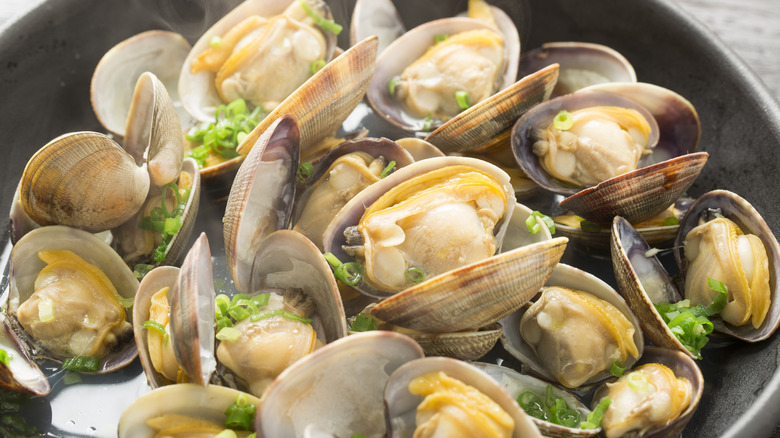 kazoka/Shutterstock
According to the FDA, Bumble Bee is voluntarily recalling one SKU of its 3.75-ounce cans of smoked clams because tested samples were revealed to contain "detectable levels of PFAS chemicals." PFAS chemicals are widely utilized in manufacturing, according to the US Environmental Protection Agency (EPA). They've acquired a reputation for being "forever chemicals," per The Hill, because they break down slowly, if at all. As a result, PFAS have now been found all throughout the environment (air, water, soil, etc.) and in our bodies, as well as in some of the animals that we eat — including seafood. And studies have shown that "exposure to some PFAs in the environment may be linked to harmful health effects." 
Although no illnesses have been reported in connection with Bumble Bee's recalled canned smoked clams, that's almost beside the point, because PFAS are not known for causing emergent illness, but rather long-term damage to health. The Harvard T.H. Chan School of Public Health lists cancer, liver damage, decreased fertility, asthma, and thyroid disease as some of the potential health effects associated with long-term exposure to PFAS. That being said, there's still much research to be done on these chemicals, but the EPA recently issued warnings about PFAS in drinking water and announced a billion-dollar plan to reduce them. Even before that, Culver's and McDonald's were looking into eliminating PFAS in its food wrappers.
What you can do about the recall
First things first: If you have any smoked clams in your possession, please do check to make sure what brand they care. If they're Bumble Bee, you'll want to check beneath the bar code on each can for the UPC code 8660075234 (shown in the photo above). The UPC code identifies not only the product but its vendor, which, in this case, is a third-party seafood manufacturer in China. If you have any cans with this code, the FDA urges you to get rid of them. If you have any questions regarding this recall, you can contact Bumble Bee Consumer Affairs via phone (1-888-295-3627) between the hours of 9 a.m. and 6 p.m. EST Monday through Friday, or visit this Bumblee-sponsored website, which offers a FAQ about this particular recall.
Of course, tossing these potentially tainted cans doesn't address any concerns you may have regarding PFAS chemicals in our environment, in our bodies, and in the food that we eat. And those concerns are, indeed, valid, according to the EPA, the White House, and reliable lay sources of health information like Healthline. For now, the EPA notes that researchers are working to address all the unknowns concerning these "forever chemicals," but in the meantime, you may find it helpful to peruse this EPA publication regarding PFAS awareness and safety.