Duff Goldman's Daughter Rocked Instagram's World With A Dwayne Johnson Song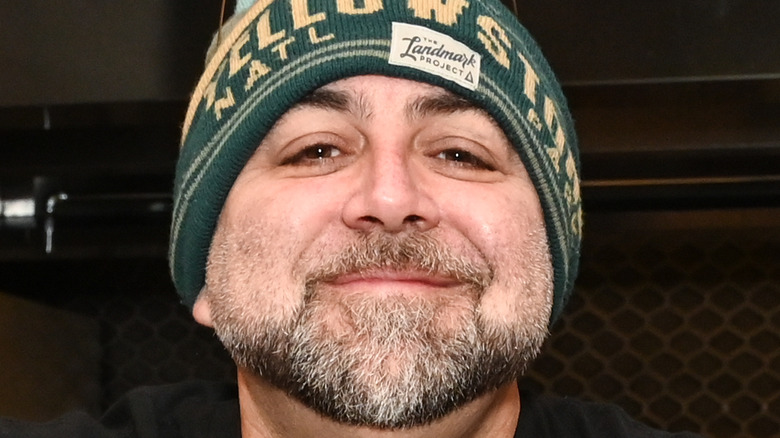 Daniel Zuchnik/Getty Images
It's hard to believe that Duff Goldman's daughter Josephine is nearly halfway through her second trip around the sun. But as they say, "time flies when you're having fun," and it appears that the Food Network star is having just as much of a blast parenting the youngster as we are following along online. The 17-month-old has taken over her parents' respective social media accounts since entering the world on January 31, 2021 – and we can't say we're too mad about that, either. After all, how else would we have been able to see this sweet musical moment between the "Ace of Taste" star and his daughter if he hadn't shared it on his Instagram?
The sweet snap was just one of many instances in which Josephine has shown signs she's inherited a love of music from her father, who has a bit of a rock star background himself. Just last week, in fact, the tot melted hearts with her adorable, on-camera reaction to Metallica. This weekend, she gave us yet another show — though, this time, it was a different kind of rock that made her playlist.
Taking to his Instagram account, Goldman shared an adorable video of his firstborn taken as Dwayne Johnson's "You're Welcome" from the Disney movie "Moana" played in the background. "SHE'S SINGING ALONG WITH @therock," the Charm City Cakes owner captioned the clip that has amassed over 12,400 likes as of this writing.
Some fans think Josephine is destined for a music career
Duff Goldman traditionally lends his bass-playing talents to rock or indie bands, including the alternative rock cover group Foie Grock that he formed with fellow chef Bruce Kalman in 2015 (via Los Angeles Magazine). However, just because the cake maker tends to lean towards the heavier stuff when he's strumming his instrument, that doesn't mean he isn't a fan of other music genres. Goldman once told Delish the soundtrack of his life "was a toss-up" between "When the Levee Breaks" by Led Zepplin and Katy Perry's "Firework" and now he can add Disney tunes to that list. 
His excitement over his daughter Josephine's sing-along to Dwayne "The Rock" Johnson's "You're Welcome" from the "Moana" soundtrack was shared by many. "Too much cuteness. I love singing along with the rock too," one Instagrammer wrote in the comments section of Goldman's post, while others tagged Johnson in hopes of him acknowledging one of his youngest fans. "Better get her an agent," another follower suggested, adding, "Precious should be her middle name."
Music isn't the only passion Goldman appears to have passed down to his daughter. Just like her pops, the youngster loves food, as well. Though she probably isn't quite old enough to work alongside her dad in the kitchen, we imagine it's only a matter of time until we see her whipping up confectionery masterpieces of her own, but until then, just keep rocking out, Josephine.