How Burger King Is Trying To Fight Back Against The Sandwich Wars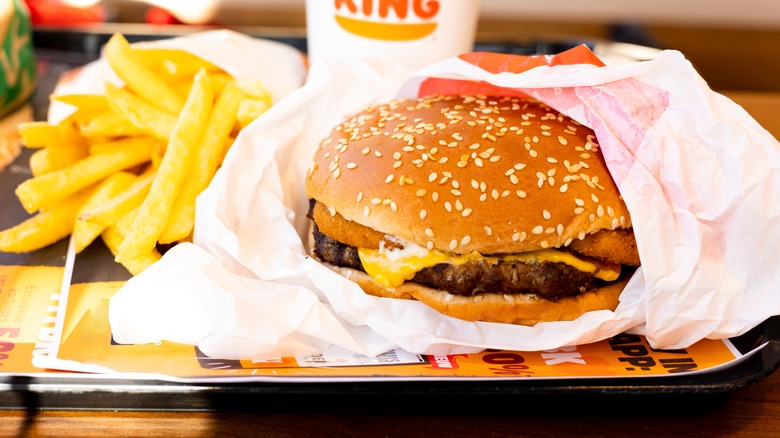 SrideeStudio/Shutterstock
There are fighting words, and then there are war words. Fast food chains use the latter when talking about sandwiches. Wendy's Chief Marketing Officer Carl Loredo said in a company press release announcing the new Hot Honey Chicken Sandwich, "Others may do chicken sandwiches, but at Wendy's, we actually craft chicken sandwiches with flavor." A McDonald's commercial declared, "Our crispy, juicy, tender chicken sandwich can make you feel a lot of things" (via YouTube).
The fast food world has been embroiled in a chicken sandwich war for a good few years now. But sandwich-driven conflicts are nothing new, going as far back as the 1980s when the burger wars erupted between McDonald's and Burger King (via Twisted Food). This game of one-upmanship has not always been kind to Burger King, which has found itself lagging behind the Golden Arches. And as Restaurant Business Online reported in 2021, Wendy's pulled ahead of BK as well. Despite adding the Ch'King to its lineup, the home of the Whopper got outshined by the house that Dave Thomas built. Wendy's introduced new breakfast items. Meanwhile, McDonald's landed collaborations with celebrities.
Now, Burger King seeks to improve its standing on the fast food leaderboard by focusing on what made it so legendary, to begin with.
Burger King introduces a new Whopper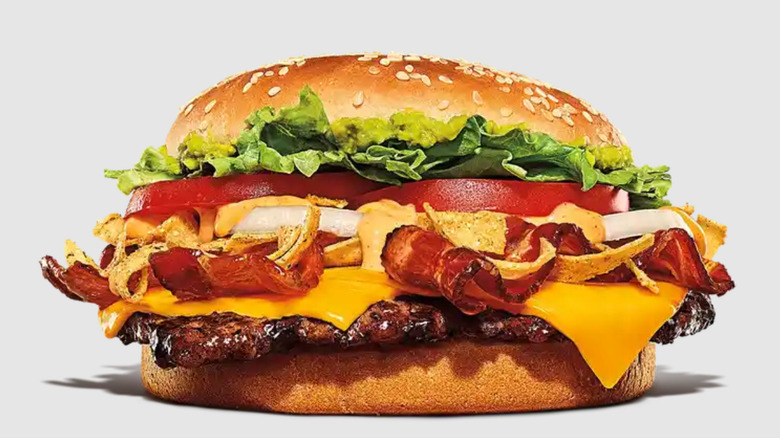 Burger King
In a sense, Burger King is trying to turn the old into the new. Rather than introduce another chicken sandwich or try a whole new type of sandwich, it decided to tweak its famous Whopper. As TheStreet explains, Burger King's newest sandwich is the Southwest Bacon Whopper, which boasts patty or Impossible patties, bacon, avocado spread, tortilla strips, and a "spicy sauce." But the outlet argues that this is a Whopper in name only. The CEO of Restaurant Brands International, which owns BK, said during an earnings call that RBI is looking to entice customers by capitalizing on the Whopper's fame and producing new takes on the burger.
The chain has used this sort of marketing already. In March, BK debuted Whopper Melts nationwide. A combination of patty melt and Whopper, they had caramelized onions, melted cheese, and other toppings sandwiched between two toasted sourdough buns (via Business Wire). But does the Southwestern Bacon Whopper live up to its name?
Unsurprisingly, the answer depends on whom you ask. YouTuber Peep THIS Out! call it "tasty across the board" despite some noticeable saltiness. Ugh More Joe hailed it as a "stellar sandwich" and was extremely fond of the tortilla strips. However, a video byReportOfTheWeek said the sandwich "tastes okay" but "missed the mark" in terms of achieving the "Southwestern flair" folks might be hoping for.