Refreshing Cosmopolitan Cocktail Recipe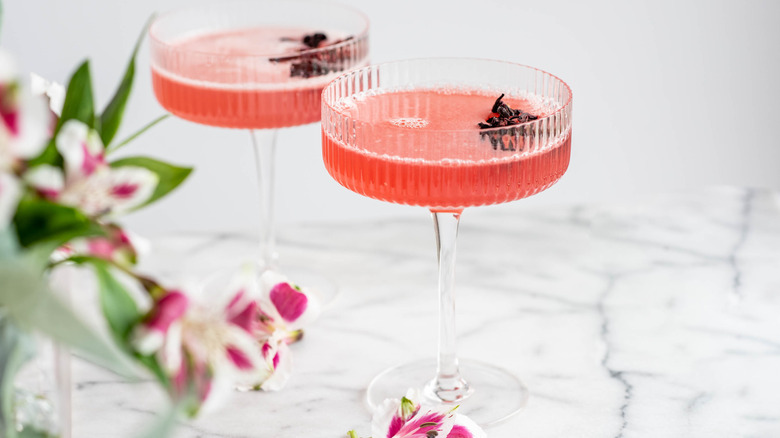 Michelle McGlinn/Mashed
If you're a big fan of cocktails, then there's no doubt a refreshing Cosmopolitan is a drink you're familiar with. Traditionally, you make Cosmopolitans with cranberry juice, Cointreau, and vodka and its bright pink color is one of its signature features. According to Vine Pair, the Cosmopolitan likely came to be sometime in the '80s, though it had a predecessor harking back to the late '60s with a slightly different recipe and a different name — the Harpoon. Marketing wizards at Ocean Spray put the recipe for the Harpoon on every carton of cranberry juice as a way to position cranberry juice as a drink for adults. Genius? We'd say so.
Recipe developer Michelle McGlinn came up with her own slight twist on this classic cocktail, and her version is something to "cheers" about. "Every summer I have a month or so where I get super into cosmos. It's a very refreshing drink, sweet, and easy to make. Plus, [it's] super pretty! You can't beat the pretty pink hue of a Cosmo," McGlinn raves.
Gather the ingredients for a refreshing cosmopolitan cocktail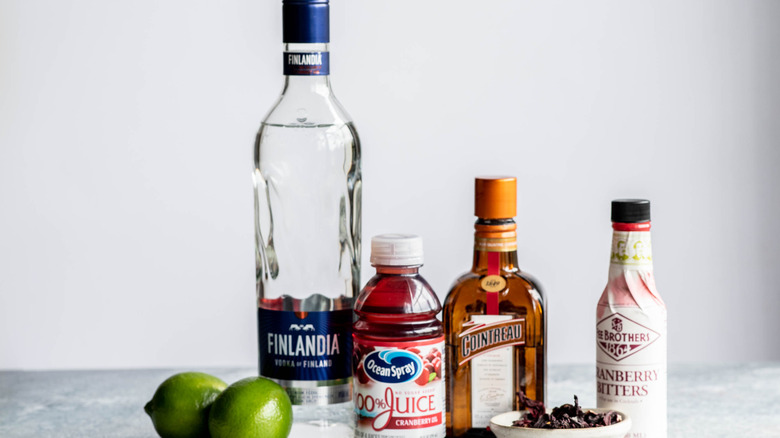 Michelle McGlinn/Mashed
For this recipe, you only need a handful of ingredients. Be sure to pick up the vodka, Cointreau, fresh lime juice (or a lime), cranberry juice, cranberry bitters, and dried hibiscus flowers for garnish. The bitters are one of the secret ingredients. "I used cranberry bitters, which I [realize] isn't in typical recipes — we've just always made Cosmos with bitters," McGlinn explains.
Once you have those items, you can make this refreshing Cosmopolitan cocktail.
Add the liquid to a cocktail shaker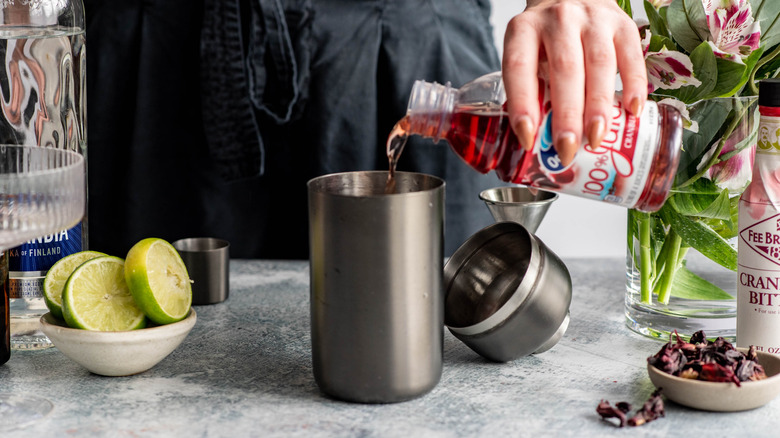 Michelle McGlinn/Mashed
Take out your trusty cocktail shaker and start loading in most of the ingredients. This includes vodka, Cointreau, lime juice, cranberry juice, and bitters.
This drink has a great flavor. "Cosmos are sweet — you are mixing lime juice and cranberry with vodka, which doesn't have a strong flavor in mixed drinks, so the drink really takes on the flavors of the cranberry and lime," McGlinn says. "The Cointreau adds a nice citrusy flavor, and the bitters give it some dimension, rather than just being super sweet. "
Add ice cubes and shake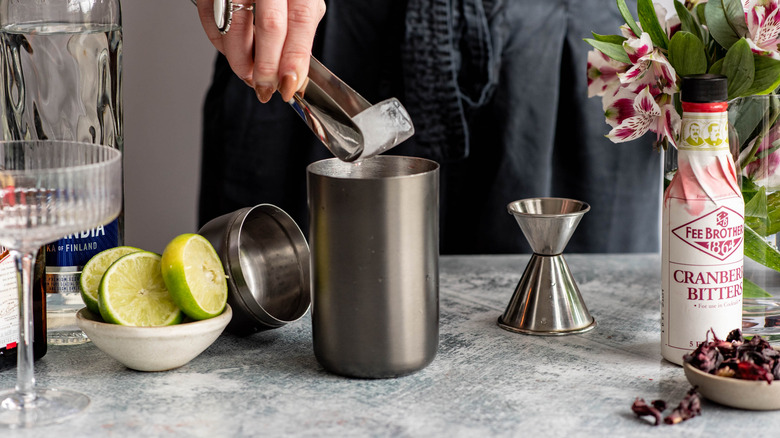 Michelle McGlinn/Mashed
Add 1-2 large ice cubes to the shaker to help the drink get nice and cold. Pop the lid on the shaker and shake until the cocktail is well-chilled. This should only take about 15 seconds.
Strain into a glass and garnish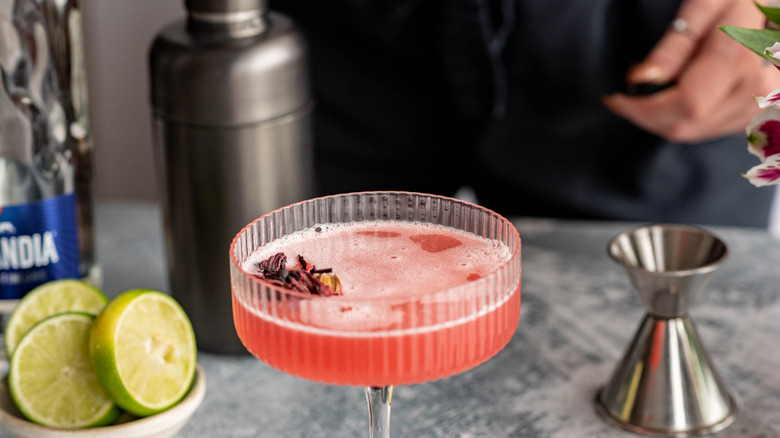 Michelle McGlinn/Mashed
Strain the cocktail into a martini glass or a coupe glass — whichever you prefer. Then, add a dried hibiscus flower to the cocktail as garnish. The flower makes the drink beautiful and gives it a restaurant-style vibe. 
The hibiscus is also another secret ingredient. "You can find dried hibiscus flowers at local hispanic markets — 'Flor de Jamaica' — that's where I get mine!" McGlinn shares. "They're used for agua fresca, which is made like a sweet tea, so you'll often find them in large bags. When steeped in liquid, their bright pink color seeps into the water — this makes your Cosmo even more pink."
Serve and enjoy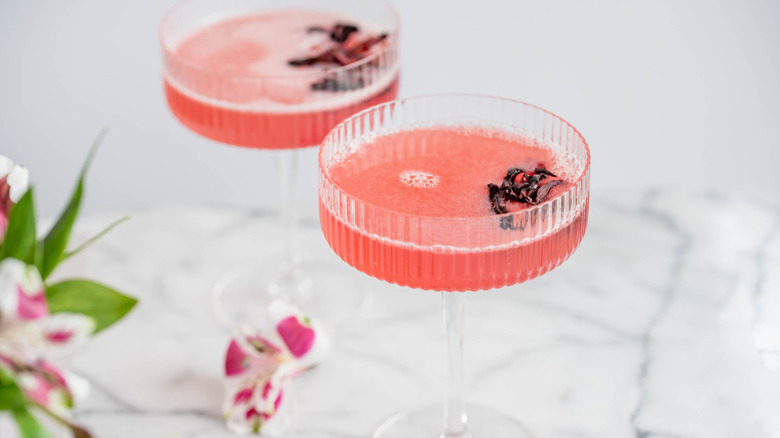 Michelle McGlinn/Mashed
Now, there's only one thing left to do — sip back and relax. This refreshing drink is great for a happy hour on its own, but McGlinn also provides a few serving suggestions if you want to pair it with food. "Being that the Cosmo is technically a sour, it makes for a great apertif," McGlinn explains. "Sours stimulate the appetite! I'd drink one before dinner with appetizers like olives, charcuterie with white cheddars and goat cheese, shrimp cocktail, candied pecans, or bread and olive oil."
McGlinn recommends making individual drinks, but if you want to make it for a crowd, you can. "You can batch these by multiplying the recipe, stirring the ingredients together into a pitcher, and refrigerating until ready to serve," McGlinn says.
Refreshing Cosmopolitan Cocktail Recipe
The classic Cosmo is delicious, but this updated refreshing Cosmopolitan cocktail recipe features special ingredients to make it even more of a happy hour hit.
Ingredients
2 ounces vodka
1 ounce Cointreau
1 ounce fresh lime juice
1 ounce cranberry juice
5 dashes cranberry bitters
Optional Ingredients
dried hibiscus flowers, for topping
Directions
Combine the vodka, Cointreau, lime juice, cranberry juice, and bitters in a cocktail shaker. Add 1-2 large ice cubes, cover, and shake until well chilled, about 15 seconds.
Strain into a martini or coupe glass. Top with hibiscus flowers to serve.
Nutrition
| | |
| --- | --- |
| Calories per Serving | 225 |
| Total Fat | 0.0 g |
| Saturated Fat | 0.0 g |
| Trans Fat | 0.0 |
| Cholesterol | 0.0 mg |
| | |
| --- | --- |
| Total Carbohydrates | 6.2 g |
| Dietary Fiber | 0.1 g |
| Total Sugars | 3.8 g |
| Sodium | 2.0 mg |
| Protein | 0.1 g |