Garlic Bread Lovers Need To Know About Trader Joe's Comeback Item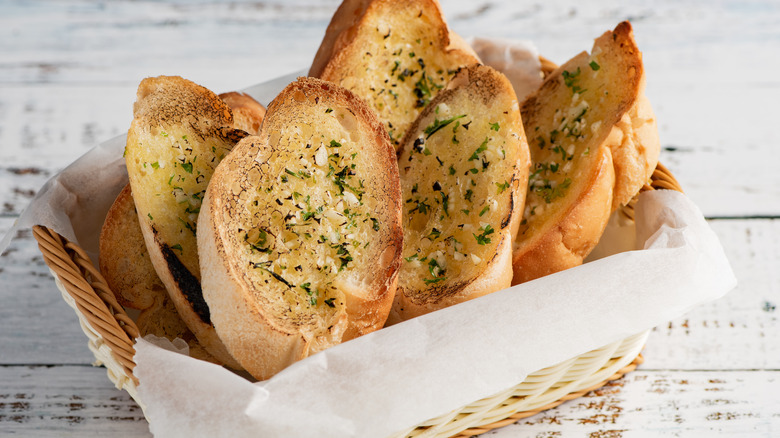 C_KAWI/Shutterstock
When it comes to Italian sides, nothing beats a warm loaf of garlic bread. Crunchy on the outside, soft on the inside, and slathered all over with garlic and butter — what could be better than that? While you might need to pop some breath mints after eating a few slices, it's certainly worth every bit of garlic breath. The best part about this dish? You usually only need a few ingredients to whip up a delicious loaf: lots of butter, lots of garlic, and French bread.
That said, there are a few ingredients that can take your garlic bread to the next level. Dipping your bread in a homemade marinara sauce or adding some shredded parmesan cheese on top can take your garlic bread experience up a notch. If you feel like your current garlic bread recipe is missing a little something something, Trader Joe's just re-released a product designed to supplement this side dish, among other things (via Instagram).
Joining the ranks of TJ's cheese products is the returning garlic bread cheese
If you were a fan of Trader Joe's garlic bread cheese, we have good news for you: it's back! This garlic bread cheese joins the ranks of TJ's cheese products including its pizza bread cheese, halloumi cheese, Italian truffle cheese, and pesto gouda, among others (via Popsugar). User @traderjoeslist announced the return of this product on Instagram. "If you are a fan of halloumi cheese then get ready to fall in love all over again." According to the packaging, this product is a "mild cow's milk cheese seasoned with garlic powder & baked until golden brown."
Customers appeared to be excited about this product's comeback in the comment section. "Drive me to trader Joe's plz," one person wrote, tagging their friend, while another commented, "I finally got this before it sold out and it is heaven." User @traderjoeslist describes this gluten-free product as a "firm cheese that retains its firmness and becomes chewier when cooked in a frying pan or on the grill." Both the @traderjoeslist and the garlic cheese bread packaging recommended a few ways that you can use this cheese. This garlicky cheese can be served on top of plain bread or bruschetta, in a salad, or with tomato sauce.