A YouTuber May Have Leaked A New McDonald's McFlurry Flavor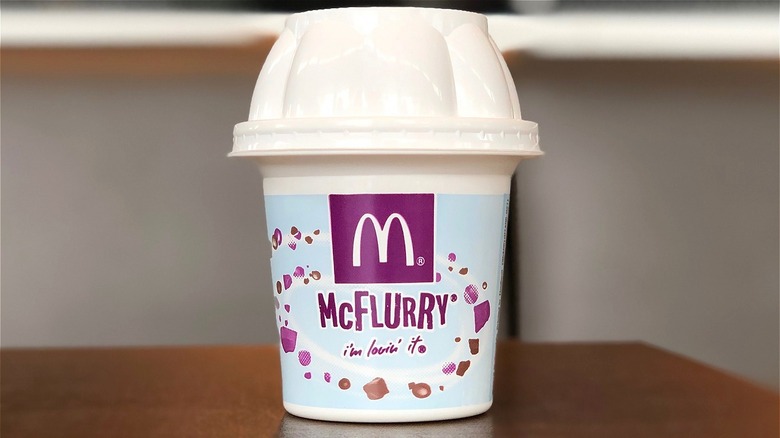 pancha.me/Shutterstock
At this point, getting your hands on a McDonald's McFlurry can be as difficult as it was to get toilet paper during the early days of the pandemic. The internet is filled with memes about how McDonald's ice cream always seem to be broken, and the reason behind it may surprise you. At first, employees would claim that the machine was broken because it was annoying to clean, per Reader's Digest. To remedy this, in 2017, the chain acquired a new machine that only needed to be cleaned every two weeks, though this one, of course, happened to be "temperamental, fragile, and ridiculously engineered," reports Wired. Press the wrong button, and a four-hour pasteurization process may start over, so no one gets their McFlurries that day.
Broken ice cream machines are still so common at this hamburger chain that someone created the website mcbroken.com to track which stores are currently unable to fulfill ice cream orders. According to the website's data, that's 5 to 16% of locations at any given time (via Wired). Clearly, it takes a major stroke of luck to obtain a coveted McFlurry, which is why one YouTuber who just got to try a new flavor should probably have bought a few lottery tickets on their way home.
This Hershey's Mix McFlurry sounds like a chocolate lover's dream
Fast food reviewing YouTuber Ian K of Peep THIS Out was heading to McDonald's for an iced coffee, but when he saw a sign for the Hershey's Mix McFlurry, he made a video reviewing the new item on the spot. The content creator described the dessert as being heavy on the chocolate flavor, despite it being mixed with vanilla soft serve. They referred to the colorful candies mixed into the frosty treat as mini M&Ms, but those are made by Mars, not Hershey (via mms.com). Instead, they may be Hershey's own take on candy-coated chocolates.
Ian K said that there were plenty of chocolate candies mixed in, as well as chunks of chocolate, but he wished there were another flavor, like peanuts, included to break up the monotony. The YouTuber asked people to leave a comment if they have found this treat in their area, and so far, no one has yet. This is not too surprising, because according to Chew Boom, the chain has been quietly testing this new McFlurry flavor at just a few stores in Southern California.