Why Instagram Is Furious At Costco's 'Cookie Inflation'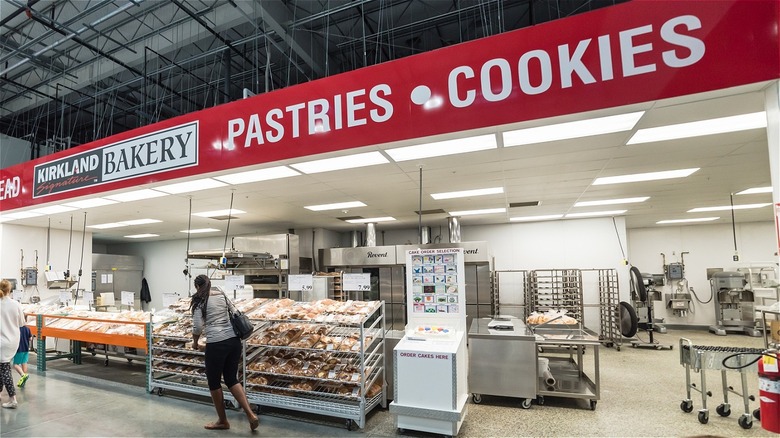 Trong Nguyen/Shutterstock
June's inflation report just dropped, and let's just say Americans aren't pleased, as even experts are surprised at how high the numbers are. Inflation in June was up 9.1% compared to 2021, which Politico says is the largest increase since 1981, with some of the highest ticket items being gas and groceries. Many consumers are feeling the effects of inflation at the pump and when it comes to heating their homes, but the cost of meat, poultry, fish, and, most notably, eggs has increased 11.7% this year. The USDA reports that just over this past week, the wholesale price of a large carton of one dozen eggs in the New York area went up 10 cents to total $3.24.
Yes, we all need some kind of protein, but it's important to remember that our diets don't consist of just these heavily inflated food items. Unfortunately, it seems as if inflation is significantly impacting many of the items we're using to seeing on shelves, and one favorite Costco bakery item has been specifically affected.
Are these cookies worth the dough? Many say no
We all love to head to Costco for deals on food and wholesale items, and for shopper and Instagrammer @costocobuys, the store's bakery's raspberry crumble cookies are one of their favorite purchases. "These all butter cookies have a raspberry filling and are seriously AMAZING! These also taste great warmed up, and they freeze well! Get 12 cookies for $11.99!" the user wrote in the caption of a series of videos featuring the cookies in the store accompanied by an instrumental music piece entitled "Yummy."
Many other Costco shoppers jumped in the comments section to share that they're also fans of the cookies, but some are pretty disenchanted by the price point. Instagrammer @jackiemac222 noted that the price of the cookies has gone from $8.99 to $9.99 to now $11.99, and @maryamwhite_ wrote, "The price increase is INSANE." User @butbacktothecake commented on the cookies' yumminess, but also noted the costliness, writing, "They are so delicious but that's over the top now!!" Commenter @amal_4_life felt similarly, responding "I know right? I've tried them once and really liked them. I just wish they were cheaper."