The Role You Might Have Forgotten Trisha Yearwood Played On JAG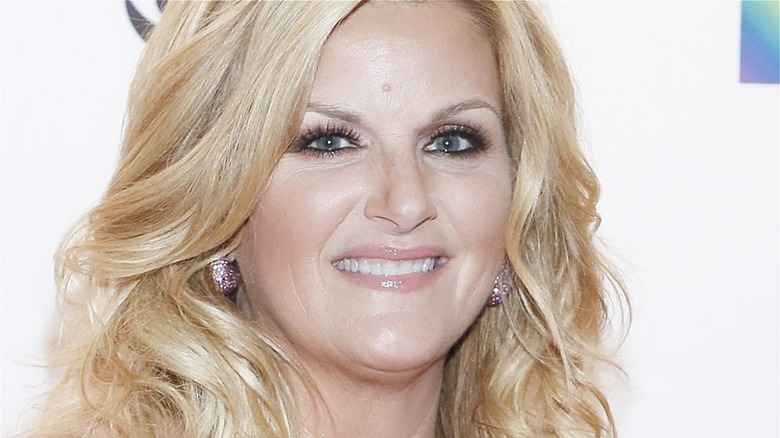 Paul Morigi/Getty
It might seem like a stretch on the surface, but it's not all that unusual for singers to dabble in the art and craft of acting. They're creatives, after all. And the genre of country music is no exception – in fact, a long list of country singers have stepped from the concert stage to the small screen and the big screen.
Tim McGraw comes to mind. Ever since he showed up on "The Jeff Foxworthy Show" in 1997, the country legend has been flexing his acting muscles in big and small TV and movie parts when he's not touring (per People). You might have seen him in "Friday Night Lights," or in the film "The Blind Side," or more recently on the wildly popular "Yellowstone."
And who could forget Dolly Parton, who partnered with Jane Fonda and Lily Tomlin in the "workplace sisterhood" movie "Nine to Five" (per The New York Times)? It's a classic. (Did Parton cook for her co-stars?) "If you look real close, I only take parts that are pretty close to my own personality," the legendary singer confided to Tim McGraw on his "Beyond the Influence Radio" program. And since good things come in threes, we need to complete the acting and country music trifecta by adding the star of "Trisha's Southern Kitchen" to the mix.
Yearwood had a recurring role as a coroner and forensic pathologist on JAG
Country music megastar, Food Network host, and cookbook author Trisha Yearwood (who is also known for her marriage to Garth Brooks) views acting a little bit differently than Queen Dolly. Yearwood scored a recurring role on the CBS military "JAG" in the 1990s, and has said she enjoyed it because it allowed her to step outside of herself and her stage persona (per Chicago Tribune). "It was the first time that I had done anything where I played a character," the singer noted.
Over the course of six episodes that aired between 1998 and 2002 (via IMDb), Yearwood joined the cast of "JAG" to portray Lieutenant Commander Teresa Coulter, a Navy coroner and forensic pathologist who occasionally comes on board to assist Navy pilot and lawyer Harmon "Harm" Rabb Jr., (David James Elliott), the lead character on "JAG." According to Chicago Tribune, Yearwood described her character as "a really smart woman and very (much) an expert in what she does," who also finds herself somewhat attracted to Commander Rabb.
"JAG," which stands for Judge Advocate General Corps, had its start on NBC, was canceled after one season, and moved to CBS in 1997, where it became a fixture. The military drama completed its "tour of duty" after "10 seasons and 227 episodes" – in 2005 (per Paramount). Unsurprisingly, in addition to appearing on screen, Yearwood has contributed to soundtracks for such films as "Con Air," "Hope Floats," and "Stuart Little."