Paul Hollywood's Favorite Snack Isn't What You'd Expect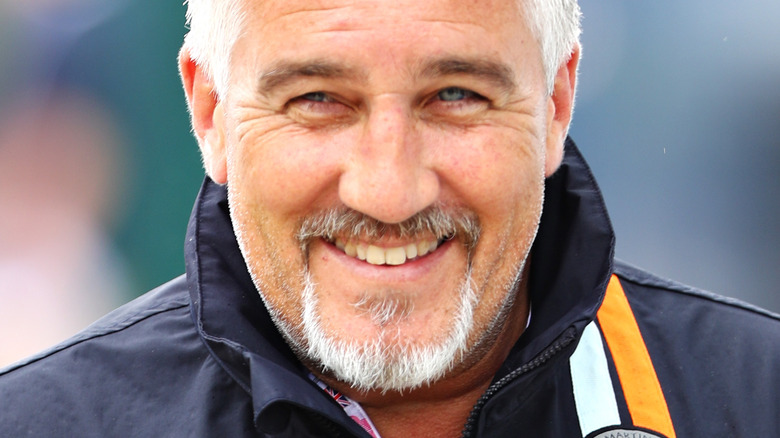 Clive Mason/Getty Images
Fans of "The Great British Bake Off" are accustomed to seeing baker and television personality Paul Hollywood share his expertise week after week, picking apart the crumb structure and crust of the baked goods that the contestants create. In the weeks where the contestants are crafting bread, they're often intimidated by the blue-eyed baker, who happens to specialize in bread. Given his career focus, you might assume his favorite snack is some type of home-baked good — perfectly executed, of course. However, given the choice, you won't find him reaching first for a perfect baguette or even a tempting scone.
Hollywood's snack of choice pays tribute to a location that was particularly meaningful in his career: Cyprus. On his show "City Bakes," Hollywood travels the world in search of incredible baked goods, and there was one episode dedicated to traditional Cypriot food (via YouTube). As he explained in the episode, a young Hollywood left his job at the ritzy Dorchester Hotel in London and headed to Cyprus to polish his skills, spending a total of six years in the country. His connection to the area is so strong that he even calls the island country his "second home."
While there are likely many Cypriot foods that Hollywood would happily indulge in time and time again, there's one particular item that tops his list of favorite foods — and it's one that even those who haven't had the pleasure of visiting Cyprus may have sampled a version of.
Paul Hollywood's flavorful snack of choice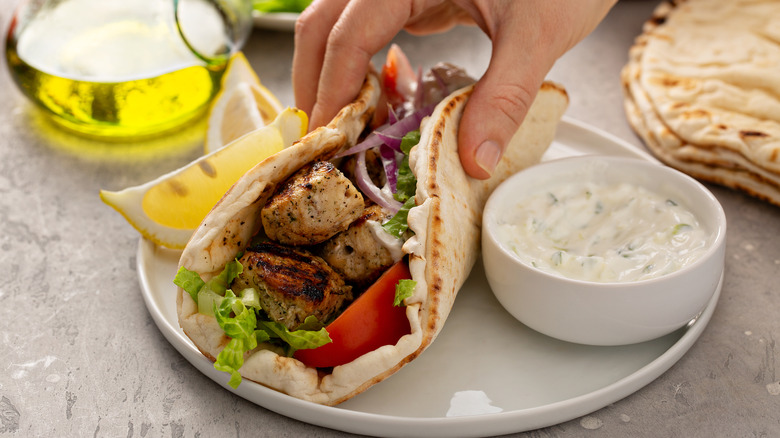 Elena Veselova/Shutterstock
As Woman and Home reported, Paul Hollywood's absolute favorite food is souvlaki. For those who aren't familiar with the dish, souvlaki is a Greek variation of the kebab, a Middle Eastern staple. Basically, it involves some type of meat — pork is quite common, but many also love chicken, lamb, or even vegetarian versions of this popular dish — grilled on a skewer, as per Fork + Plate. Then, the seasoned and cooked protein is then nestled in a piece of fresh pita bread and garnished with vegetables as well as some type of sauce, with the tangy, creamy tzatziki being one of the most common.
Hollywood didn't specify exactly what type of souvlaki is his go-to version, but he did share with Sainsbury's magazine that his most memorable meal was a birthday lunch in Cyprus where he chowed down on pork souvlaki, so perhaps he likes to keep things traditional.
If Hollywood's love of the dish has you inspired, you're in luck — Bloomsbury Publishing shared an excerpt from Hollywood's cookbook 2013 "Bread," which contains a recipe for a pork belly souvlaki, garnished with a Cypriot salad and topped with a chili sauce. And, of course, he's not one to advocate for lackluster store-bought pita bread. Hollywood has a step-by-step recipe with a few pictures for visual guidance, so you'll be able to serve your flavorful filling atop warm, fresh pita bread that you made yourself (perhaps you'll even win Star Baker!).