Easy Homemade Ladyfingers Recipe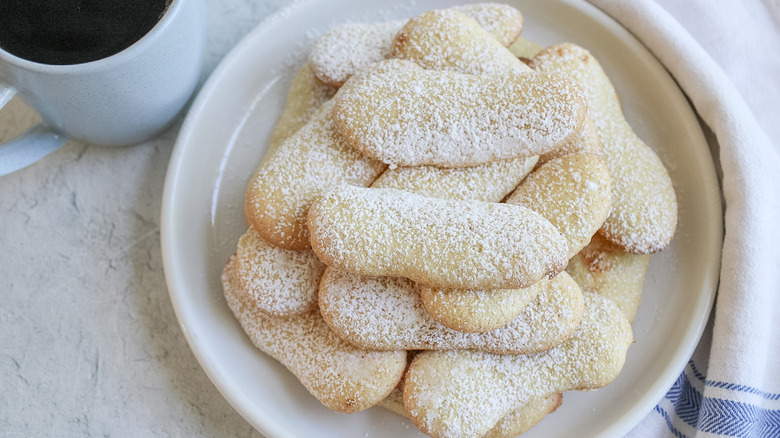 Jessica Morone/Mashed
Ladyfingers are a rather plain cookie if eaten on their own, but they are often used in other types of recipes ranging from trifle to tiramisu. While most such recipes seem to assume you'll be using store-bought cookies, recipe developer Jessica Morone says that "This ladyfinger recipe is so easy, reliable, and delicious that you will never need to buy ladyfingers again."
As to what makes this recipe so reliable, Morone says this is all due to her secret ingredient, baking powder. As she tells us, "It isn't traditionally [used] in ladyfingers, but it makes the recipe really foolproof because it will make sure the ladyfingers rise." This is good, because sometimes it can be tricky to keep those egg whites inflated once you stir in the yolks, no matter how light your touch. Morone does say, though, that "The baking powder in this recipe won't make the ladyfingers rise any more than they usually would, because it's a pretty small amount ... It is just there to make sure that they rise."
Gather the ingredients for easy homemade ladyfingers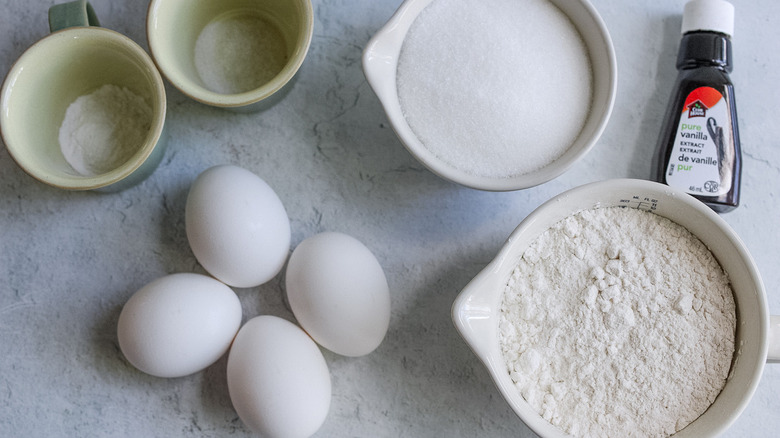 Jessica Morone/Mashed
One thing we love about ladyfingers is that they can be made with basic pantry staples, and not many of them, at that. All you'll need to make this recipe are eggs, sugar, vanilla, flour, salt, and baking powder. If you have powdered sugar on hand, you can also use that to sprinkle over the top of the cookies after they're baked, but this step is optional.
Make the dough for the ladyfingers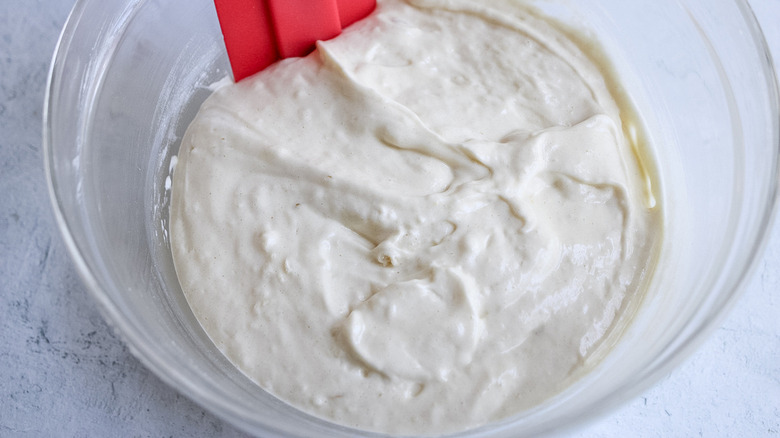 Begin making the cookie by preheating the oven to 375 F, then separate the eggs. Mix the yolks with ⅓ cup sugar (the granulated, not the powdered), beating until the mixture looks pale and thick. Stir in the vanilla at this point, then turn your attention to the whites. Beat these until they form soft peaks, then add the rest of the sugar. Keep beating until they form stiff peaks, then fold the egg yolks into the whites. Finish the dough by sifting the dry ingredients and stirring them into the egg mixture.
Shape the ladyfingers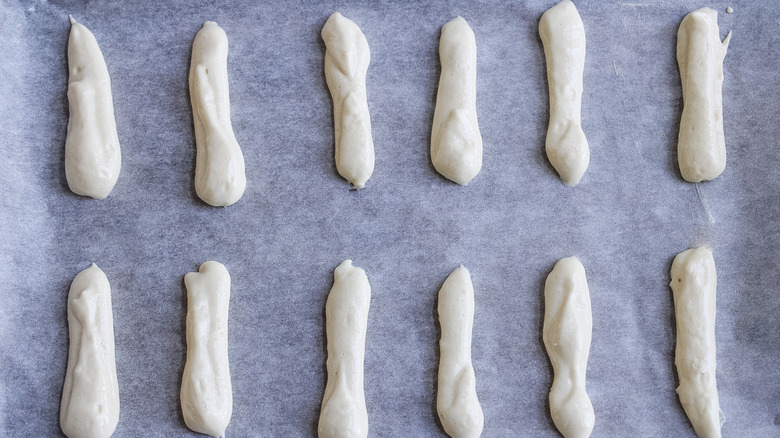 Jessica Morone/Mashed
Grease a couple of baking sheets or cover them with silpats or parchment paper. Put the cookie dough in a piping bag and pipe lines about 3 inches long and 1 inch apart down each sheet. If you don't have a dedicated piping bag, that's no problem as you can just cut a hole about ½-inch in diameter in the corner of a plastic bag and use that, instead. Morone even admits that while she was baking the cookies pictured here, "I did just use a regular Ziploc bag and cut the corner off and it worked just fine."
Bake the ladyfingers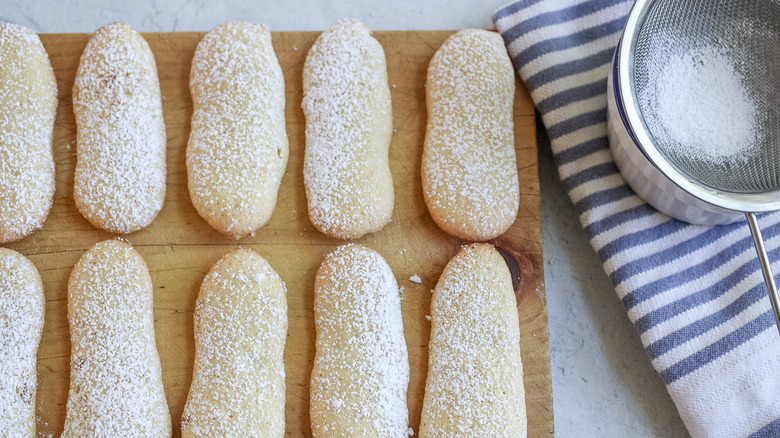 Jessica Morone/Mashed
Bake the prepared cookies in the preheated oven for 8-10 minutes. You'll know they're ready when they're firm to the touch and are just starting to take on a golden tint. 
When they're done, you may sprinkle them with powdered sugar if you like. Morone does advise, though, that you should let them cool completely before you eat them or store them. As she tells us, "You can eat these plain right out of the oven" (after allowing sufficient cooling time, that is), but adds "or you could use these in other recipes, such as for tiramisu."
Easy Homemade Ladyfingers Recipe
Ladyfingers are an excellent cookie to pair with coffee or to use with other desserts, and this fail-proof recipe is easy and only takes 35 minutes to make.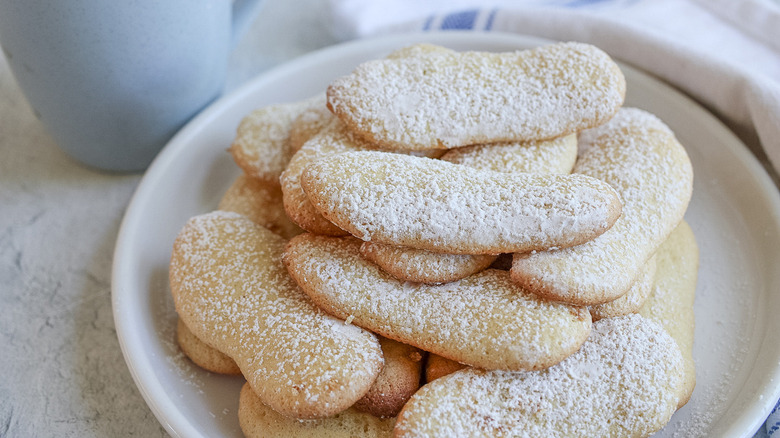 Ingredients
4 large eggs
⅔ cup granulated sugar, divided
½ teaspoon vanilla extract
1 cup all-purpose flour
¼ teaspoon salt
½ teaspoon baking powder
Optional Ingredients
powdered sugar, for dusting
Directions
Preheat the oven to 375 F. Line 2 cookie sheets with parchment paper, and set aside
Separate the eggs, placing the yolks in a medium bowl and the whites in a large bowl.
Add ⅓ cup granulated sugar to the bowl with the egg yolks and whisk together until the eggs are thick and pale in color. Then whisk in the vanilla extract. Set aside.
Use an electric mixer to beat the egg whites on medium-high until soft peaks form, then add the remaining ⅓ cup sugar to the bowl. Continue beating the egg whites until they form stiff peaks.
Gently fold the egg yolk mixture into the egg whites until just incorporated. Sift in the flour, salt, and baking powder, and continue gently folding until combined.
Transfer the batter into a piping bag, and pipe 3-inch long lines about 1 inch apart on the prepared cookie sheets.
Bake in the preheated oven for 8-10 minutes, until they are firm to the touch and just begin to turn golden. Cool completely before serving or storing.
Nutrition
| | |
| --- | --- |
| Calories per Serving | 42 |
| Total Fat | 0.7 g |
| Saturated Fat | 0.2 g |
| Trans Fat | 0.0 g |
| Cholesterol | 24.8 mg |
| | |
| --- | --- |
| Total Carbohydrates | 7.7 g |
| Dietary Fiber | 0.1 g |
| Total Sugars | 4.5 g |
| Sodium | 35.0 mg |
| Protein | 1.3 g |