Bob's Burgers Fans Need To Know About This Cookbook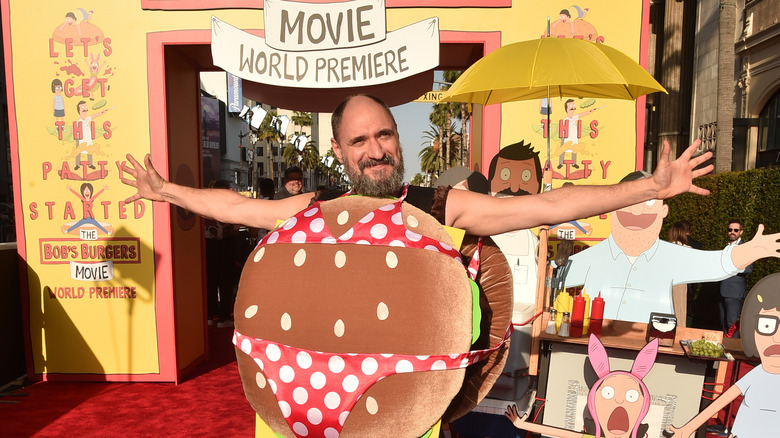 Alberto E. Rodriguez/Getty Images
We may receive a commission on purchases made from links.
The animated show "Bob's Burgers," which airs Sunday nights on Fox, continues to surge in popularity. It won an Emmy for Outstanding Animated Series in 2014 and 2017, has been nominated for the awards a whopping 10 times and was picked up for its 13th season which premieres in September (via PopCulture.com).
In May, the show saw the release of its first feature-length movie, simply titled "The Bob's Burgers Movie," which opened to critical acclaim. Fans of the adult cartoon know that the main character Bob Belcher owns an eponymous hamburger joint where he displays a "Burger of the Day" special on the chalkboard hanging up on the wall behind the diner's front counter.
But even avid "Bob's Burgers" watchers may not have realized that the burger of the day isn't just limited to comedic entertainment purposes. A number of Bob's daily specials have been converted into recipes appearing in a 2016 cookbook published by the show's creator Loren Bouchard and fellow staff writers.                               
Cook your own burger of the day
"The Bob's Burgers Burger Book: Real Recipes for Joke Burgers," includes 75 burger recipes that pay tribute to some of the burger of the day names that have been featured during the show's run (via She Knows). Bob Belcher's specials typically involve some sort of a pun or an allusion to popular culture, literary classics, plus historical figures or events, and every episode debuts at least one new clever burger moniker.
The creative burgers showcased in this book are pulled directly from the show and include humorous titles such as the "Foot Feta-ish Burger (topped with President feta cheese crumbles)," the "Beets of Burden Burger," the "Shoot Out at the Okra Corral Burger (served with Fried Okra)," the "Sweaty Palms Burger (comes with Hearts of Palm)," and one called "I Know Why the Cajun Burger Sings," a reference to Maya Angelou's autobiography "I Know Why the Caged Bird Sings." Most of the recipes come from the fan-created blog "The Bob's Burgers Experiment."
Additionally, the book is illustrated by "Bob's Burgers" creator Loren Bouchard's Bento Box Entertainment in the same aesthetic as the series and features many of the popular characters from the show. Each recipe also lists the episode in which the special burger appeared so you can munch along while you watch.