The Starbucks Secret Menu Frappuccino You Never Knew Existed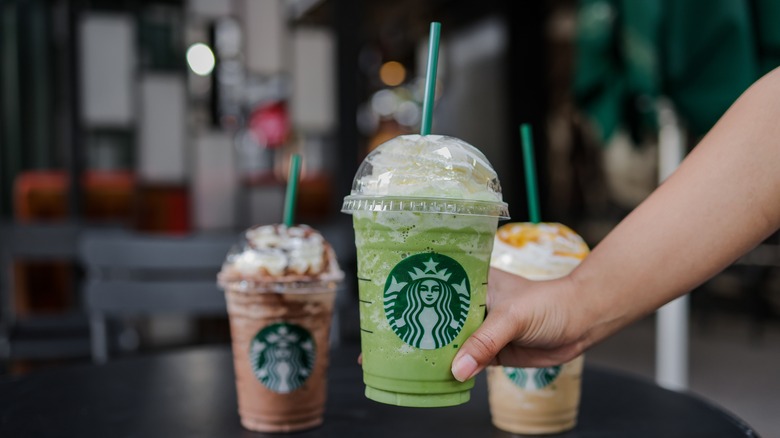 KPPWC/Shutterstock
While people may have started off only drinking coffee hot, as far as Starbucks' customers are concerned, sipping on a cool, caffeinated beverage is the best way to enjoy your morning caffeine ritual. Business Insider reported that out of every four beverages the coffee giant sells, three of them are cold. Of course, while many of the cool coffees customers demand from the brand are cold brews and iced lattes, one icy coffee drink is thought of by many to stand out against the rest — and that's Starbucks' coveted Frappuccino. 
However, while there are plenty of crowd-pleasing flavors on Starbucks' regular Frappuccino lineup, many Frappe fanatics are after much more exclusive frozen coffee spoils. Secret menu recipes offer customers a whole new world of Frappuccino options, from a drink that tastes like Fruity Pebbles (via Delish) to a blood-red "Stranger Things" themed Frappuccino. Now, TikTok has recently uncovered a secret menu Frappuccino that tastes like a classic flavor straight from the happiest place on Earth.
Get a taste of magic with the Disney Dole Whip Frappucno
Anyone who is Disney park-obsessed is usually just as equally enamored with the company's Dole Whip treat. And now, according to one viral TikTok, fans of the creamy pineapple ice cream can enjoy their favorite flavor in frappe form by ordering the Disney Dole Whip Frappuccino from Starbucks' secret menu. TikToker laurengodwin posted a video where they went to try out the secret menu frappuccino for themselves. After ordering the recipe — which involves getting a vanilla bean frappe that trades out milk for cream and uses a pineapple base — laurengodwin expressed delight about the drink, stating its taste was "creamy like pina colada." 
Fans of both Starbucks and Disney showed their love and excitement for the newly-discovered secret drink in the comments. One user wrote, "Tried it and it's AMAZING! Highly recommend!" Another user offered another way to customize it, stating "Add some coconut milk in with it as well it's pretty amazing."
If you find yourself craving even more pineapple flavor after sipping on this Disney-inspired frappe, you're in luck. Starbucks released two new pineapple-inspired drinks earlier this June. Between its official menu's Pineapple Passionfruit Refresher and Paradise Drink and its secret menu's Disney Dole Whip Frappuccino, you'll be able to relish in this tropical fruity flavor all summer long.