Bubbly Cherry Bomb Recipe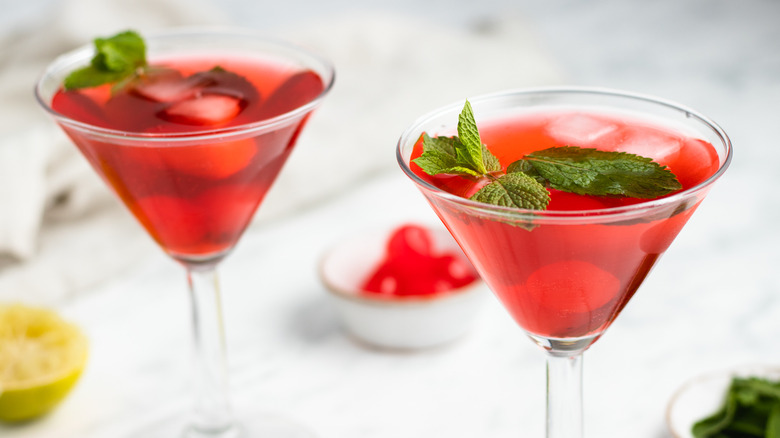 Catherine Brookes/Mashed
This bubbly cherry bomb is kind of like a grown-up version of a Shirley Temple, and who can resist that? Instead of ginger ale, you'll use some sort of lime soda, and of course there's a boozy addition of white rum. Grenadine gives this drink a perfect hit of sweetness (and a beautiful red hue!), and then maraschino cherries really drive home the Shirley Temple-esque nature of this cocktail. If you enjoyed the sweet drink as a kid, then you're probably already sold on this boozy version, but recipe developer Catherine Brookes has a few reasons of her own for loving the cocktail.
"I love the sweetness and vibrant color of this delicious cocktail," Brookes describes. "It's perfect for summer!" Indeed, once those hot months roll around, we want a cocktail that's subtly sweet, refreshing, and bubbly, and this cherry bomb definitely checks those boxes. Enjoy this cocktail on a Friday evening or make it for a group of friends to really get the party started. 
Gather the ingredients for the bubbly cherry bomb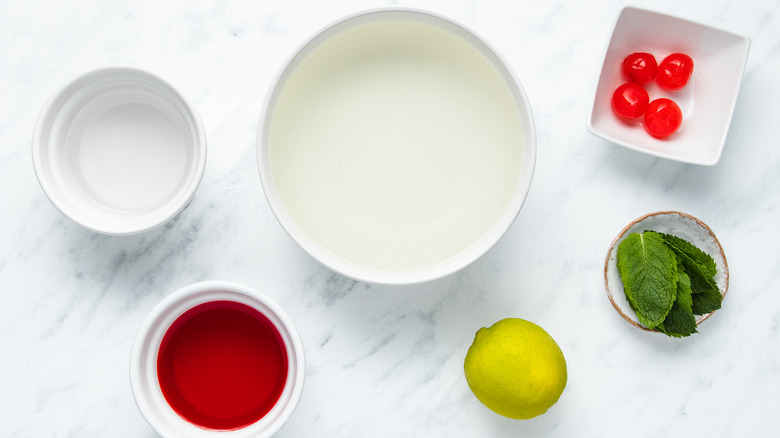 Catherine Brookes/Mashed
It doesn't take much to make a fun and delicious cocktail. For a cherry bomb, you'll need the aforementioned lime soda, grenadine, white rum, and maraschino cherries, along with some lime juice and fresh mint leaves. 
Stir the cocktail ingredients together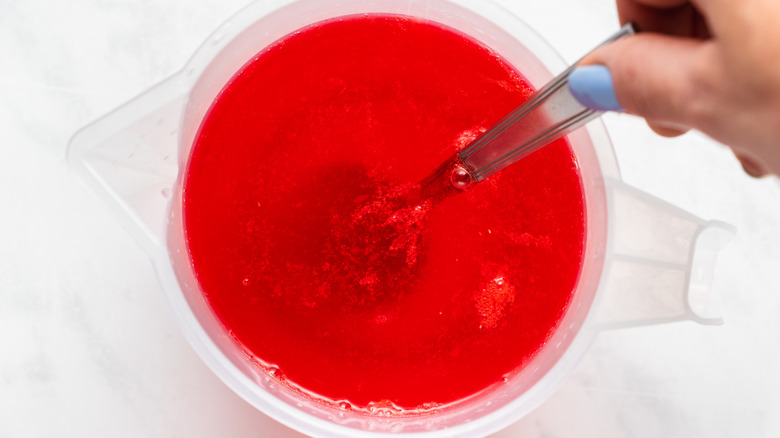 Catherine Brookes/Mashed
Add the lime soda, rum, grenadine, and lime juice to either a jug, tumbler, cocktail shaker, or really whatever semi-large vessel you have on hand. While Brookes opts to stir all of the ingredients together, she does note that you could shake them. "Since all the ingredients in this cocktail are ones that blend together fairly easily there really isn't a huge difference between the two [methods]," she explains. That said, there is carbonated soda involved here, so it may be best to stir, or simply shake all ingredients but the soda and add that after. 
Begin assembling the cocktails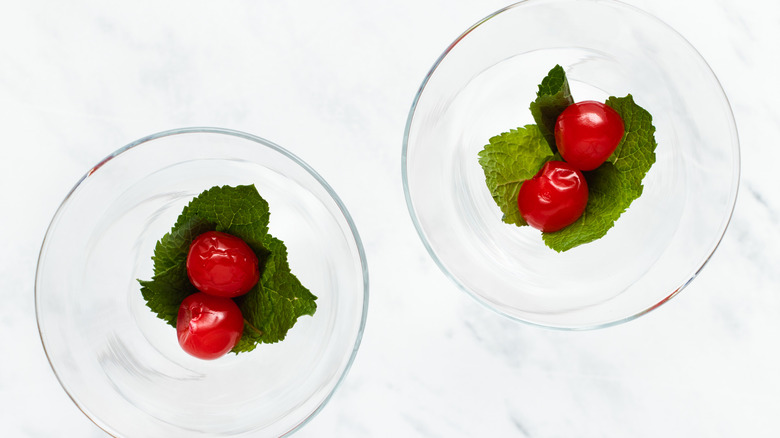 Catherine Brookes/Mashed
With the cocktail itself ready to go, you can get the glasses ready as well. This recipe makes two cocktails, and Brookes likes to put them right into classic martini glasses. Before adding the liquid, however, adorn the bottom of each glass with two maraschino cherries and two mint leaves. "Mint leaves add a cool refreshing taste to the cocktail that compliments the fruitiness perfectly," Brookes says of her special ingredient.
Pour out your cherry bombs and enjoy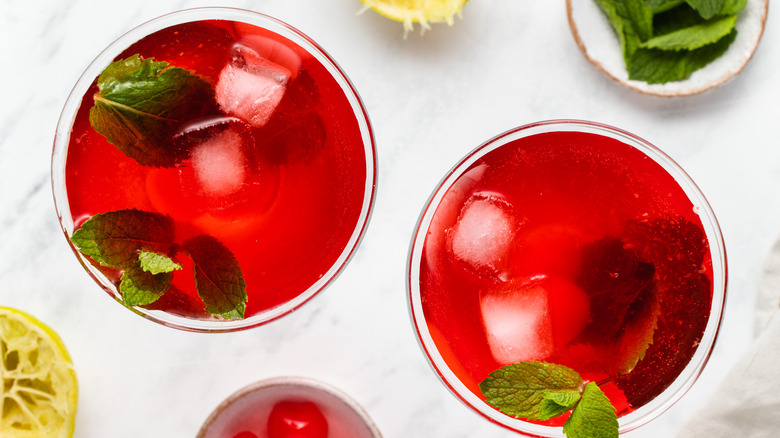 Catherine Brookes/Mashed
All that's left to do is pour equal amounts of the cocktail liquid into each glass. Optionally, you can top each glass off with some extra mint or maybe even a few ice cubes, if you'd like it chilled. Now, you're ready to sip and savor on this sweet, pretty cocktail. "It's a great summer cocktail," Brookes says, noting that it's best enjoyed "for a BBQ or outdoor party."
Bubbly Cherry Bomb Recipe
For the perfect summer drink, try this delicious and bubbly cherry bomb cocktail recipe that will brighten up your day with its sweet flavor and deep red color.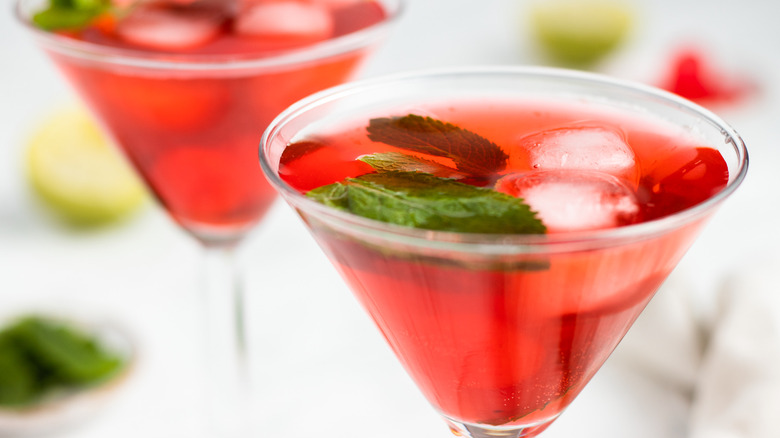 Ingredients
2 cups lime soda
⅓ cup white rum
⅓ grenadine
juice of 1 lime
4 maraschino cherries
4 mint leaves
Directions
Add the lime soda, rum, grenadine and lime juice to a mixing jug, tumbler or cocktail shaker.
Mix well with a spoon or shake well if using a cocktail shaker.
Add 2 maraschino cherries and 2 mint leaves to each serving glass.
Pour the cocktail mixture into the glasses.
Top with extra mint and add some ice if desired.
Nutrition
| | |
| --- | --- |
| Calories per Serving | 207 |
| Total Fat | 0.1 g |
| Saturated Fat | 0.0 g |
| Trans Fat | 0.0 |
| Cholesterol | 0.0 mg |
| | |
| --- | --- |
| Total Carbohydrates | 32.0 g |
| Dietary Fiber | 1.3 g |
| Total Sugars | 27.0 g |
| Sodium | 11.7 mg |
| Protein | 0.4 g |