The Best Over-The-Range Microwaves To Buy In 2022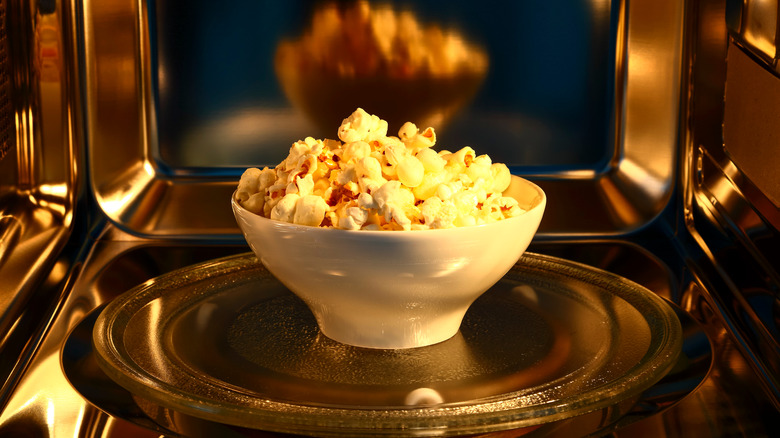 Andrew E Gardner/Shutterstock
We may receive a commission on purchases made from links.
When engineer Percy Spencer discovered the microwave oven in 1945, he probably wasn't intending to revolutionize home cooking as we know it (via Business Insider). Today, over 90% of American homes have this trusty appliance, according to the U.S. Bureau of Labor Statistics, and it's easy to see why. Whether it's melting a stick of butter, preparing popcorn, or reviving last night's dinner for another meal, all it takes is the push of a button and a few minutes of your time to achieve the heat you need. Over-the-range microwaves are a particular model that has caught on due to their space-optimizing design and sleek appearance. Per the name, they're installed in the area above the stovetop, which leaves abundant room on the counter for the prep work that takes place down below. 
That being said, not all over-the-range microwaves are built the same, nor do they all provide the kind of features you might want. Size is likely the most important factor in your decision since the appliance needs to fit when mounted into the wall. Keeping all these considerations in mind can be tricky when choosing an over-the-range microwave, but we're here to help. We've found devices that are capable of steaming, simmering, or nuking whatever strikes your fancy across all price points, so you can pick from the latest and greatest models on the market today. 
How we chose these over-the-range microwaves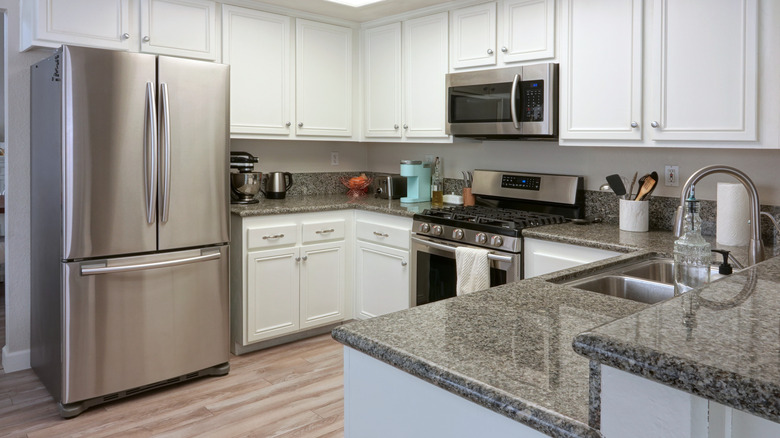 Simone Hogan/Shutterstock
Embarking on our search for the best over-the-range microwaves to buy in 2022 required scouring manufacturer's websites for product info, in addition to reviews of the products themselves. We considered the average consumer's needs for a microwave and the aspects they might seek in the appliance, including cost, size, and specific features offered by a model. Over-the-range microwaves seem pretty similar overall, but manufacturers have unveiled some nifty innovations over the years that really do set them apart, adding another layer to our search. 
While retailers provided helpful information in terms of the devices' functions, we ultimately staked our choices on customer experience with the products. It's easy to take promotional materials at face value, but actually understanding how the device worked long-term provided a better impression of its quality as a whole. Brands with name recognition were found to have overwhelmingly positive testimony from customers, but we found it crucial to find lesser-known labels too. All of these considerations allowed us to determine which appliances performed at the top level, without unfairly writing off legitimately exceptional products. 
Best all-around over-the-range microwave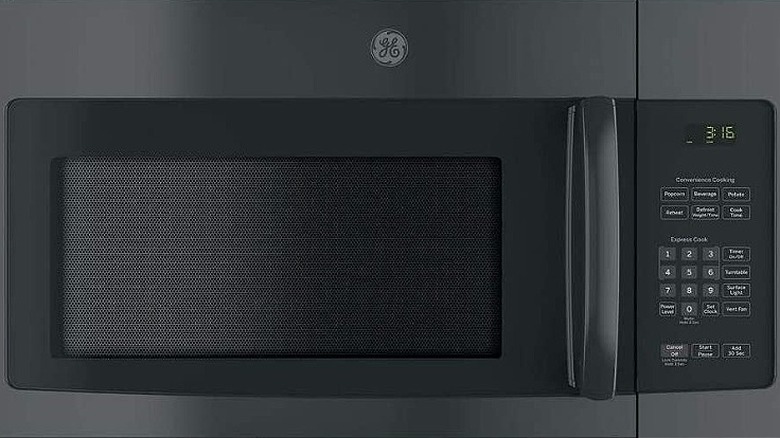 GE Appliances
An all-around over-the-range microwave should include useful features that reliably lead to satisfyingly hot food. Above all, it shouldn't cost an arm and a leg to deliver on the main functions expected from it. Out of all the brands we looked at, we found that General Electric (GE) made the best overall machine. Its over-the-range model features a variety of presets for heating up your favorite foods, complete with a defrost option and dual speed venting system for filtering out fumes. With a 1.6 cubic feet capacity, it's a good size for most households and roomy enough for dinner plates without being bulky or cumbersome to use. 
GE is a trusted brand in the realm of kitchen appliances, and this over-the-range microwave is just another one of its successes. Gadget Review gave it high marks for its reliable performance, reasonable value, and stylishly simple design. It might not be a showstopper or the most technologically advanced microwave you can currently buy, but it's a solid option that does what it's supposed to. No-frills, minimalistic, convenient — what's not to love? At around $300 give or take, it may not be the cheapest option available but you're guaranteed an excellent product in return.
Purchase the GE Over-the-Range Microwave from Best Buy starting at $269.99. 
Best convection over-the-range microwave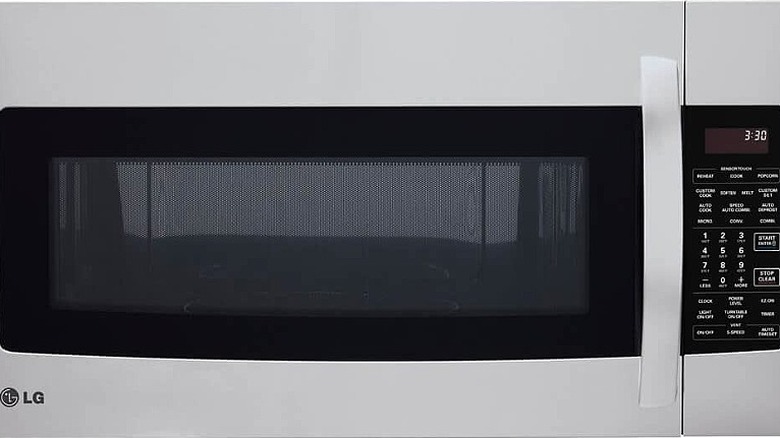 LG
Microwaves aren't just meant for blasting lukewarm coffee on high. These days, there are appliances capable of searing pork chops, roasting veggies, and browning the tops of cheesy casseroles much like a standard kitchen oven. If you're looking for a multi-purpose microwave that does more than just reheat your meals, you can't go wrong with this model from LG which has a 4-star average from Home Depot customers. 
Within one appliance, there are two cooking modes for switching between the microwave and oven — 950 and 1,650 watts, respectively — as well as ten cooking presets, auto-defrost, and a charcoal filter for venting exhaust. On top of all that, there are sensor controls that monitor when food has been adequately heated, so you don't need to punch in the time. It's basically two kitchen appliances combined into a single superhero gadget, with the added bonus of a one-year warranty guaranteed by the company. 
Out of close to 200 reviews on Home Depot, a solid portion of people were pleased with this over-the-range convection microwave for its attractive features and impressive versatility. One reviewer raved about baking cookies with their grandchild, while another was able to toss out multiple appliances after making this purchase because it covered all the bases. For those wanting the most out of their over-the-range microwave, this one won't disappoint. 
Purchase the LG Electronics 1.7. Cu. Ft. Over-the-Range Convection Microwave from Home Depot starting at $669.
Best affordable over-the-range microwave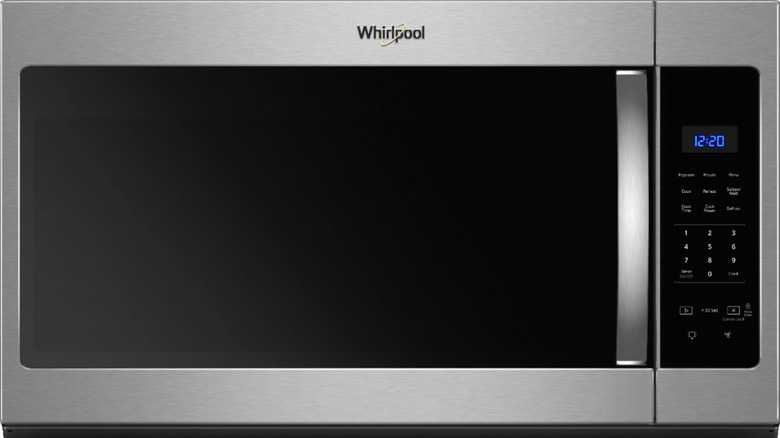 Whirlpool
Money can be one of the biggest obstacles in buying an over-the-range microwave that works, and more importantly, one that lasts over time. Whirlpool makes an affordable option that performs just as well as its prestigious competitors, but at a fraction of the price. For under $250, this little machine comes with all the necessary components needed for heating and defrosting with a few perks that make it stand out. The appliance measures 1.7 cubic feet, with 1,000-watt power and useful presets for common foods like pizza, chicken nuggets, vegetables, and more. Plus, its stainless steel exterior is smudge-proof, so it'll look nice amid daily handling.
Additionally, this over-the-range microwave boasts touch controls and a dishwasher-safe turntable, features that seem more befitting of expensive models than what's advertised. By the looks of it, you wouldn't expect it to be budget-friendly. Lowe's customers appreciate how functional and convenient it is to use, as well as its quiet fan setting, which is a rarity for cheap kitchen appliances of any kind. All in all, this is a fantastic microwave for buyers tight on cash, and for anyone wanting a good value overall. When the affordable option appears this good, why pay extra? 
Purchase the Whirlpool 1.7 Cu. Ft. Over-the-Range Microwave with Electronic Touch Controls at Best Buy starting at $259.99
Best luxury over-the-range microwave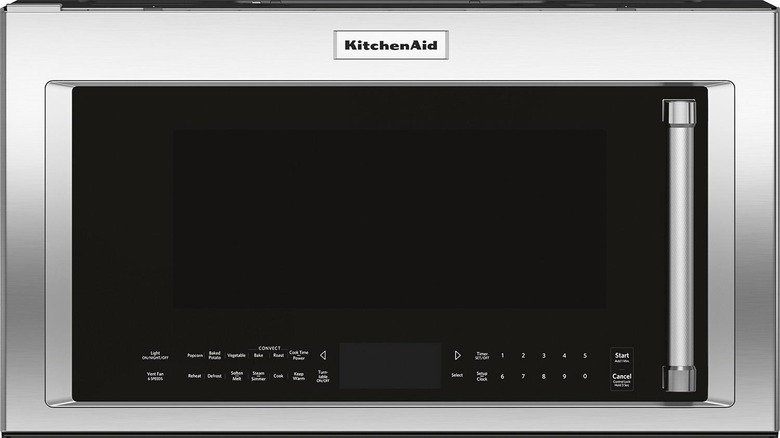 KitchenAid
While we love a good bargain, there's also something to be said about investing in a premium microwave that will last you for years to come. Leave it to KitchenAid to make the best luxury over-the-range microwave out there, with a bounty of features to boot. For starters, it's a spacious convection microwave at 1.9 cubic feet, which boasts 1,500 watts of full heating power with a stainless steel finish. But that's not all: Not only can it heat and bake like a typical combo appliance, but it can steam and simmer too thanks to a complimentary steaming container. There's also a double rack for cooking multiple items, and a steam sensor capable of diffusing stains on the interior. Have we mentioned how cool it looks, too? 
Given KitchenAid's renowned reputation, the good reviews aren't surprising. Out of over 2,000 reviews on Lowe's website, a solid 77% are absolutely delighted with this pick. One reviewer says it "heats super quickly" and they came away "impressed" by its overall performance as a convection oven and microwave alike. Another wrote that they could toast bread and steam rice using the same machine. For one tool, you're getting the power of three, which in our books justifies its higher price point. If there ever was an over-the-range microwave of the future, it would be this one by KitchenAid. 
Purchase the KitchenAid 1.9 Cu. Ft. Over-the-Range Convection Microwave with Sensor Cooking from Lowe's starting at $999.
Best compact over-the-range microwave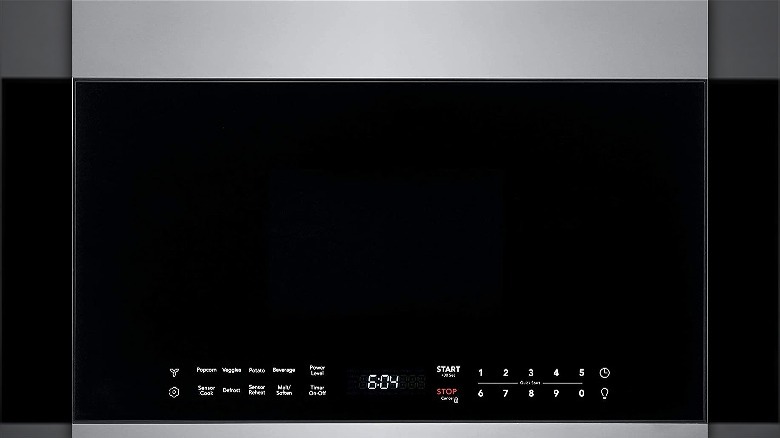 Frigidaire
Optimizing space is one of the main advantages of an over-the-range microwave vs. a countertop model. Still, small kitchens might not be equipped to have standard-sized microwaves installed, which can be a big pain for any homeowner. This over-the-range microwave from Frigidaire is tiny at 1.4 cubic feet, but its mighty features propel it to great lengths. Let's start with its surprisingly generous proportions for such a compact appliance: It's 17 inches tall, with a 16-inch interior and a 13.6-inch turntable that's large enough to handle most plates. It also has single-touch buttons, a sensor cook setting, and auto heat settings, including an add-30 seconds button. 
Basically, it can do anything a larger microwave can but in a miniature format that's downright deceptive to witness. Amazon reviewers looking for a compact over-the-range microwave got exactly what they paid for and more, describing it as "beautifully designed" and "sharp-looking." One person appreciated its LED lighting, noting that its brightness made looking inside much easier while heating something up. This is a must for apartment-dwellers or those with basements or RVs where only a tiny appliance will do. 
Purchase the Frigidaire 1.4 Cu. Ft. Over-the-Range Microwave from Amazon starting at $533.10.
Best large-capacity over-the-range microwave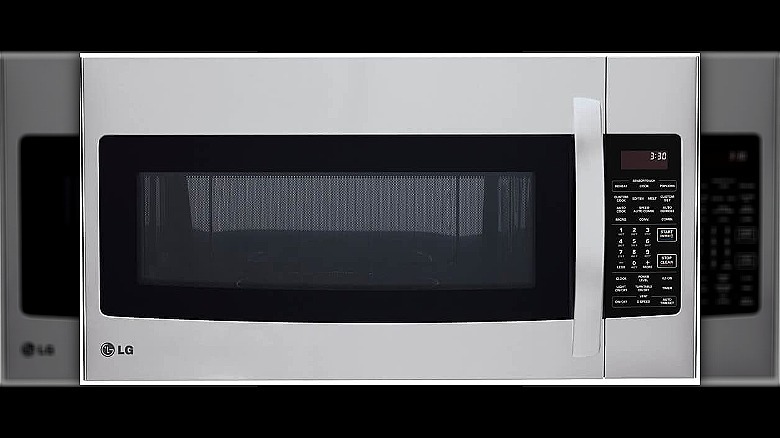 LG
By contrast, large households may need an over-the-range microwave that's fit for heating up family-sized meals. Standard capacity appliances tend to fall between 1.6 and 1.9 cubic feet, but LG Electronics makes a bigger model that will handle whatever casserole dish comes your way. With a roomy 2.2 cubic feet, this model offers plenty of space for oversized platters typically reserved for the oven. Like most microwaves, it heats at 1,000 watts, but its various features make it stand out. Between a powerful fan, built-in ventilation, and an automated sensory cooking mode, nuking that platter of enchiladas or lasagna becomes easy-peasy. 
Bulky appliances have an annoying habit of being inefficient or stubborn, but LG's streamlined design defies these expectations. Besides its spacious interior, Top Ten Reviews remarks that the microwave's ExtendaVent 2.0 technology stole the show. Not only does it successfully clear out any fumes from the stovetop, but it's practically silent while operating, eliminating the need to endure headache-inducing noise. While more expensive than similar products, LG's model promises consistent performance and provides enough wiggle room for heftier portions of food. For hosting frequent dinner parties and occasions with guests, this little machine will always work wonders. 
Purchase the LG Electronics 2.2 Cu. Ft. Over-the-Range Microwave from Home Depot starting at $549. 
Best air-filtering over-the-range microwave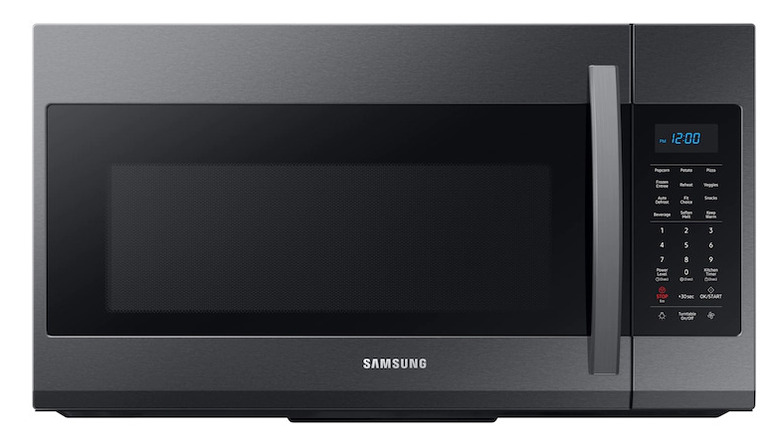 Samsung
Anyone who's spent time in a kitchen knows how distracting cooking fumes can get. When selecting an over-the-range microwave for the home, it's important to make sure it has a proper ventilation system that casts out overwhelming odors instead of locking them in. The 1.9 Cubic Foot Over-the-Range Microwave from Samsung clears the air at a powerful 400 cubic feet per minute, and can be installed in one of two ways: as an external vent, which filters exhaust from outside the home or as a recirculating vent, which recycles air back into the room. It also comes with a replaceable charcoal filter that should be switched out every six months. 
Overall, this microwave's vent is effective without being too noisy, which is always a plus for everyday appliances. As a convertible ventilating microwave, consumers are able to make the call as to how the microwave should be installed according to the specific layout of their kitchen or house. A reviewer from Home Depot points out that the vent escapes from the top of the microwave, so unless that's your preference then some alterations might be made. Flexibility is a selling point we can always get behind, especially for an over-the-range microwave that will last years. 
Purchase the Samsung 1.9 Cu. Ft. Over-the-Range Microwave in Fingerprint Resistant Tuscan Stainless Steel from Home Depot starting at $278.
Best versatile over-the-range microwave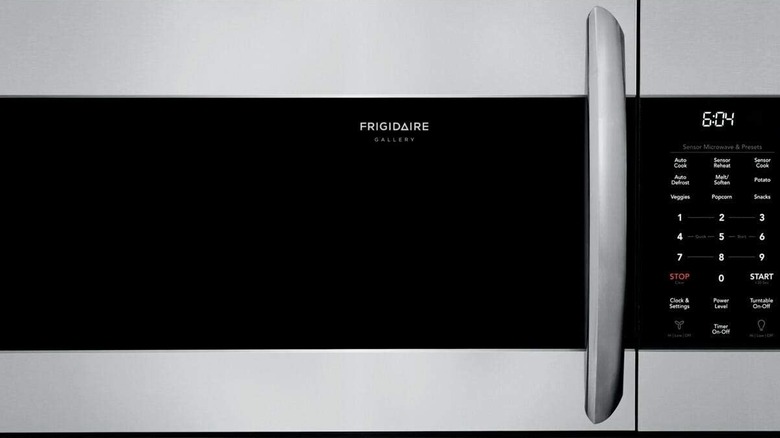 Frigidaire
It's true that a microwave's primary purpose is to make food hot. That doesn't mean we have to settle for the bare minimum in any old machine though. Getting mileage out of our appliances is equally valid, and judging by this model by Frigidaire, you'll never feel like you're accepting anything less than the best. To begin with, it comes with 30 different presets including pizza, popcorn, potatoes, and snacks, with single-touch buttons and spiffy sensor technology for optimal cooking. The best part? It also comes with a removable cooking rack that allows you to heat up multiple items at the same time. So if chicken tenders and tater tots are on the menu, there's no need to cook them separately. Just toss 'em in and bake! 
According to Top Ten Reviews which gave it 4 out of 5 stars, there are only two minor complaints. One is the fact that it is smaller in size compared to its competitors, and the other is a beeping noise that sounds non-stop when the food is done heating. These could be deal-breakers for some people, but most microwaves will have slight annoyances. Beyond that, this is a versatile microwave that will accomplish everything you'd want it to and more. 
Purchase the Frigidaire Gallery 1.7. Cu. Ft. Over-the-Range Microwave from Best Buy starting at $399.99.