Twitter Is Laughing At Oreo's Response To Hailey Bieber's TikTok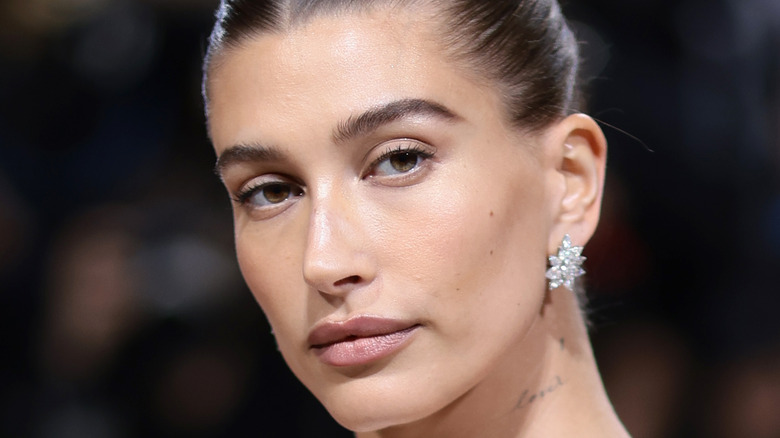 Dimitrios Kambouris/Getty Images
For better or for worse, food accounts on Twitter have become a part of some of the internet's most infamous lore. For example, Wendy's is renowned for roasting its fast food competitors on the app. Denny's has also become a big food name on the platform by making jokes "about existential dread" (per Delish). And while it may not be the first company to come to mind when people think of Twitter's most iconic food brands, Oreo has also gotten in on the tweeting fun.
Milk's favorite cookie has earned 1 million followers on the app in part thanks to its half-meme, half-promotional content. However, a huge contribution to Oreo's significant following is its effort to interact with its fans. The cookie brand will pose questions for its followers to answer like what Oreo flavor they want to see next as well as reply to lovers of the chocolate and creme cookie. That includes the more famous among Oreo's fans like model and known Oreo fanatic Hailey Bieber. Recently, Bieber made a TikTok gushing about the brand and the cookie company has wasted no time responding to her praise. Oreo has made a thank you Twitter post to Bieber that seems to have united lovers of the treat together in laughter.
Twitter can't get over Oreo's Hailey Bieber fan art
Hailey Bieber posted herself enjoying a chocolate-covered Oreo on TikTok four days ago. In the caption, she declared herself an "oreo anything girl." But it seems Oreo may be just as much a fan of Bieber as she is of the cookie brand. Oreo posted a reply to the model on Twitter that showcased a screenshot from the TikTok of Bieber eating the cookie. Next to the screenshot, the company created a piece of fan art that replicated Bieber's hand holding the cookie in the video, complete with her finger tattoos and chrome nails. In the Tweet, Oreo wrote, "Hailey Bieber ... posted a TikTok ... with us ... and chrome nails ... so we made her some fan art."
Oreo and Bieber fans in the comment section loved the post. One user was in playful disbelief over the tribute to Bieber, writing '"no wayyy hahaha." Another user expressed their adamant approval of the Tweet, posting "Oreo stanning the right people." One fan stated, in reference to Bieber, "She is our it girl Oreo." While Bieber has yet to make a reply to the Tweet, we're sure as an Oreo lover she'll be just as obsessed with the post as her fans. And who knows, given Oreo's love of team-ups, (just this May Oreo collaborated with Ritz to create half-Oreo, half-Ritz cookies) maybe there will be an exciting partnership between the two sometime in the future.