The Adorable Meal Jimmy Fallon Made With His Daughters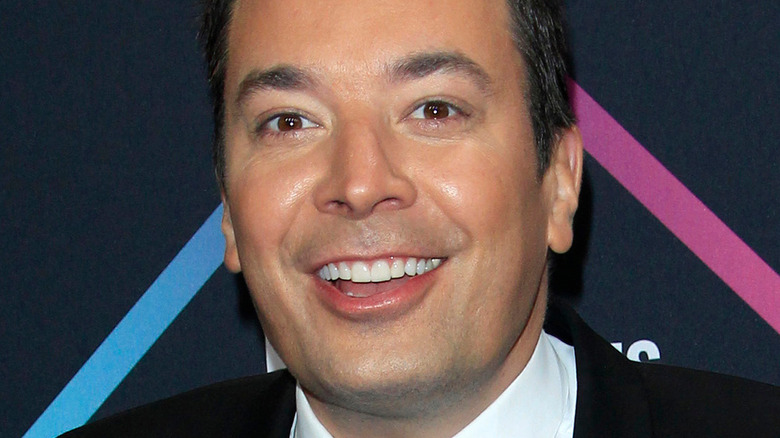 Kathy Hutchins/Shutterstock
Jimmy Fallon's claim to fame is entertaining people on camera, whether those people know him for hosting "The Tonight Show" or doing comedic "SNL" skits. But he famously cannot claim to be an accomplished cook (Fallon's internet-famous pancake fail says it all). It makes a kind of sense. After all, there's only so much time to spare for the kitchen when he's already busy being famous. 
But when the star does make time to cook on camera, it seems like his kids are usually involved. The aforementioned pancake fail took place because Fallon was trying to make pancakes for his daughter that were supposed to look like Elsa from the movie "Frozen." Fallon's latest TikTok cooking adventure saw his two daughters - Winnie Rose and Frances Cole – acting as "sous chefs" to their famous dad (via People). Luckily, this time results were pretty impressive. 
The TikTok adventure in question gave fans a rare treat: a cooking tutorial Fallon made while at a rental house with his kids. The recipe they were making comes from the acclaimed Jacques Pépin, beloved by many and viewed as the world's top chef by Michael Symon. The daddy-daughter trio is seen trying their hand at making the French chef's summer fruit salad, and viewers couldn't get over how adorable it was.
Fallon says the recipe was the best
First, how did this family cooking project go? Pretty well, according to Jimmy Fallon, who said the summer fruit salad he made with his daughters was "the best thing I ever tasted in my life." Commenters on the TikTok video thought the whole thing was super cute. "I love that you're doing this ... like you're a real person not a robot," gushed one fan. "This just warms my little soul," said another, while someone else chimed in, "girl dad for the win Jimmy." TikTok account The Salad Lab was even inspired to make a riff on the dish, "Fallon Girl's Style Jacques Pepin Summer Fruit," and that video already has 1.7 million views (more than twice as many as Fallon's).
But others had some constructive criticism and advice for Fallon, namely, imploring him to learn how to zest a lemon properly. "Grate the lemon before you cut it," urged one comment that received 300 likes. "Hold the lemon zest over the bowl," advised another. "You're losing lemon oil outside the bowl." In spite of Fallon's lemon zesting snafu, the comedian said, "My head is gonna blow off!" (in a good way) after tasting the salad, so we think this more than makes up for any previous cooking disasters.