Here's What Happened To Guzzle Buddy After Shark Tank
We may receive a commission on purchases made from links.
Have you ever seen a product in a TV show and thought, "That looks great, I need one," only to discover it doesn't actually exist but was made up just for the show? That's what happened to Jennifer Sullivan and her brother-in-law, Randy Rothfus. 
Back in 2014, an episode of "Cougar Town" featured characters Jules Cobb (Courtney Cox) and Andy Torres (Ian Gomez) demonstrating a new product called the "Guzzle Buddy" (via YouTube). The two characters give an exaggerated presentation about how tedious wine pouring is — an issue that's eliminated by a wine glass with a screw bottom that plugs directly into a bottle. The show featured it as a joke — but Sullivan and Rothfus saw it as a business opportunity.
During their Season 9 appearance on "Shark Tank," the Guzzle Buddy co-founders explained that they wanted the product after watching the "Cougar Town" episode. According to the Shark Tank Blog, the first Guzzle Buddies became available to the public in 2016 and became a success via social media. During their "Shark Tank" appearance, Sullivan said that the company made more than $1 million worth of sales in less than a year. But the sharks speculated if those sorts of sales were sustainable and debated whether the proposed investment of $400,000 for 10% was worth it.
The Guzzle Buddy was too much of a novelty for some people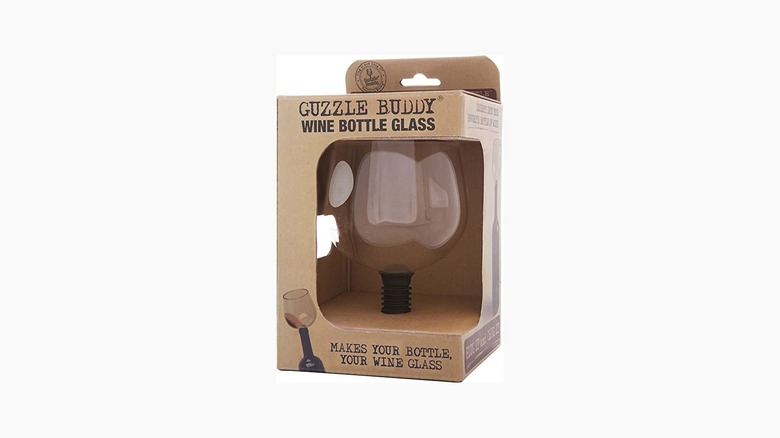 On a practical level, the Guzzle Buddy actually does aerate wine, per the Shark Tank Blog. But the Sharks couldn't seem to get past the idea that the plug-in wine glass was a short-lived novelty item.
After the episode originally aired, viewers took to Reddit agreeing with the Sharks concerns over the product. One commented, "It's the kind of thing you give someone at a party. Everyone laughs. Put it on a bottle and take a drink. More laughter. Take it off because it's impractical, and never use it again." Another said, "This is genuinely the stupidest product I have ever seen on 'Shark Tank.' There is no way they think this product is serious and not a gag gift."
However, people on Amazon can't get enough of it, and they're selling all over the world. One reviewer said that they "loved it so much I bought it again for another birthday present. Super fun silly gift for those who already have everything!" Still, another Amazon user felt the product was poorly designed, saying it's nothing more than a novelty item that would need a valve system to work properly.
Is Guzzle Buddy a sustainable business?
Still, even though Mark Cuban wasn't impressed by the Guzzle Buddy, co-founders Jennifer Sullivan and Randy Rothfus did find an investor on "Shark Tank." Daymond John invested $400,000 for a 25% stake in the company, per the Des Moines Register. But according to the Shark Tank Blog, the deal was never closed.
Despite the setbacks, though, Guzzle Buddy is still in business. The original Guzzle Buddy glass is $17.99 on the company's website, and the brand now also offers attachable plastic beer bottle glasses. The Guzzle Buddy even has a 4.7-star average rating on Amazon. (While the Guzzle Buddy may not suit every wine enthusiast, there are some wine rules you can break for the fun of it.)
The Guzzle Buddy's price has dropped since the company's "Shark Tank" days due to imitation products that have popped up in the market, per the Shark Tank Blog. But the original product is still going strong.