Why A Boston Starbucks Just Announced An 'Indefinite' Strike
Natee Meepian/Shutterstock
The Starbucks unionization movement has taken the coffee shop world by storm in the past year, and as of July 21, More Perfect Union reports 315 Starbucks locations have filed for unionization and 198 locations have voted to unionize. One such location is the 874 Commonwealth Avenue store in Brookline, Massachusetts, a suburb of Boston, which voted to unionize on June 3.
Per a July 18 Twitter post shared by Boston Starbucks Workers United, the baristas at this store are "on strike until further notice." In a letter signed by two staff members including union organizer Spencer Costigan, the workers laid out their demands to two members of management (via Restaurant Dive). Their main demand? One manager, who they claim has "perpetuat[ed] harmful and offensive rhetoric with respect to the race, gender, and orientation of both our partners and customers," should be terminated. The workers also claim this manager has cut shifts and frequently left the store understaffed, and are calling for a monthly "management review [of] labor needs."
Brookline Starbucks employees picket for change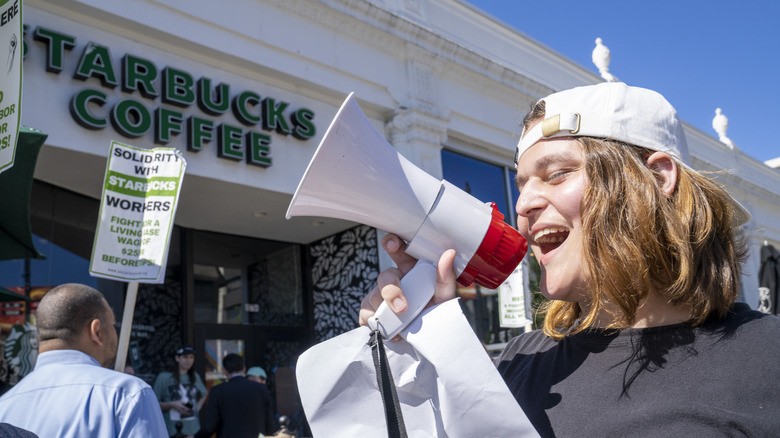 Bloomberg/Getty Images
According to Restaurant Dive, the walk-out in Brookline is the first occurrence of an "indefinite" strike at a Starbucks store. For context, most of the over 50 Starbucks strikes since January have lasted just one day. A Starbucks spokesperson said the company is investigating the situation, stating, "...given the seriousness of these allegations, we are looking into it, and will take any necessary action following our investigation."
In terms of the allegations of "offensive rhetoric," Costigan claims the manager made inappropriate statements about a black employee's hair and misgendered staff members, among other accusations. Store employee Taylor Dickerson, who has had her hours cut significantly, told Eater that this "hurts the store as it is often grossly understaffed, affecting our sales, cleanliness, and morale. This response feels like a direct punishment for unionizing." Some stores, including one in Ithaca, New York, have been closed following unionization.
The Starbucks Workers Union shared another tweet with photos of the Starbucks employees picketing. Supporters and critics alike took to the comments. User @jlphistory wrote "Good luck! Being on strike is hard! Remember that you are not alone and you deserve a fair contract now!" while @rpasley chimed in "there are 4 DD's within a 10 min walk of this place. Plenty of other options, too."