Instagram Is Raining Hearts On Trisha Yearwood's Bedazzled New Look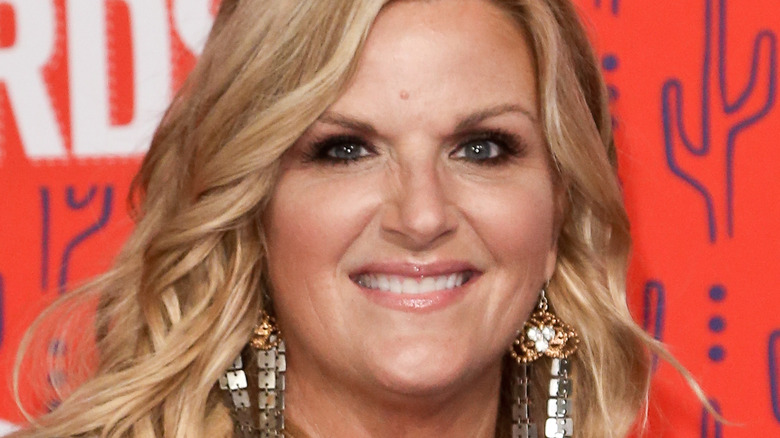 Debby Wong/Shutterstock
Trisha Yearwood, who rose to prominence thanks to her number one song, "She's in Love with the Boy," was originally known for her singing career, though her resume expanded to include cooking when her show "Trisha's Southern Kitchen" aired (via PBS). Per IMDb, the show began in 2012 and showcases Trisha' favorite recipes. Besides preparing food on camera, she has also published several cookbooks, the most recent being "Trisha's Kitchen: Easy Comfort Food for Friends and Family," according to People. "I think I was really born for cooking in quarantine, because I was raised on the theory that simple is better," she said.
Per Country Living, her show is filmed in an actual kitchen in a Nashville, Tennessee home. An interesting secret? The food isn't cooked live, but rather pre-prepared due to lack of time. Even with that fact revealed though, many people love her and her show, and it was once again evident when she posted a picture showing off her style on Instagram.
A sparkly summer
Trisha Yearwood posted a new selfie on Instagram this week showing off a sparkly new look. In the photo, she is posing with "bedazzled" hair, as she explains. "I 'borrowed' aka stole your idea @cayleehammack and bedazzled my hair tonight! Watch out Buffalo! Love you, Caylee!" she wrote. Her hashtags indicate that she was in town for her husband Garth Brooks' concert.
One commenter called her "gorgeous" and asked her to reveal the lip gloss she was wearing. Yearwood complied, stating that it was "Sephora brand Outrageous Intense #2." A ton of her Instagram fans echoed the "gorgeous" sentiment. "I love the bedazzled hair! Beautiful," one said. Another Instagrammer wrote, "It looks just as gorgeous as you xoxo."
Singer Caylee Hammack, who Yearwood addressed in the photo's caption, also had something to say about the rhinestone hair. "You SHINE. You might find one or two stuck on things today," she wrote. All the positive attention helps verify that she is a superstar, that is if the huge awards Yearwood wins don't already prove that.