Duff Goldman Is Ready For Shark Week With A Hilarious Instagram Pic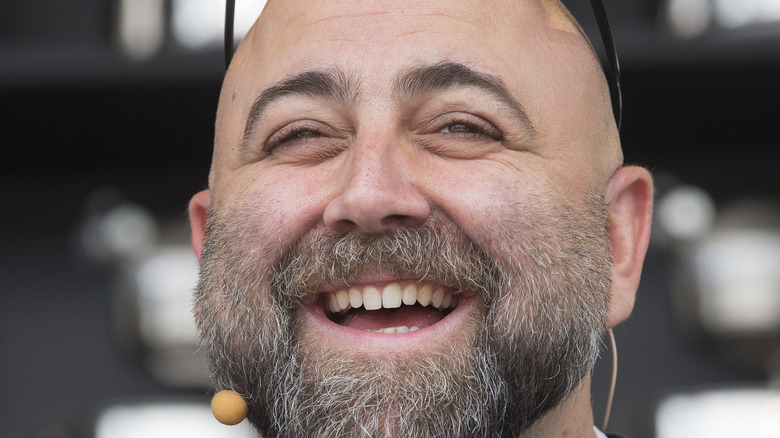 Sterling Munksgard/Shutterstock
Animal lovers will love Duff Goldman's most recent Instagram post, which was in celebration of Shark Week. Shark Week occurs every year in order to combat the inaccuracies about sharks, according to Distractify. The aquatic creatures are often portrayed negatively in the media, due to movies such as "Jaws" and "47 Meters Down." Furthermore, sharks are still being hunted as meat, despite this practice being detrimental to ecosystems and aquatic food chains. Therefore, for the last 34 years, Discovery has made it a goal to spread the truth about these sea creatures (per My Journal Courier).
This year, Shark Week 2022 began on Sunday, July 24, and will continue until Saturday, July 30, according to Rolling Stone. Celebrities such as Tiffany Haddish and Snoop Dog have already posted about their experiences and perceptions about sharks in light of this week's events (via The Eagle-Tribune). In particular, Goldman released a provoking picture on his social media to welcome the week of education and celebration.
Goldman is posing and posting for a cause
The celebrity baker's most recent Instagram post will make jaws drop, literally. In the picture, viewers could see the chef's head inside of a plastic shark. However, Goldman's caption revealed exactly why he decided to strike such a risky pose for a picture. The celebrity chef wrote, "It's #sharkweek! @discovery." Shark Week is all about spreading awareness on why sharks should not be feared (per The Eagle-Tribune). This year's programming features statements from celebrities, such as Dwane "The Rock" Johnson, and comedian, Tracy Morgan, per Rolling Stone. 
The "Ace of Cake" star knows a thing or two about television and social media promo, having hosted and judged a fair share of cooking shows, including "Ace of Taste" and "Spring Baking Championship" (via Reality Titbit). Furthermore, Goldman has been seen standing up for environmental causes in the past, such as the importance of recycling and combating food waste (via Plastics Make it Possible). Having posted this picture on his Instagram and tagging Discovery, Goldman is helping contribute to the education surrounding Shark Week.