Why Walmart Is Struggling With Inflation Prices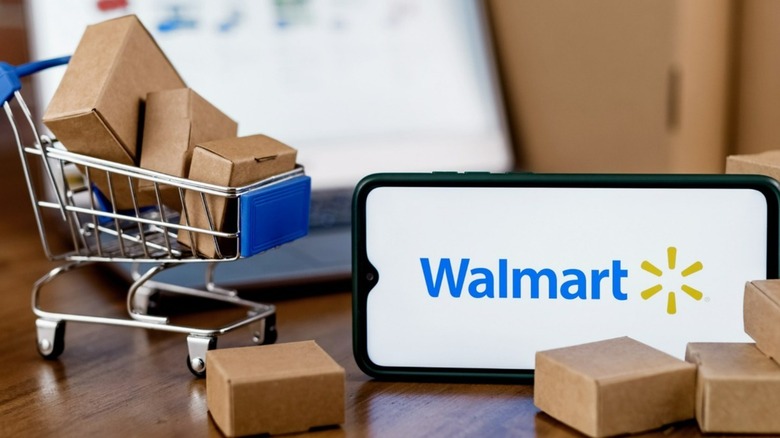 Sergei Elagin/Shutterstock
Whoever coined the phrase "What goes up must come down" in the 1800s was likely making an observation about gravity. After all, per Global Financial Data, inflation didn't even exist at that time. Indeed, from the early 1800s until 1914, prices fluctuated from year to year — even from decade to decade — but ultimately stayed more or less stable. Myriad factors have contributed, and continue to contribute, to inflationary trends, but the American Enterprise Institute maintains that inflation ultimately comes down to two words: supply and demand. When things we want to buy are in ample supply, sellers lower prices to increase demand; when supplies dwindle, as they did in 1914 when World War I started, sellers raise prices as a way of managing demand down. Ultimately, however, what goes up does, in fact, come down — even prices.
Unfortunately, and notwithstanding how much we loathe paying 12% more for groceries today than we did one year ago, the end result of inflation is often, if not inevitably, some level of economic recession (i.e. the opposite of business booming) per Forbes Advisor. A recession is the consequence of a "perfect storm" of decreased manufacture and supply, decreased employment, and decreased sales, all hitting at precisely the same time. In this scenario, prices go down, but it's not really a win. Complicated, yes, but as illustrated by Walmart's current struggles with inflation prices, also sadly simple. 
Walmart is lowering its prices despite inflation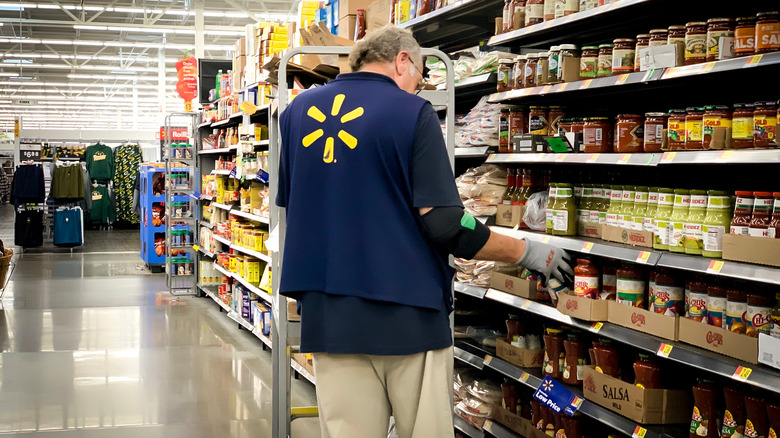 PJiiiJane/Shutterstock
Inflation isn't just hard on consumers. Take, for example, Walmart, which is struggling with inflation prices in its own gargantuan-retailer kind of way. Just like virtually every other store in its category, Walmart has found itself bleeding profits due to supply chain snafus amid continuing fallout from the COVID pandemic, per Reuters and Tampa Bay Times. Nevertheless, Barron's reports that Walmart sales have remained steady throughout the spring, despite increased inflation facilitated by Russia's invasion of Ukraine. However, not all product types are still selling strong. Whereas grocery sales are robust, Walmart has a glut of general inventory it hasn't been able to move, according to Food Business News.
"Increasing levels of food and fuel inflation are affecting how customers spend," explained Doug McMillon, president and CEO of Walmart in a statement by which Walmart announced to investors that profits for both Q2 and the 2022 fiscal year are now expected to be lower than had previously been hoped (via ABC7 Chicago). Accordingly, Walmart plans to slash prices on apparel — and possibly other categories — as 2022 proceeds. However, it is unlikely that those who've been battling inflation by doing their grocery shopping at Walmart will enjoy significant discounts, as the grocery department has actually been wooing many a customer with its reasonable prices. According to GOBankingRates, 57% of Americans buy at least some of their groceries at Walmart.