Trader Joe's Is Reportedly Trying To Get Employees To Vote Against Unionizing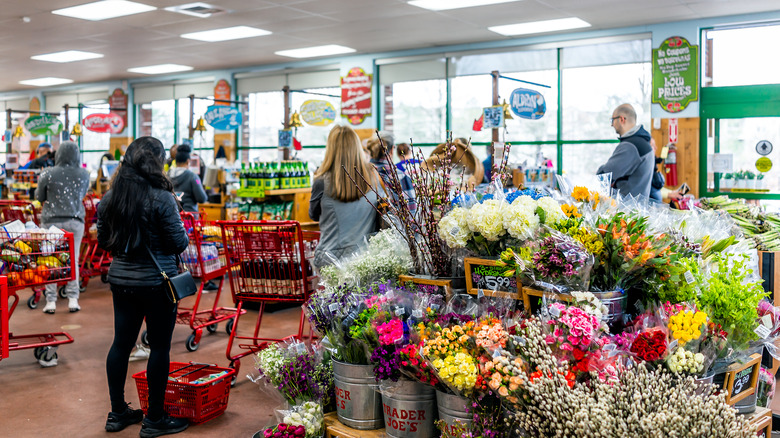 Kristi Blokhin/Shutterstock
Union-busting would seem to be against Trader Joe's image. The German-owned company sells itself as a haven of all things granola, as well as a surprising hotspot for Gen-Z date nights (via Financial Pilgrimage). Even though the owners rank in Forbes list of top 100 billionaires (which, apparently is a thing that exists), the company has been clawing tooth and nail to prevent unionization.
Contrary to its public statement that the grocery chain "welcomed a vote," according to HuffPost, and that the chain was "ready to vote when they are." Workers at the Hadley, Mass location, however, tell a different story. Employees from this location got serious about unionization after Trader Joe's slashed retirement benefits earlier this year, making significant reductions for employees with fewer than 10 years at the company. According to the Labor Union Report, "most of America's favorite grocery chains are... non-union" and only a shocking 14.5% of U.S. grocery workers were unionized in 2019. Notably, that same year, Trader Joe's appeared on a list of 21 retailers that the United Food and Commercial Workers Union asked shoppers to boycott because "these are companies who refuse to allow employees to organize" (via Labor Union Report & UFCW).
Is Trader Joe's trying to influence the vote of employees?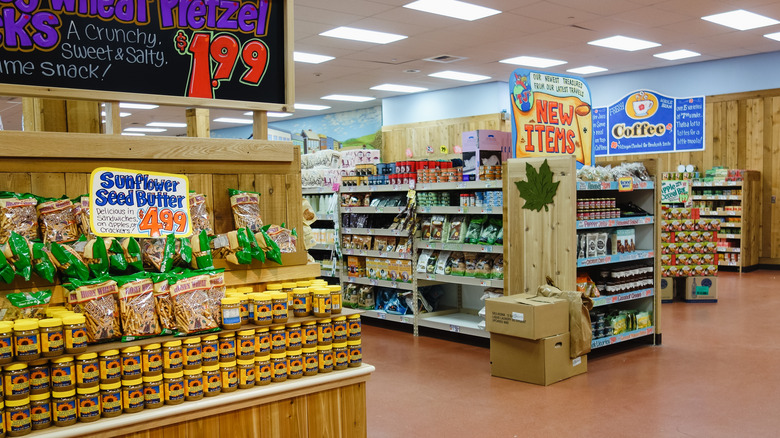 Corinna Haselmayer/Shutterstock
Publicly, Trader Joe's has said they're confident in the benefits they provide and the quality of their workplace and claim to be "ready to hold a vote... if the crew wants one" (via HuffPost). However, stories have been surfacing all summer with first hand accounts from the Hadley, Massachusetts branch claiming exactly the opposite. Now, as the vote on unionization nears, employees claim the store is stepping up its tactics. The branch will vote on unionization this week. Can we now add union-busting to the list of what you need to know before shopping at Trader Joe's?
All week, employees have been called into meetings as soon as union organizers begin to speak. Once in the meetings, management makes claims intended to "pull at [employees] heartstrings," said Maeg Yosef, a spokesperson for Trader Joe's United in a separate HuffPost article. Yosef went on to describe the content of the meetings as "like [an anti-union law firm] tried to make a Lifetime movie." Managers and regional reps have been essentially holding employees hostage in these meetings to prevent them from participating in union-building activities. During the meetings, the managers and reps press how hard this has been on management and how much harder unionizing will make things for managers and supervisors. But employees claim they haven't stopped at the heartstrings. One employee, Skyler Lloyd, even said her manager "specifically asked us to vote no" (via HuffPost).