Classic Monte Cristo Sandwich Recipe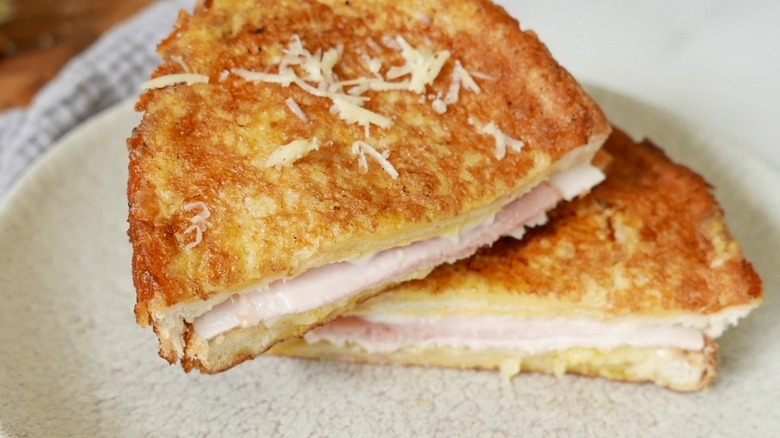 Ting Dalton/Mashed
The Monte Cristo sandwich is a dish that may take its name from a 19th century French novel called "The Count of Monte Cristo" written by Alexander Dumas (the same guy who wrote "The Three Musketeers"), but we daresay more people these days are familiar with the sandwich than the novel or even the numerous movie versions. Fair enough, as it is a pretty great sandwich, so much so that it even has its own national day celebrated on September 17th. Mark that on your calendars and be sure to save this recipe for your festivities. As per developer Ting Dalton, "This is the ultimate grilled sandwich. Crunchy and buttery on the outside, and super delicious flavors and melted cheese on the inside."
Many Monte Cristo sandwich recipes combine both sweet and savory flavors, as you'll often see the sandwich sprinkled with powdered sugar and/or dipped in jelly. Dalton's sandwich, however, sticks to the savory side of things as in preference to any sweet element, she prefers to flavor her Monte Cristo sandwich with garlic. As she explains, this ingredient "adds a real kick and aromatics to the flavor of the sandwich."
Collect the ingredients for these Monte Cristo sandwiches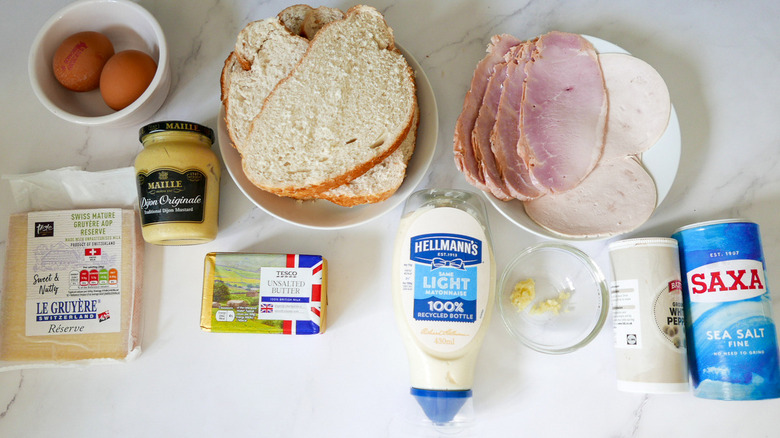 Ting Dalton/Mashed
To make these Monte Cristo sandwiches, you'll be using bread, ham (thin-sliced deli-style), turkey (similarly sliced), and Gruyere cheese, which is something Dalton describes as "tangy and salty and wonderful for this sandwich." She does say, though, that "if you can't get hold of it, use cheddar or a cheese of your choice."
The garlic mayonnaise that flavors these sandwiches is something you'll concoct from stirring chopped garlic into store-bought mayonnaise. You'll also need some Dijon mustard for this sandwich, although Dalton does say that if you "don't have Dijon mustard, you can use yellow mustard."
Prepare the garlic mayonnaise and egg dip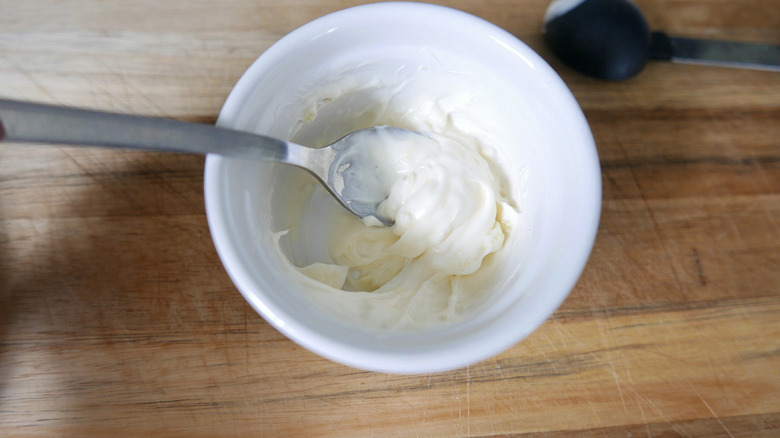 Ting Dalton/Mashed
Peel and mince the garlic, then stir it into the mayonnaise. Beat the eggs until the yolks and whites combine, then season them with a pinch of salt and another one of pepper. At this point, you will want to have the egg mixture in a dish that is wide enough to contain a slice of bread.
Assemble the sandwiches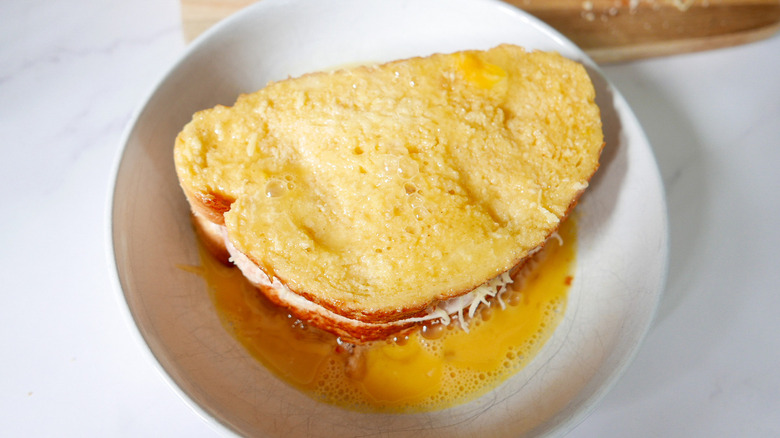 Ting Dalton/Mashed
Layer a slice of bread and a slice of ham on top of a slice of bread, then add half of the shredded cheese. Spread half the mayonnaise and half the mustard on the top slice of bread, then use it to top the sandwich, condiment-side down. Repeat the process with the other sandwich, then press the sandwiches down to compress them. (You can try using something like a cast-iron pan to squash them.) Dip the flattened sandwiches in the eggs on both sides. Dalton points out that "you need to have fairly sturdy white bread for this so it will hold its shape even after being dipped in the egg."
Fry the sandwiches in butter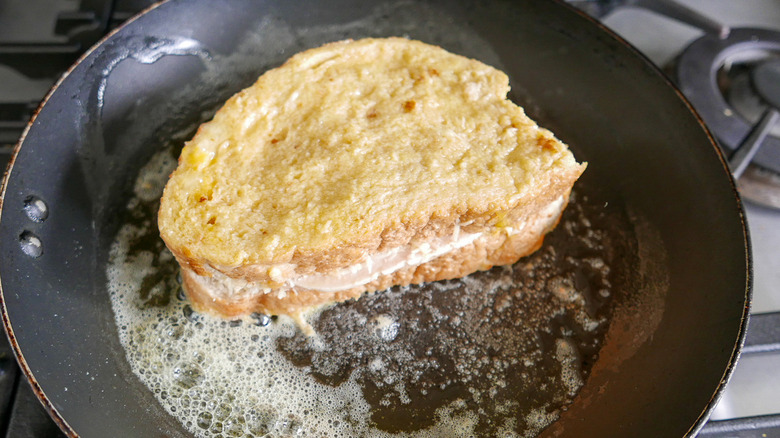 Ting Dalton/Mashed
Melt the butter in a skillet over medium heat, then fry the sandwiches for 3 minutes. Flip them over gently, being careful not to lose too much cheese, then fry them for 3 more minutes on the other side. Once they are done, they should be golden brown in color and all of the Gruyere should have melted.
Once your sandwiches are done frying, all that's left to do is enjoy them. Savor in the cheesy, meaty goodness of these delicious and classic Monte Cristo sandwiches! 
Classic Monte Cristo Sandwich Recipe
This classic Monte Cristo sandwich is crispy, crunchy, and perfectly savory.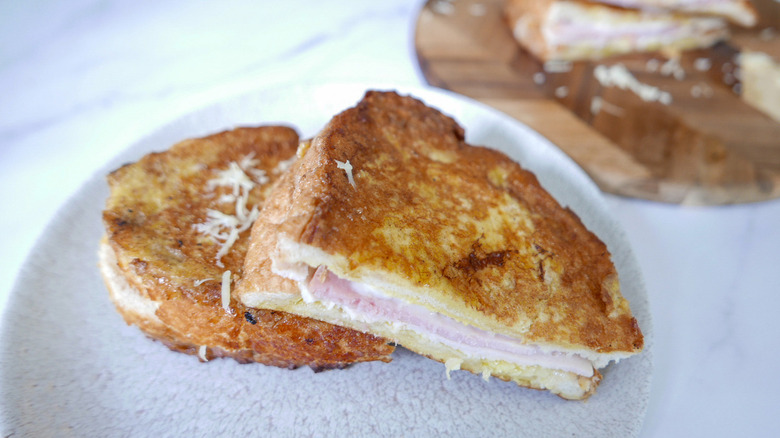 Ingredients
1 clove garlic, peeled and minced
2 tablespoons mayonnaise
2 eggs
salt, to taste
pepper, to taste
2 pieces thin-sliced roast ham
2 pieces thin-sliced roast turkey
4 slices white bread
1 ½ cup Gruyere cheese, shredded
2 tablespoons Dijon mustard
2 tablespoons butter
Directions
Stir the garlic into the mayonnaise.
Beat the eggs with a pinch of salt and pepper.
Place 1 slice of turkey and 1 of ham between 2 slices of bread and top with ¾ cup of cheese, 1 tablespoon of mustard, and 1 tablespoon mayonnaise. Repeat with the remaining sandwich ingredients.
Flatten the sandwiches to compress the filling.
Dip and coat each sandwich in the beaten egg.
Melt the butter in a non-stick skillet over medium heat. Cook the sandwiches in the melted butter for 3 minutes on each side until they are golden brown and the cheese has melted.
Nutrition
| | |
| --- | --- |
| Calories per Serving | 357 |
| Total Fat | 15.1 g |
| Saturated Fat | 4.9 g |
| Trans Fat | 0.2 g |
| Cholesterol | 197.7 mg |
| | |
| --- | --- |
| Total Carbohydrates | 1.9 g |
| Dietary Fiber | 0.3 g |
| Total Sugars | 0.2 g |
| Sodium | 420.9 mg |
| Protein | 50.1 g |