Everything We Know So Far About The Golden Girls Pop-Up Kitchen Tour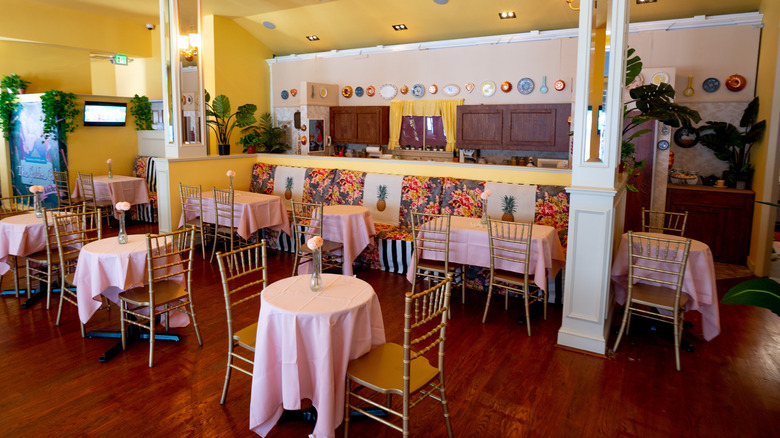 BucketListers
Dorothy Zbornak, Sophia Petrillo, Rose Nylund, and Blanche Devereaux: four of America's most beloved older women who have captured the nation's hearts, despite being totally fictional characters. From the sarcastic yet compassionate Dorothy to southern belle Blanche and her seductive charms, the 1985-1992 sitcom revolves around these four older women as they navigate everything from relationships to health scares. The Writer's Guild of America marked it as number 69 on its list of the "101 Best Written TV Series of All Time," (via Deadline), and the show won three Golden Globe Awards (via the 1987 edition of The New York Times). 
Now, fans of the beloved show will soon be able to experience just what it's like to truly be a friend, should they be lucky enough to dine at The Golden Girls Pop-Up Kitchen.
While cooking with the Golden Girls has been a concept visited before — for example, "The Golden Girls Cookbook," released by chef Christopher Styler — the new "pop-up kitchen" promises to deliver dishes and flavors inspired and modeled off the personalities and backgrounds of the famous four. But before you go and call up your older friends from their retirement homes, there are a few things you should know about what to expect from the restaurant and, most importantly, where you can find it.
The Golden Girls Kitchen will make stops all over the country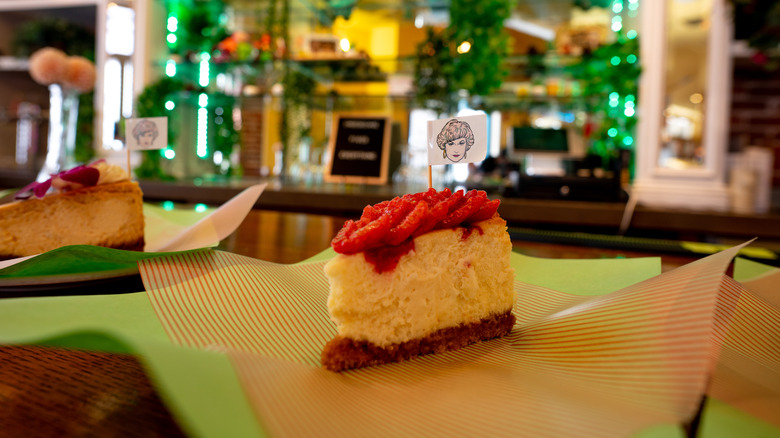 BucketListers
According to a press release from event host BucketListers, the Golden Girls Kitchen will soon be making a tour across the United States starting this fall. The Kitchen will open on July 30 in Los Angeles, followed by a trip to New York. The restaurant will then move on to Miami and San Francisco in the winter and end in Chicago in spring 2023. 
The Kitchen is described as a "fast-casual restaurant with an emphasis on dessert" and will feature such dishes as the "Miami style" Cuban Sandwich, Blanche's Georgia Style Cookie, and Sophia's Lasagna Al Forno. But is the Golden Girls Kitchen any good, or does it just rely on novelty to get by? Per LAist, event creator Derek Barry worked with noted chef Royce Burke to make sure the food would be of the best quality and not an overpriced meal masked behind nostalgia.
Of course, there will also be plenty of "Golden Girls"-inspired cheesecake to accompany whatever meal you choose.
The Golden Girls Kitchen will bring all the nostalgia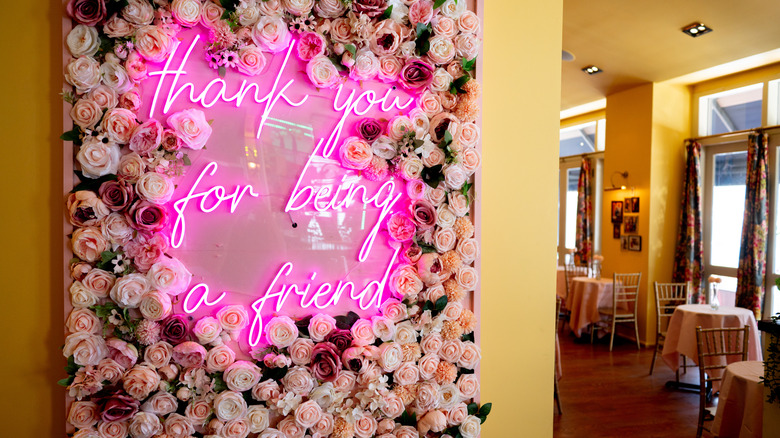 BucketListers
Aside from the food, "Golden Girls" fans will love all of the show-related details in the Golden Girls Kitchen. There's an Instagram-friendly wall of roses, for instance, complete with a neon pink sign that reads "Thank you for being a friend." And, per a press release from event host BucketListers, there's also a selfie-friendly palm-print backdrop for fans to snap photos.
Guests will also be able to visit Blanche's Bedroom, which will feature a wide variety of exclusive "Golden Girls" merchandise perfect for when you're hitting up the club or going to Shady Pines. 
Interested in seeing the Golden Girls Kitchen for yourself? Sign up for the Golden Girls Kitchen waitlist for when the iconic cafe comes to your city. The ticket prices include a 90-minute reservation at the restaurant, complete with an entree and a slice of cheesecake (of course!).