How Bernie Sanders Really Feels About The Trader Joe's Union Decision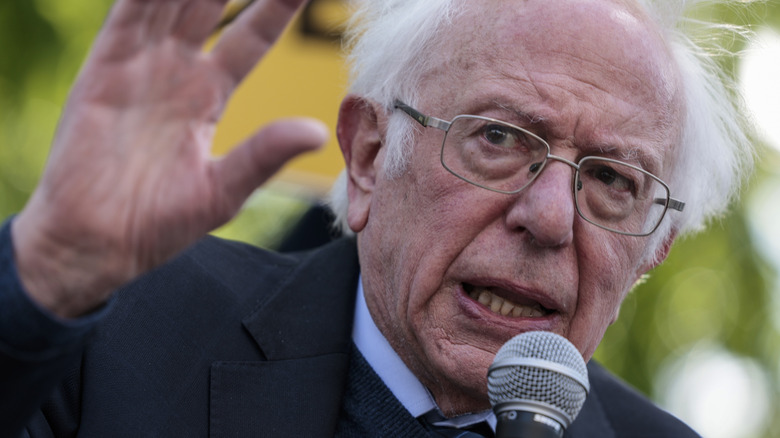 Anna Moneymaker/Getty Images
If you keep up with the news, you've likely seen a lot about Trader Joe's employees trying to unionize. According to an Instagram post by Trader Joe's United, employees were organizing in an effort to leverage for better working conditions, retirement benefits, paid time off, and higher wages, among other things.
Conditions at the popular grocery store worsened during the pandemic, says NPR; retirement contributions dropped from 15% to nonexistent and the hours required for employees to qualify for health insurance increased from 20 to 30 hours a week. Needless to say, workers were fed up, and told NPR they'd been "feeling undervalued and unappreciated."
However, as reasonable as all of these requests seem, Trader Joe's wasn't thrilled with the notion of unionizing. In fact, back in June, one Trader Joe's worker was told to go home after a manager spotted a pro-union pin on their uniform. Even in the days leading up to the union vote, Trader Joe's was reportedly trying to get employees to vote against unionizing, but spoiler alert, it didn't work. And though higher-ups at the store don't seem very celebratory about this news, other notable figures feel more positively about it, including a certain senator from Vermont.
Trader Joe's employees in Massachusetts win the vote to unionize
Despite Trader Joe's best efforts to discourage its employees from unionizing, Massachusetts employees voted 45-31 on July 28 in favor of the union (via The Washington Post). The Hadley, Massachusetts, location is the first Trader Joe's to approve a union, though according to The Guardian, additional stores in Minnesota and Colorado have also recently applied for similar union votes.
In another Instagram post, Trader Joe's United announced its "historic" victory, adding that although the Trader Joe's union vote is finally over, the union's work is far from complete. The impassioned post said the newly negotiated contract would benefit not just employees, but the entire company.
Senator Bernie Sanders congratulated Trader Joe's employees on Twitter, saying, "Now is time for management to recognize the union and to negotiate a fair contract with decent benefits and safe working conditions." Many commenters were disgruntled about the news, with some even saying the allegations made about the store were untrue or that the unionized store is destined to close, but several acknowledged the importance of worker solidarity and congratulated Trader Joe's employees on the win.