The Arby's Fish Items You Should And Shouldn't Order, According To An RD
Known for its hearty sandwiches piled high with hunks of roast beef, Arby's has long embraced the slogan, "We have the meats." However, alongside the Double Beef 'N Cheddar, chicken nuggets, and Corned Beef Reuben, you can now find fish on the menu. Arby's recently came out with three new fish entrees: the Cajun Fish Wrap, 3-piece Hushpuppy Breaded Fish Strips, and 5-piece Hushpuppy Breaded Fish Strips. You can order the seafood menu items individually or as part of a combo meal with fries and a drink for a limited time only at participating Arby's locations across the country.
You might choose your dish based on what you're craving or on what the fans on Instagram recommend. Or, if you're looking for a way to eat healthier at Arby's, you might order based on the nutritional information. To help you decide, Mashed spoke with registered dietitian Trista Best, MPH, RD, LD, about the new fish entrees. Here's which one she recommends — and which two she says aren't exactly the most nutritious options.
The Hushpuppy Breaded Fish may be the best choice, based on a dietitian's considerations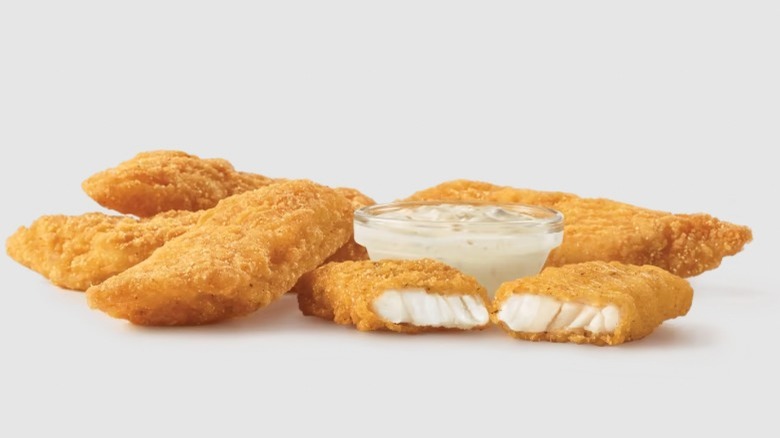 Arby's
Fast food may never be the healthiest option when you're planning your next meal, but if you're in a pinch, some menu items are better than others. Of the three new fish entrees at Arby's, your best bet is the 3-piece Hushpuppy Breaded Fish Strips, according to Trista Best, MPH, RD, LD. "From a sodium perspective, this meal is lower in sodium than just about any other meal on the menu including the Market Fresh options," she explains. Of course, she adds that it still isn't a health food — it's breaded and fried and contains 14 grams of fat — but at 302 calories, it's the lowest calorie choice of them all.
As for the worst from a nutritional standpoint? Best recommends avoiding the Cajun Fish Wrap, which, at first glance, seems like a better-for-you order. "Unfortunately, aside from its appearance of shredded lettuce and tomatoes, this meal is calorie-dense and high in fat," she says. "This entree alone contains 740 calories, along with 39 grams of fat and 1820 milligrams of sodium! Somehow, this sandwich was also able to fit in 8 grams of added sugar."