The Trader Joe's Barbecue Sauce Reddit Is Drooling Over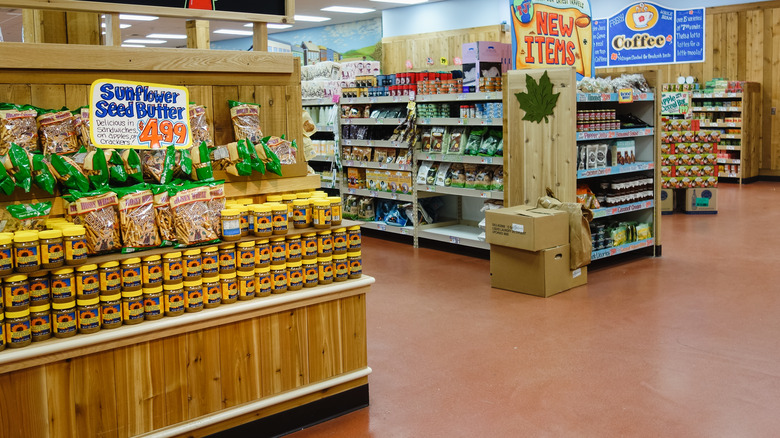 Corinna Haselmayer/Shutterstock
Trader Joe's is known for food items, like its Everything But the Bagel Seasoning and, per Pasadena Star News, its small parking lots that have us driving in circles until there's a free spot. But when we aren't talking about these uniquely Trader Joe's aspects, we are chit-chatting about a special barbecue sauce this grocery store sells. According to Reddit, this California based chain carries a barbecue sauce that is exceptionally drool-worthy. So, what makes this bottled sauce especially noteworthy?
Barbecue sauce is a summertime staple. Nothing brings family and friends together like a good backyard barbecue. Just the thought of smoked ribs, burgers, pulled pork, or even brisket slathered in our favorite sauce makes our mouths water. Savory or sweet, Kansas City, Texas, or Carolina — barbecue sauce is great as a marinade or condiment for your favorite protein. 
According to South Carolina Barbecue, there are four different varieties of barbecue sauce: "vinegar and pepper, mustard, light tomato and heavy tomato," with the vinegar and pepper variety being the O.G. We like them all, but when it comes to a favored barbecue sauce, Taste of Home explains the barbecue sauce you lean toward may depend on the U.S. region in which you grew up. But the Trader Joe's barbecue sauce that has Reddit abuzz may be the exception. Whether you love your tomato sauce or those that are a little more on the vinegar side, TJ fans cannot help but love this particular sauce.
Good as gold
According to a member of the Reddit community, Trader Joe's Carolina Gold Barbeque sauce really sets the gold standard for other sauces. They wrote, "Is anyone else obsessed with the Carolina Gold BBQ sauce?" The answers were all in the affirmative. 
One Redditor waxed poetic about the flavor of this sauce, describing it as "Smoky, sweet barbecue sauce mixed with yellow mustard," while another member revealed it's a killer marinade, writing, "love this sauce so much, my fav recipe for it is i marinade chicken things in olive oil, paprika, garlic powder, salt and pepper (OR the bbq 101 seasoning) and then cook them in the oven, once they're cooked i brush this sauce on top of them and broil the thighs in the oven for 5 minutes and they come out so good with the perfect amount of crisp." 
This sauce definitely has people drooling. Even people in New Zealand love it, with one forum member revealing, "Yes. I buy in bulk to take back home to NZ when ever I get a chance." It's just that good. And apparently, Trader's Joe's Carolina Gold Barbeque sauce also works on pizza. The Twitterverse shared, "I used Trader Joe's Carolina Gold BBQ sauce for the sauce and sliced smoked ham for the topping. BBQ Ham pizza. Outstanding." Yum!