Was This Really Elvis Presley's Favorite Sandwich?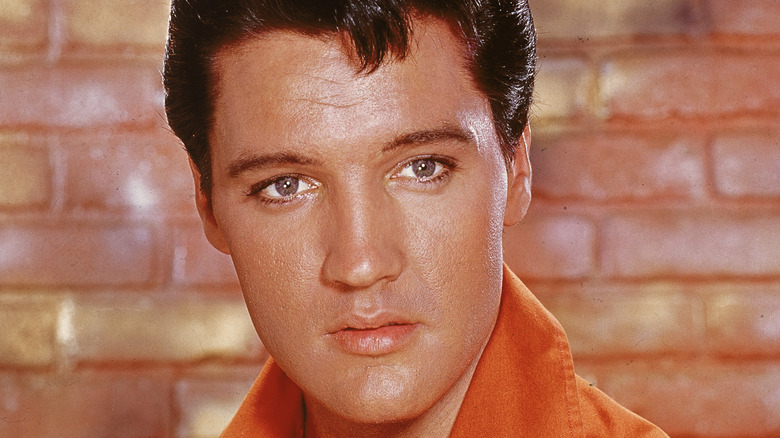 Hulton Archive/Getty Images
It's undeniable that Elvis Presley was the King of Rock & Roll. The famous musician and performer was inducted into the Rock & Roll Hall of Fame in 1986, and he was especially beloved for "modernizing traditional genres such as blues, country, and bluegrass," as the Hall of Fame website notes. Let's not even get started on Presley's incredible hip swings, which were controversial back in the day.
Sadly, the soothing voice behind hits such as "Can't Help Falling in Love," "Suspicious Minds," and "Love Me Tender" is no longer with us — Elvis died in his Graceland mansion in Memphis, Tennessee, when he was just 42 years old (via E! News). The cause of death appeared to be a fatal heart attack, but the reason behind the heart attack is still unknown.
Today some celebrities take mindlessly short private jet flights (such as Kylie Jenner and Drake per BuzzFeed), and the King of Rock was no stranger to such impulsive actions. In 1976, Presley and his friends took a private jet from Memphis to Denver because Presley wanted to eat his favorite sandwich, which can also be found on the list of the absolute best sandwiches in every state.
Fool's Gold Loaf sandwich is filled with peanut butter, jelly, and fried bacon
History of Yesterday reports that the reason for the flight was Elvis Presley's favorite sandwich — a Fool's Gold Loaf, consisting of a hollowed-out loaf of bread that's filled with a whole jar of jelly and peanut butter, along with generous toppings of fried bacon. This behemoth of a sandwich contains a whopping 9,000 calories and can supposedly feed anywhere from eight to 10 people (per Atlas Obscura). On that night in Denver, Presley and his friends ate 22 Fool's Gold Loaf sandwiches and then returned to Graceland. 
But was it really Presley's favorite sandwich? Mary Jenkins, Presley's cook at Graceland, says that his favorite meal was, in fact, a sandwich consisting of fried bananas and peanut butter (per The New York Times). Regardless of the favorites, the King of Rock had an unbelievable appetite. The Independent claims that his fried food intake equaled anywhere from 10 to 12,000 calories every day, while James Gregory wrote in "The Elvis Presley Story" that the man would have bacon, sausage, eggs, fried potatoes, bread rolls, and coffee for breakfast.
Interestingly enough, Elvis Presley's last meal consisted of ice cream and chocolate cookies.