What Is The Flying Dutchman At In-N-Out?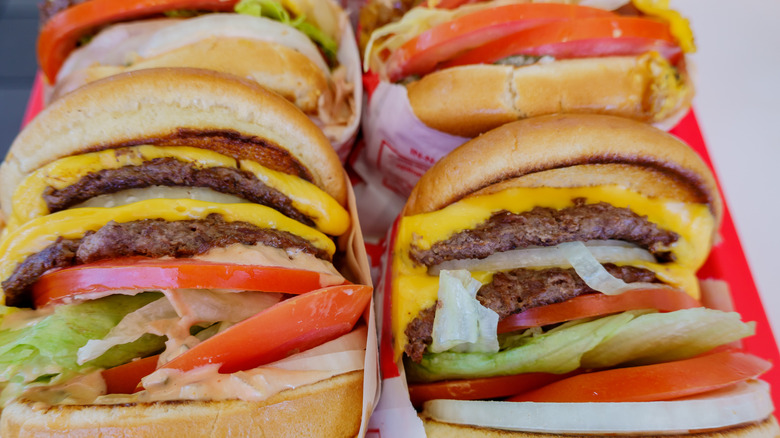 Kit Leong/Shutterstock
In-N-Out Burger is a West Coast staple that has become ingrained in California culture. Founded in 1948 in the Los Angeles suburb of Baldwin Park by husband-wife team Harry and Esther Snyder, the iconic eatery is well known for its indulgent food, speedy service, and notable innovations. In fact, according to the company, the name "In-N-Out" comes from its introduction of two-way speaker boxes in drive-thru lanes, a now quintessential factor of fast food service.
In-N-Out's menu primarily consists of burgers, hand-cut fries, and thick milkshakes. The company prides itself on using the freshest, top-quality ingredients, and the same old-fashioned recipes and methods since its debut. In-N-Out's famous creamy special sauce, for example, has intentionally remained unchanged. And like many restaurants with feasible cult followings, In-N-Out has a secret menu filled with uniquely named items. One such unofficial item is the Flying Dutchman, a no-frills cheeseburger that has very little, if anything, to do with the legendary ghost ship.
The Flying Dutchman is two cheese slices between two beef patties
If you ever find yourself dining at an In-N-Out and you're craving something simple, yet satisfying, the Flying Dutchman should do the trick. What exactly is a Flying Dutchman, you ask? Basically, it's two burger patties encompassing two slices of melted cheese. No buns. Just meat and cheese. That's it. And if you're a fan of condiments and veggies, you can also order a Flying Dutchman "Animal Style," which is the brand's code phrase for patties cooked in mustard, plus a heap of all the available toppings, including lettuce, tomato, pickle, grilled onions, and of course, extra spread.
Since there's no bun to keep all of its juicy contents in place, the Flying Dutchman can get a bit messy, which is why Spoon University suggests having a few napkins handy. The handheld treat costs just over $2, making it an affordable lunch or dinner, according to Hack the Menu. But if you're craving a little more to your meal, you can also opt for an order of roadkill fries (a Flying Dutchman atop a basket of Animal Style fries) from the burger chain's cloak-and-dagger menu.